Woolstencroft goes down the memory lane as Vancouver celebrate 10th anniversary
Games brought 'unprecedented' attention to Paralympic star Woolstencroft
12 Mar 2020
Imagen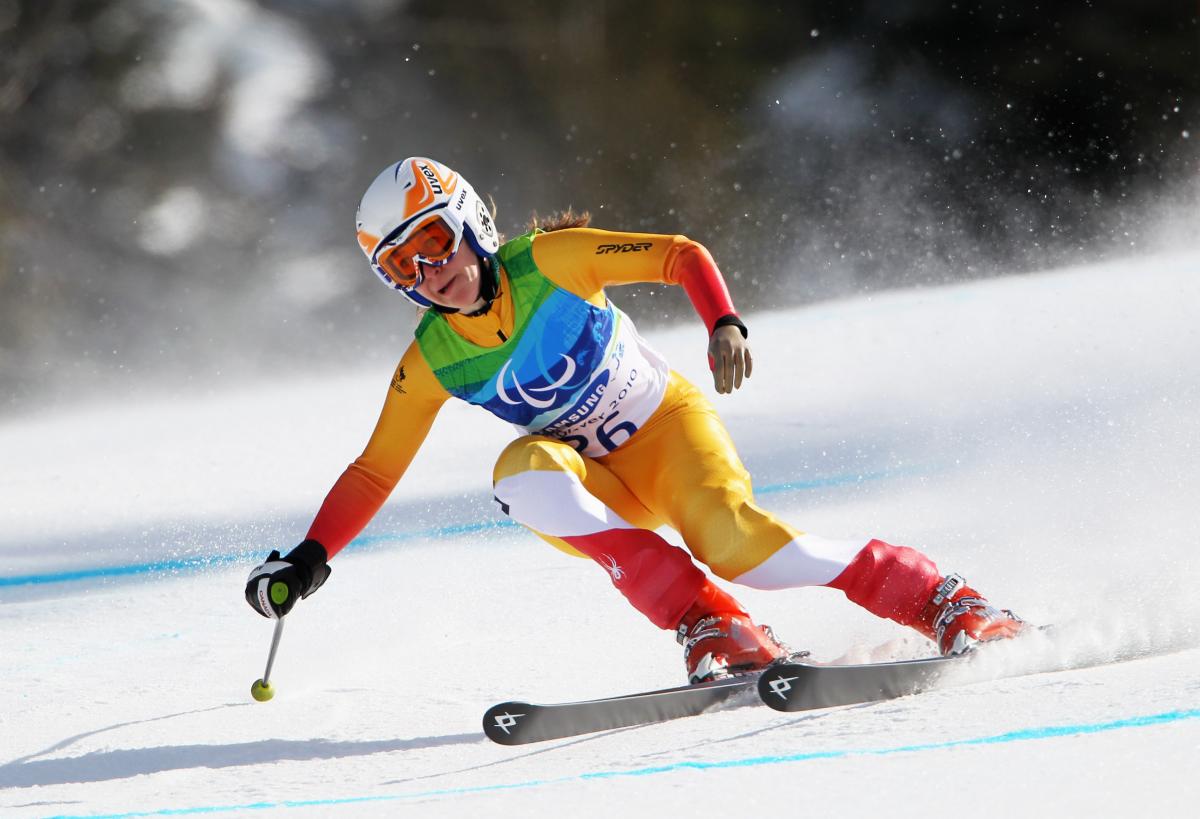 ⒸGetty Images
By Teddy Katz | For the IPC
When Lauren Woolstencroft thinks back 10 years to the Vancouver 2010 Paralympic Games, she remembers what a magical time it was participating at home, the first time Canada had ever hosted a Winter Paralympics.
The atmosphere, community support and how Canada embraced the Paralympics brought out the best in Woolstencroft.  She dominated the competition and owned the podium much to the delight of the fans, winning the giant slalom, slalom, super-G, downhill and super-combined events.
Her five gold medals in a single Games is something no Canadian Winter Paralympian had ever achieved before or since.
"I performed well beyond my expectations for sure," she says somewhat modestly. But Woolstencroft's lasting memory goes well beyond her personal success.
"We were on the front pages of newspapers which had never happened to me in the span of my career and at that point I was 12 years on the National Team.   That was my third Paralympic Games so that kind of attention was unprecedented for sure for myself, but also for any other Paralympian [in Canada]."
 With all of this attention and with athletes like Woolstencroft being treated similar to Olympians, she noticed something else that was different after the games.
"When I would be walking in the grocery store, people would recognise me or when I'd say my name people would recognise my name."
Woolstencroft didn't only catch the attention of people in Canada.  She had won three previous Paralympic gold medals and Vancouver made it an impressive eight in her career.  She put herself on the radar in ways she couldn't have even imagined.
Eight years after her retirement she found herself in an unprecedented position for a Paralympian. In 2018, she starred in a television commercial for Toyota called 'Good Odds'.
The commercial aired on the Super Bowl in 2018 with an estimated 100 million viewers in the USA alone. The 60 second spot highlighted the odds of winning a Paralympic gold medal which start at almost a billion to one.
Then they showcased Woolstencroft's journey to win eight. She was born without legs below the knee and with no left arm below the shoulder.  She started to ski when she was four and with a determination and stubbornness to be the best, she crushed those odds.
Woolstencroft received messages from people all over the world after the commercial aired. "It was a bizarre experience to be on a screen with that many eyeballs," she says adding, "it was quite amazing to see how far the Paralympics and Paralympians had come."
Now 38, the electrical engineer is married and has a young son.  She tries to remain close to the Paralympics.  She has participated as a television analyst with the Canadian Broadcasting Corporation at the last couple of Paralympic Games.
Woolstencroft was scheduled to participate in lot of activities in Vancouver to celebrate the 10th anniversary of Vancouver 2010 with many other Paralympians and Olympians.  She says the Games left quite a legacy for the Paralympics.
Woolstencroft grew up in Calgary and was six when that city hosted the 1988 Olympics.  They had some Paralympic skiing as demonstration events, but the Paralympics were not held at the same venues as the Olympics as they are now.
"So, six-year-old me only had the opportunity to watch those Olympic Games and while I loved it there was nobody like me competing there.  I couldn't necessarily identify with those athletes."
That's why she believes the Vancouver Paralympics were a game changer.  Some of the current young stars of Canada's Para Alpine team including Mac Marcoux and Mollie Jepsen were in elementary school at that time.
"They had that opportunity to see someone who was like them and seeing that path to success is obviously really important in their development – a whole new generation was born."