Para alpine skiing World Cup: Seven top moments
Incredible comebacks, acts of kindness, birthday surprises and Russian celebrations took the 2019-20 season to a new level
27 Mar 2020
Imagen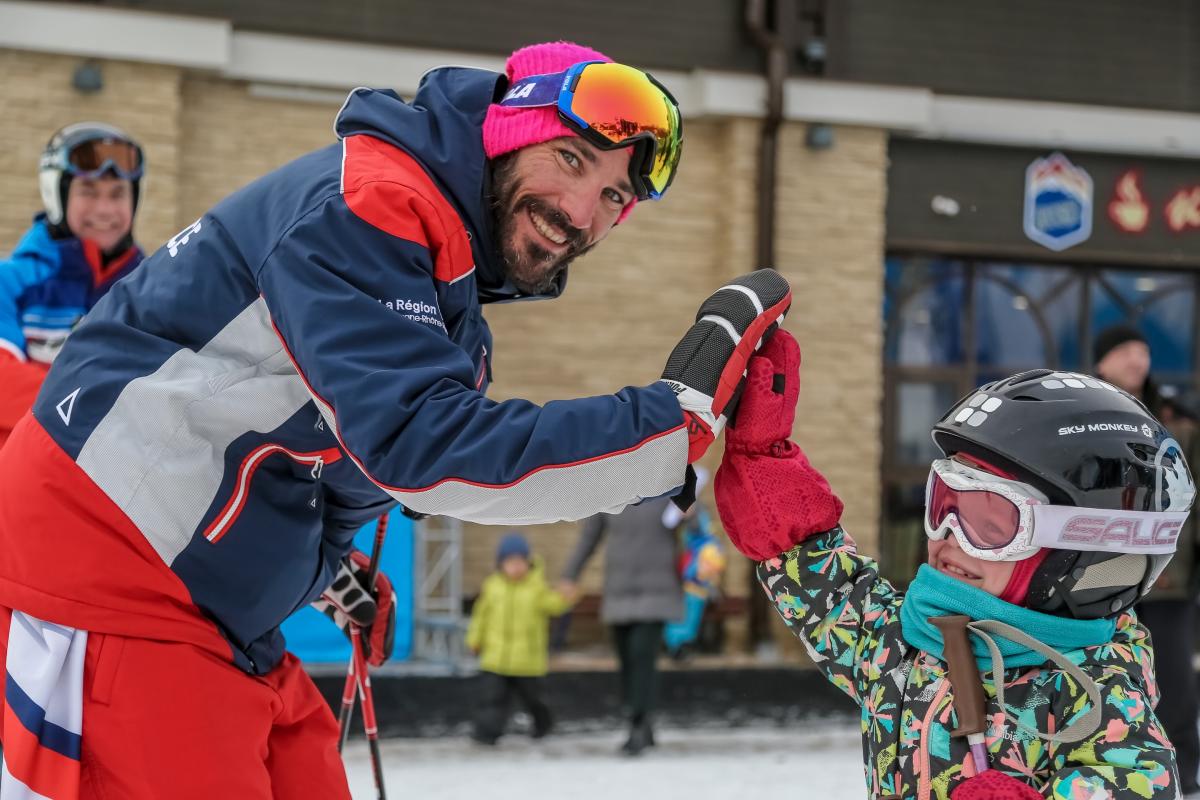 ⒸMaxim Fedorov / Sakhalin 2020 World Cup
By Lena Smirnova | For World Para Snow Sports
Like most of the sporting competitions around the world, the 2019-20 World Para Alpine Skiing World Cup came to an abrupt end in March due to the COVID-19 coronavirus outbreak. But while this season was two weeks short on races, there was no shortage of incredible moments to make it a World Cup season to remember. 
Here are seven of our favourites.
1. Skiing with the stars
France's Manoel Bourdenx first met Nastya Gatsulenko, a person of short stature, on a visit to a children's rehabilitation centre in Juzhno-Sakhalinsk, Russia during the fourth stage of this season's World Cup. Upon learning that the eight-year-old girl likes skiing, Bourdenx offered her a ski lesson after his own races the following day.
Nastya took a day off from school, picked out nesting doll souvenirs for her future instructor, learned some English words, and went on a spin through the resort with Bourdenx giving her tips at every turn. 
"Our hearts are filled with warmth," said the girl's mother Lyudmila after the lesson. "This day will stay in our memory forever."
2. Comeback queens
Canada's Mollie Jepsen and Great Britain's Millie Knight were both missing from the circuit last year. Jepsen was diagnosed with Crohn's disease while Knight took time off due to a back injury and untreated concussion. 
Their recoveries were thorny, but when Jepsen and Knight finally returned to the World Cup circuit, their results exceeded all expectations. 
Jepsen took three gold and two silver medals in the women's standing class in January, while Knight and her guide Brett Wild got a full set of medals in the races in Kranjska Gora, Slovenia, including their first World Cup gold in three years. 
"I'm absolutely bubbling. I'm so pleased. It's been a very long time because I had a major crash in 2017," Knight said. "To come away with a bronze, silver and gold is just unbelievable."
3. Sleeping Giant wakes up
Chinese alpine skiers made their debut at the World Para Alpine Skiing World Cup this season and the scale of their progress took everyone by surprise. 
Still learning how to ski three years ago, the Chinese athletes finished the January World Cups with six gold, nine silver and three bronze medals split between Zhang Mengqiu, Zhang Wenjing and Liu Sitong.
"I like the athletes because they put in a lot of passion. They love skiing," said China's head coach, Italy-born Dario Capelli. 
4. Party like a Russian
 
Costumed ceremonies, anthems, billboards, TV cameras and fishing trips - the Russian organisers spared no effort in hosting the World Cup in Juzhno-Sakhalinsk in February.
From the moment the athletes landed at the airport in the Far East island region and were greeted by journalists and volunteers, to the final start of a two-week racing blitz, this World Cup left all its participants in awe of the spectacle.
"All the coaches and the teams are impressed with how they organised this event. You have the feeling that you are at the World Championships or at the Paralympic Games and this is very unique. We never had this before," said Austria's head coach Markus Gutenbrunner.
5. Cheesy birthday
Marie Bochet had another reason to remember Juzhno-Sakhalinsk with fondness. The French ski star celebrated her birthday during the Russian stage of the World Cup and was gifted a box of artisanal cheese by the local organisers - a nod to the Bochet family's cheesemaking business.
The present was a perfect match.
"I really enjoyed my birthday here," Bochet said. "Russian cheese is a good discovery for me because I love cheese. I'm a French girl so I love that and it's nice to discover the cheese of other countries." 
6. Never had a friend like me
Vision impaired pairings can take years to sync, but there were three new duos this season who proved that sometimes team chemistry is instant. 
Italy's fresh tandem Giacomo Bertagnolli and Andrea Ravelli were so successful in their races this season that they claimed the overall title in the men's vision impaired class. Germany's Noemi Ristau and her guide Paula Brenzel echoed the feat on the women's side.
Paralympic champion Mac Marcoux also seemed perfectly in tune with his new guide Tristan Rodgers. The Canadian pairing went undefeated in their races to finish the season with a Crystal Globe in giant slalom.
7. "Be nice, think first, have fun - Jeff"
Thomas Walsh's longtime mentor Jeff Shiffrin, father of Olympic champion skier and Walsh's childhood friend Mikaela Shiffrin, passed away in early February. When it came time for Walsh to race in Sakhalin a week later, the USA athlete brought the sporting legend along for the ride with a quote written in black marker and taped to the front of his ski helmet.
With Shiffrin's advice in mind, Walsh won the men's standing giant slalom to end his five-season drought of World Cup gold and give a worthy tribute to the man who helped him to get there.
"He was definitely with me today as I won the GS," Walsh said. "I find myself in debt to people who helped me overcome my cancer treatments and continued to support me while I was living with a disability and Jeff was one of the most influential people to do that for me."