Millie Knight ends two-year wait for World Cup medal
Paralympic medallist steps onto World Cup podium for the first time since 2017 crash
21 Jan 2020
Imagen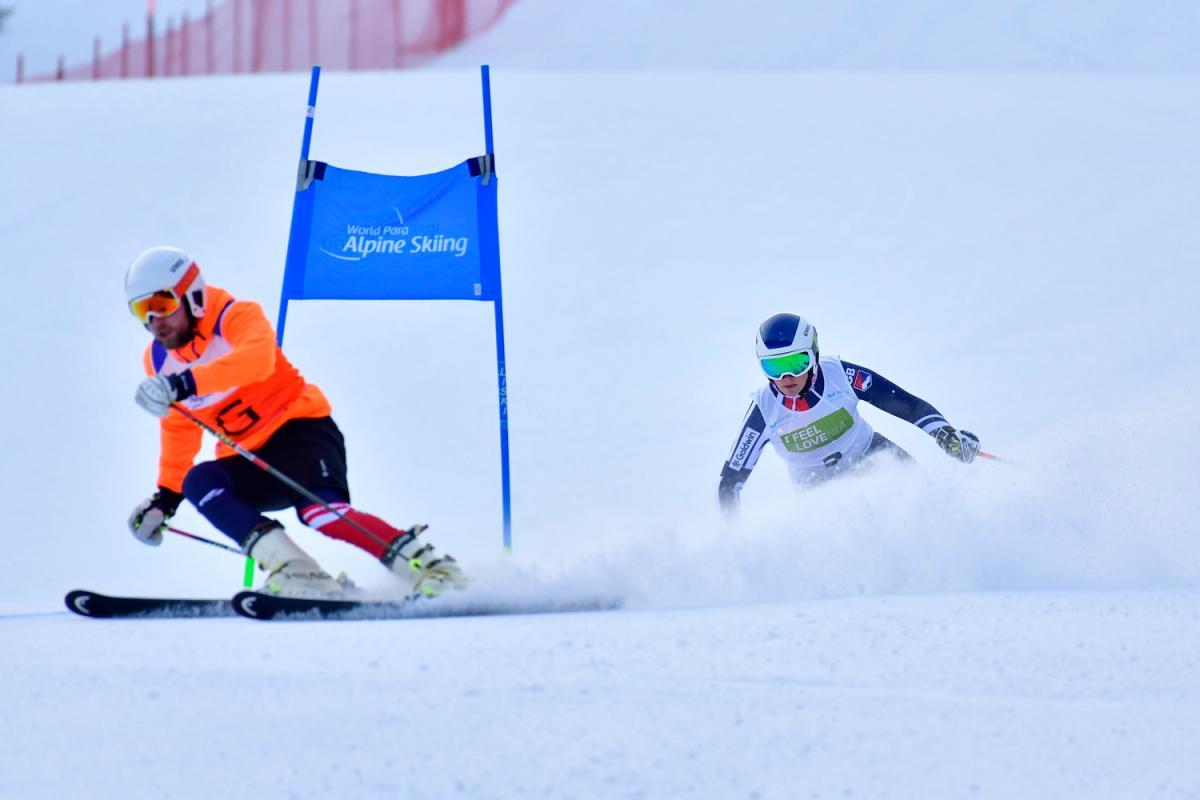 ⒸLuc Percival for World Para Snow Sports
By Lena Smirnova | For World Para Alpine Skiing
British vision impaired skier Millie Knight has competed with headaches in multiple races, but after the World Cup races in Kranjska Gora, Slovenia she experienced a different kind of buzz.
The Paralympic multi-medallist made it onto the World Cup podium for the first time in two years on Monday, January 20, and followed it with a gold-medal performance on Tuesday to put the dark days behind her. 
"I'm absolutely bubbling. I'm so pleased. It's been a very long time because I had a major crash in 2017. It took two years to really recover from it," Knight said. "Today I'm speechless. I'm over the moon."
The 21-year-old suffered a concussion in a crash two years ago, but did not give herself time to recover from it because it came shortly before the Paralympic Winter Games. With Para alpine's biggest competition within reach, Knight continued to ski despite the injury.
"I was in a bad way," she recalled. "I was struggling with my balance, and I just felt not myself and it was a very difficult time, very difficult."
Knight skied with these concussion symptoms at the PyeongChang 2018 Paralympic Winter Games where she surprised herself with a silver in downhill and super-G and a bronze in slalom.
After PyeongChang, however, she made the decision to step away from competition and give her body time to recover from the concussion, as well as a more recent back injury. 
She started a psychology degree at the University of Kent and continued training, but did not take part in any ski competitions. 
"I never really rested from my concussion and my crash because it was the Games year. I never had that time to fully recover, so last season I thought, I'm going to just train. Races weren't my focus at that point," Knight said. 
"It made me stronger," she added about her year off. "I'm fitter, healthier, happier than I was. All good steps in the right direction."
Trial and tribulation 
Given how much Knight was enjoying her studies and break from competition, the decision to come back to the World Cup was not a simple one. In the end, it was the "what if" factor that brought the young skier back to the starting gates.
"That's a question that I battled with too, but I thought, you know what, I was so close at the Games - I was 0.86 behind gold [in downhill] - and I just thought, I've got this talent that everyone keeps telling me I have - I'll believe that one day - I've worked pretty much half my life to get here. I haven't come this far to only come this far," Knight said. 
But just as Knight was coming back to the circuit, she suffered another setback. Her long-time guide Brett Wild contracted a virus and was unable to ski with her at the World Cup opener in Veysonnaz, Switzerland at the start of January.
A reserve guide stepped in, but since the pair had not trained speed events together, speed specialist Knight had to skip the three super-G races that kicked off the competition. 
She took part in two giant slalom events instead, but missed the podium in Switzerland. 
Then, after a two-year wait, she made it back onto the podium with two solid runs in the giant slalom in Kranjska Gora. Austria's Veronika Aigner and her sister guide Elisabeth Aigner won gold, while Germany's Noemi Ristau with guide Paula Brenzel were second.
"Our first run was amazing. I would have been happy with that. It kind of proves to me that I can do it. A good solid second run and coming away with third [place] - it's just incredible. I can't stop smiling."
The competition in Kranjska Gora continues with two giant slalom races and wraps up with one slalom. Full results from the competition are available on the World Para Alpine Skiing's website.