Barbara van Bergen leads the way
Dutch thrill seeker switches wheelchair basketball for the snow and encourages more women to experience the adrenaline of sit skiing
02 Nov 2019
Imagen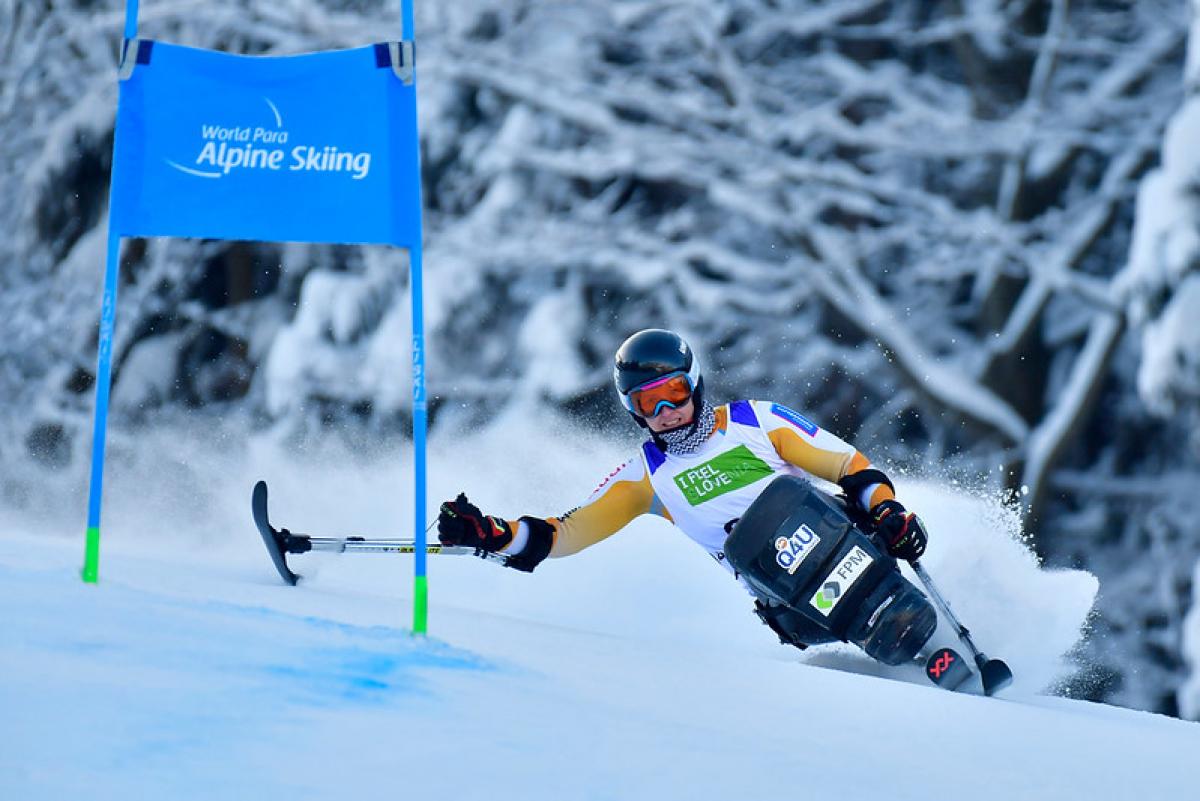 ⒸLuc Percival
By Lena Smirnova | For World Para Alpine Skiing
Barbara van Bergen is encouraging more women to experience the adrenaline of sit skiing
She is easy to spot on the Dutch Para alpine skiing team. Surrounded by some of the world's best skiers, van Bergen is often the only woman on the squad at international competitions. 
This misbalance is one of the key reasons why van Bergen switched to Para alpine skiing in the first place despite enjoying a successful career in wheelchair basketball.
"When there were the [2010 Paralympic] Winter Games in Vancouver, I saw we had only one competitor, [Para alpine skier] Kees-Jan van der Klooster, a guy, and I was like, what the hell is going on there? The whole Dutch team at the Paralympics is so big, why do we only have one guy?" van Bergen said.
"So I thought, it's A, a sport you can do on a professional basis and B, I want to show girls that there is a possibility for us to do this as well."
Switching wheels for skis
Van Bergen had skied and snowboarded for fun before her motorcycle accident in 2006. She tried skiing again in 2007 during a holiday, but did not know then that there was an opportunity to pursue Para alpine skiing competitively. So she chose to train in wheelchair basketball instead.
She made her Paralympic debut with the Dutch wheelchair basketball team at Beijing 2008, and helped them win bronze at London 2012 and Rio 2016. 
Despite her success in wheelchair basketball, Para alpine skiing was constantly on van Bergen's mind ever since Vancouver 2010.
After London 2012, she started blending skiing into her regimen by balancing three weeks of wheelchair basketball training with one week on the slopes. She also went to some regional skiing competitions with the national team.
"Between London and Rio, I had two seasons together with the team to see how it was and if I was good at it because skiing during a holiday is so different from alpine skiing, and I liked it. I loved it," van Bergen said. "I knew that after Rio I would make the switch."
Van Bergen found herself going from being surrounded by female wheelchair basketball teammates to being one of the few women on the Dutch skiing squad, which also included Anna Jochemsen and Linda van Impelen. Since both were absent in the 2018-19 World Cup, van Bergen was often the only Dutch woman on the circuit last season.
"I don't mind. I love it with the guys," she said. "I actually found out that being the only girl on the team makes me more open and more communicative with the other girls because normally I would be with our two girls, and you always stick together, but now you're alone so it's easier to talk to the other girls who are also alone."
Female slope blazer
A self-described thrill seeker, van Bergen is drawn to the adrenaline of sit skiing.
"I love it. I love the speed, I love getting your heart rate so high," said the downhill specialist. "It's just my thing. I was riding a motorcycle as well, so I think it's part of me."
The 2006 accident that resulted in paraplegia did not discourage van Bergen from taking up risky sports. If anything, she has become even more of a risk taker since then.
"Maybe I even stepped it up a little bit," van Bergen said. "In the beginning you're a bit careful but in the end, you don't need to let your injury or whatever happened to you keep you from doing what you love."
While van Bergen relishes the high speeds of Para alpine skiing, she also understands that it is the risk factor that keeps many women from trying out the sport.
"I think it's important for us girls to inspire other girls to come and do this so that it's not just a men's sport and so we show that we can do this as well."
As a personal goal, van Bergen has her sights set on qualifying for the Beijing 2022 Paralympic Winter Games after missing out on qualification to PyeongChang 2018.
"I'm aiming for Beijing," she said. "I started in Beijing. That was my first Paralympics, so how cool would it be to compete there in the winter as well and have that full circle?"