Shark bite brings breakthrough for Manoel Bourdenx
French skier ready for more after thrilling debut season on Para alpine circuit
18 Aug 2019
Imagen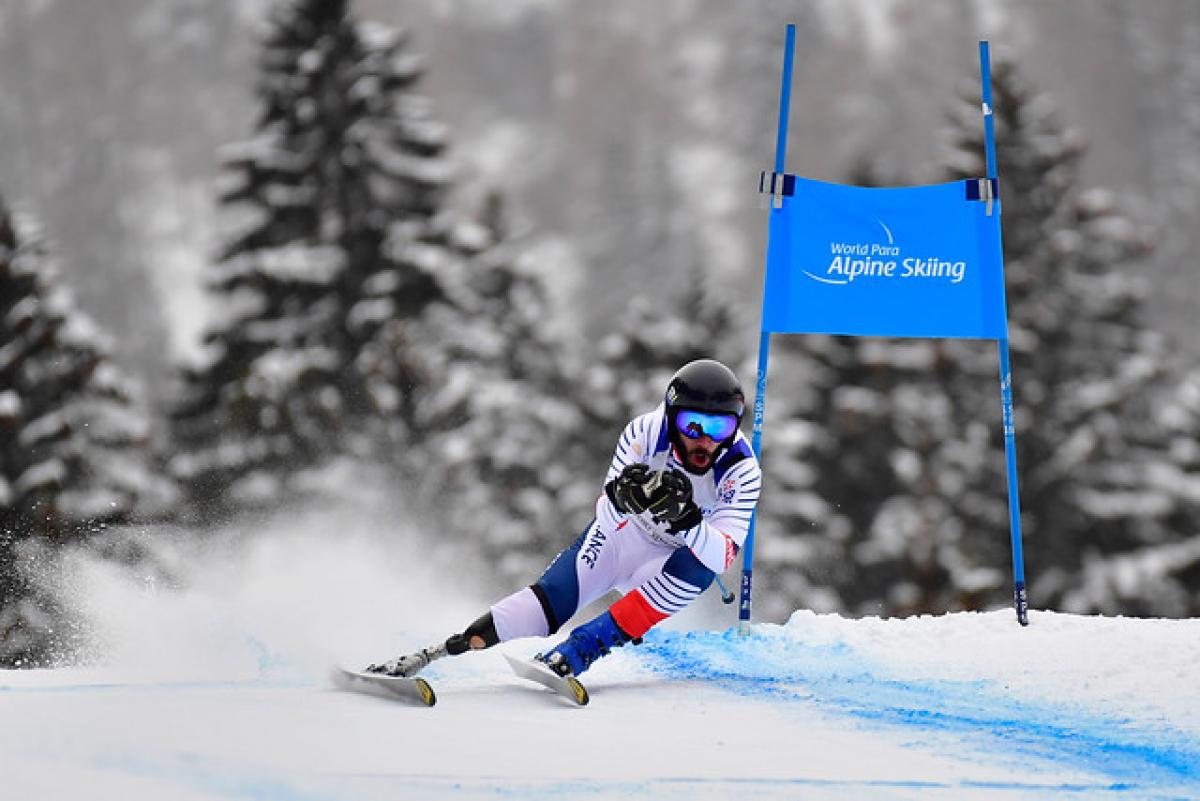 ⒸLuc Percival
By Lena Smirnova | For World Para Alpine Skiing
The surgeon came and I asked him straight away, 'Am I going to ski with my two legs again?' and he told me, 'Yes,' and from there I just thought, 'What do I need to do to get there?'
Having a leg bitten off by a shark would discourage most people from coming close to the predators ever again. Not so for Para alpine skier Manoel Bourdenx who went swimming with sharks one year after getting attacked by one.
"I needed that because I'm sure that sharks are not dangerous," Bourdenx said. "Everything is more dangerous than sharks, even coconuts, mosquitos, wolves, people, everything."
Bourdenx's extraordinary ability to make the most of every situation was on full display over the past Para alpine season where he made his debut on the international circuit. 
The 32-year-old initially only aspired to be a forerunner, but as the season closed, he was posting top 10 results in the highly competitive men's standing class and on his way to becoming a full member of the French national team. 
Holiday, interrupted
Bourdenx was no stranger to sharks when he went on a surfing holiday in April 2017. He came close to the predators on his earlier surfing trips, but none had ever attacked. 
All that changed on the coast of Kauai, Hawaii when a tiger shark swam up to him and latched onto his body.
"When I saw him, it was too late," Bourdenx said. "I was just surfing, waiting for a wave, sitting on my board, and the shark grabbed my leg. I fought with him about 12 seconds, and then he released me, and a wave came and brought me all the way to the shore. 
"I wanted to stand on my board on the way back because I didn't want the shark to bite me again, so I needed to look at my leg and I saw nothing. I saw the sand between my bones."
His girlfriend gave Bourdenx first aid when he washed up on shore. An ambulance arrived shortly after. He was swept up into surgery and within six hours of the accident went from being a sports enthusiast to an amputee.
The first days in the hospital were rough as the athletic Bourdenx, not only an amateur surfer but also a ski instructor, lamented the change in his body.
"The first half hour was hard. I tried to lift my leg and it was so light, so I realised that it wasn't just a nightmare," he said. "Then I cried for a bit and the surgeon came and I asked him straight away, 'Am I going to ski with my two legs again?' and he told me, 'Yes,' and from there I just thought, 'What do I need to do to get there?'"
"You're gonna need a bigger dream"
Looking back at that fateful afternoon in Hawaii, Bourdenx is impressed at how lightly he took the situation.
"It was really weird on the beach because I was the only guy who was OK," he said. "I realised on the faces of everyone around me that it was a big deal, but in my head, it wasn't."
As reality sunk in, Bourdenx chose to focus on everything positive that could come out of the accident. The Paralympic Games quickly came to mind. 

Bourdenx decided early on that alpine skiing would be his pathway to the Games, but actually putting on skis again was a frightening prospect. Having been an avid skier since childhood, Bourdenx worried that he would not be able to ski as before. 
He tried skiing with a prosthetic for the first time in December 2017.
"I've never been that stressed in my life," Bourdenx said. "When I put my boots on, it was just like, 'Man, am I going to enjoy this?' I was so scared to not be able to ski like before, to not enjoy skiing."
But once Bourdenx strapped on the skis, he could not hold back.
"I did five turns to reach the chairlift and all my friends were waiting for me at the top. The snow powder was so good. The conditions were perfect and they told me, 'If you want to do one or two easy slopes before joining us, you can, but we're going to go to powder'," Bourdenx recalled. "I was the first to drop in. I didn't want to wait any more."
Now that he was skiing again, Bourdenx set his next goal - to be a forerunner at the finals of the World Alpine Para Skiing World Cup in Morzine, France in March 2019. 
He started casually practising with the French national team in January 2019, but his progress was so impressive that he was soon competing as an unofficial member of the squad at the 2019 World Para Alpine Skiing World Championships and World Cup stops. 

"The French team asked me to stay to train with them. It was good timing and good luck," Bourdenx said. "At this time, I was just dreaming of being [in Morzine] because it's home. I've been teaching for 10 years here and I just wanted to do a decent run in front of all my friends."
Bourdenx continued to make stable progress through the season. At the 2019 World Championships he recorded a career-best result in downhill when he finished fifth.
When his friends came out to Morzine, instead of watching a forerunner, as expected, they watched Bourdenx take to the slopes as a bona fide World Cup racer. 
"It was so cool to be part of the game and not just a forerunner," he said. 
A year after the accident, Bourdenx checked another item off his wish list. Last summer he plunged into the South Pacific to swim with sharks and prove that there is nothing to fear.
"They don't even care about you. They come to see your bubbles and then they go away," Bourdenx said. "I know them way better than before and I just hope that people will open their eyes and realise that they are not dangerous."