Alpine Worlds 2019: Poster perfect
Volunteer Geza Selmeczi gives medallists perfect memento
03 Feb 2019
Imagen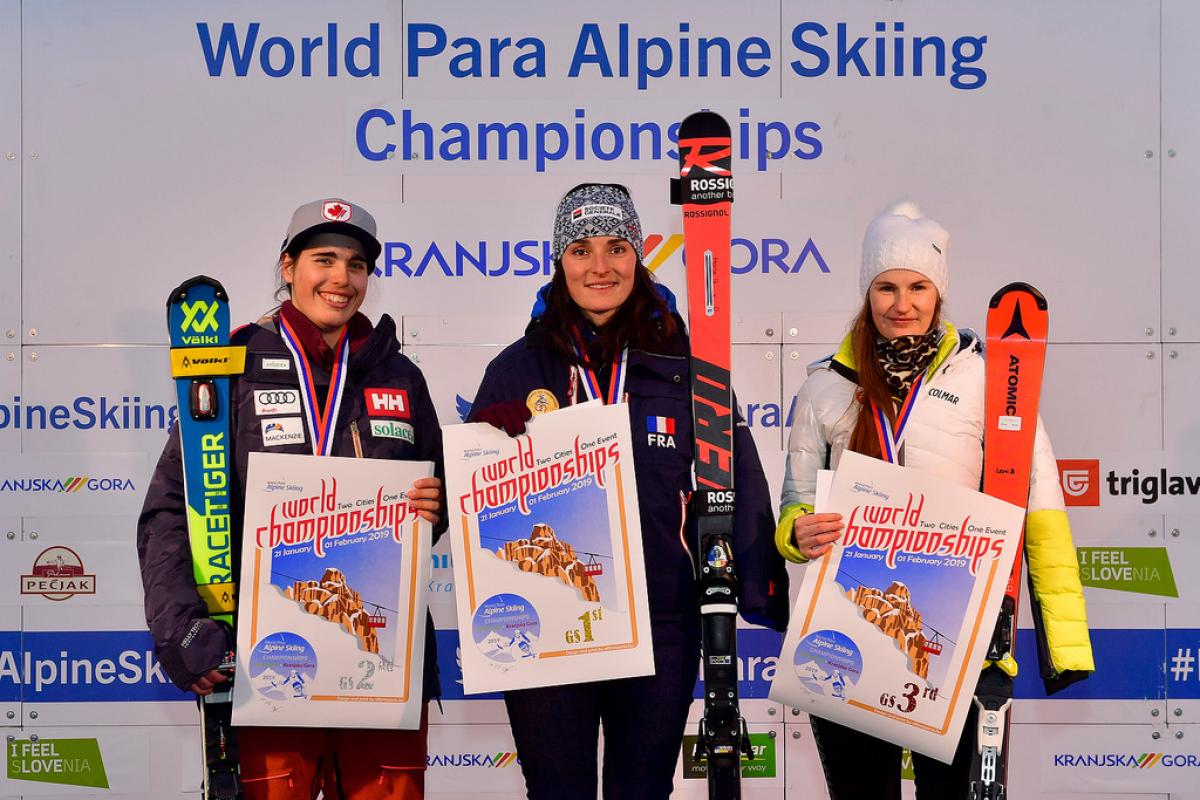 ⒸLuc Percival
By Lena Smirnova | For World Para Alpine Skiing
"I think everybody is so very, very happy with the posters. The athletes and coaching colleagues change, so I meet again these colleagues, I meet again the athletes, and it's a very, very good feeling that when these guys meet me, they say, 'Oh, hello Geza. How are you?' Not just, 'Who are you? Where are you from?' It's a very good feeling."
As Marie Bochet clutched a gold medal she just received for her winning run in the women's standing slalom in Kranjska Gora at the 2019 World Para Alpine Skiing Championships, the French champion was also handed a handmade poster to commemorate her achievement.
The print featured the bright gondola and mountain views of World Championships co-host Sella Nevea, with the letters "Slalom 1st" in glittery gold foil on the bottom corner.
As Bochet clutched the poster in awe, its creator stood star-struck by the podium.
"At the last race in Kranjska Gora, I gave one poster to Marie Bochet," said artist Geza Selmeczi. "She's a brand new world champion and she asked me, 'Oh, did you print it? It's amazing!' I stammered, 'Umm, yes, yes, I printed it'. 'Oh, thank you'.
"It's a very, very good feeling that I can give these athletes and coaches a nice souvenir. This is a nice memory and it can give them very happy moments."
Loving the slopes
Born in Hungary, Geza Selmeczi worked as an architect before returning to the love of his youth years, alpine skiing. He had been an avid amateur skier in his younger days and after seeing the Paralympic equivalent of the sport, decided to start up Hungary's Para alpine skiing programme as the head coach.
The year was 1998 and Hungary had never had Para alpine skiers before. Selmeczi had to start the program from scratch and often at personal cost.
"We must learn everything, absolutely everything - how to work the mono ski bob, how to race, the rules," he recalled. "We were pioneers.
"We didn't have enough money. I pushed a lot of my private money into the sport - poles, radios, tools to prepare the skis, travelling. My wife was so very, very angry at this."
Selmeczi coached Hungary's national team for 10 years and had two of his athletes qualify to compete at the Turin 2006 Paralympic Games. Although he left the job in 2008, he never managed to let go of his beloved sport.
"I stood up at a team meeting in summer 2008 and I said, 'Thank you. Bye', and I went home. I'm finished. After that I felt a big hole," Selmeczi said. "I keep my hand on this sport. I follow all the news, the races, the athletes. It's my life. It's been my life for 20 years."
Unable to cope with being out of the sport, Selmeczi returned to the Para alpine circuit in 2011, this time as a volunteer.
From Geza, with love
Selmeczi has volunteered at the World Para Alpine Skiing Championships since the 2011 edition in Sestriere, Italy. He is a constant fixture at the bi-annual events where he migrates from helping with the gondolas to handing out food at the athletes' tent to slipping the slopes ahead of the races, among other tasks.
At this year's World Championships his contribution was greater than usual, although not as obvious.
In addition to his usual volunteer duties, Selmeczi took the initiative of creating 175 screen prints of a self-designed poster. The posters are given to athletes and guides who win medals at the 2019 Worlds. There is also a handful posters to thank the organisers and support staff of the competition.
Selmeczi's father had a screen-printing workshop. When Selmeczi ended his career as an architect in 1995, he turned to screen printing and used this hobby-turned-profession to raise money while working as a Para alpine ski coach.
He has received the highest honour in Hungary for print designers and has also made the list of top five screen printers in the world on several occasions.
The poster that Selmeczi made for the 2019 Worlds took two months to create from the idea stage to the ready product. He began by meticulously researching old ski posters and drawing multiple versions of his poster design by hand.
"I spent many hours at the computer and searched a lot of vintage, original ski posters," Selmeczi said. "Everything I do, I have to do with very high maximalism. If I make something, it has to be absolutely perfect."
The printing process itself took about 20 hours. Selmeczi had to make a separate screen for each of the seven colours used in the poster.
In addition to the 175 posters for the athletes, Selmeczi made seven unique prints to give to the Italy-based SportXAll team, which is helping to organise the competition in Sella Nevea. Selmeczi said that they can keep the prints or auction them off to raise money for their foundation, which promotes Para sports, especially among schoolchildren.
"I think everybody is so very, very happy with the posters," Selmeczi said. "The athletes and coaching colleagues change, so I meet again these colleagues, I meet again the athletes, and it's a very, very good feeling that when these guys meet me, they say, 'Oh, hello Geza. How are you?' Not just, 'Who are you? Where are you from?' It's a very good feeling."