Alpine Worlds 2019: Hard to say goodbye
Veteran Spanish skiers look to open new life chapter
25 Jan 2019
Imagen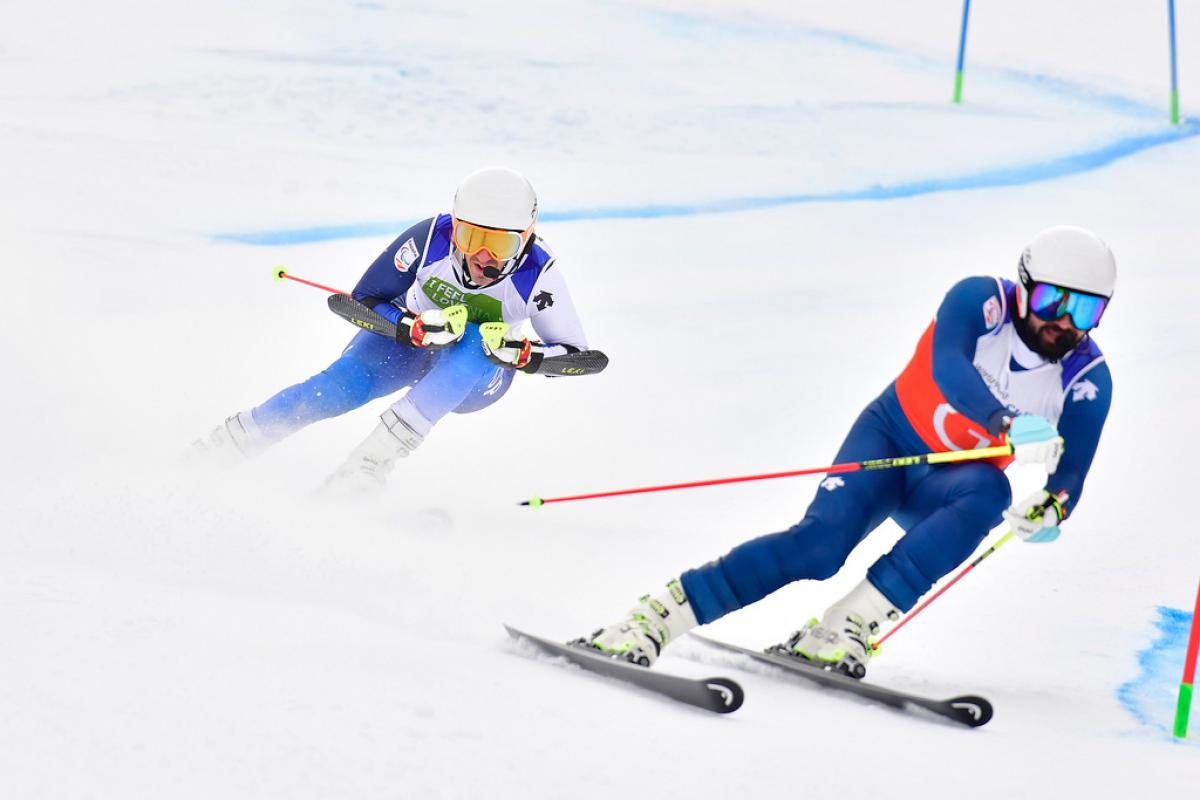 ⒸLuc Percival
By Lena Smirnova | For World Para Alpine Skiing
"It's very difficult to say goodbye, very very difficult. After a long time doing the same thing, it's difficult to know what we are going to do and that is a big step that we have to make. It's the most difficult decision we have to make."
Degenerative vision and a bad knee that requires immediate surgery did not stop Spain's Jon Santacana Maiztegui and Miguel Galindo Garces, who have been athlete and guide for 17 years, from competing at their seventh World Para Alpine Skiing Championships.
But for the veteran duo, the road may have ended in Kranjska Gora.
"It's very difficult to say goodbye, very very difficult," Galindo Garces said. "After a long time doing the same thing, it's difficult to know what we are going to do and that is a big step that we have to make. It's the most difficult decision we have to make."
Back for more
Santacana Maiztegui and Galindo Garces have been skiing together for 17 years, and their partnership has now reached such a level that they can sense each other's position on the course.
This harmony has earned them countless medals at the world's biggest competitions - among them, six Paralympic medals and seven world titles - but now age and injuries are taking their toll.
Santacana Maiztegui has suffered multiple injuries over his skiing career, including a chronic back injury that has plagued him since 2015, and his eyesight continues to deteriorate as a result of the degenerative Stargardt disease.
The pair planned to retire after competing at the 2018 Paralympic Games, but a surprise silver in the super combined made them hopeful that there were more medals to be won so they took up training again to compete at the 2019 World Championships in Kranjska Gora.
"When you get a medal in the Paralympics, that adds some motivation, to know that maybe we can do it again in the World Champs," Santacana Maiztegui said. "And after a long time, to be on the podium in Paralympics and in World Champs, it's hard to say goodbye without trying to be there. Because of the medal in PyeongChang, we thought that we can do it."
Changing challenge
The pair have traditionally been the strongest in downhill, where they have won Paralympic gold twice. However, as Santacana Maiztegui's sight deteriorates, the downhill has become increasingly difficult for him to ski, so for the 2019 Worlds, they chose to compete only in the technical events.
"I would still race the downhill, for sure, because with experience it's better to race in downhill," Santacana Maiztegui said. "Downhill you need to have a lot of experience and we have experience. But we are not able to do it safely."
"The problem with Jon is degenerative," his guide added. "Every year is worse, and at this moment it's not safe for Jon to race in downhill because he can't follow me. His main problem is in the middle of the eye so when the course is straight, he doesn't know where he goes."
As the duo started to prepare for the 2019 World Para Alpine Skiing Championships, they suffered yet another setback. Galindo Garces injured his knee in November, and they had to stop training for one and a half months.
Although the doctors insisted on surgery, Galindo Garces was unwilling to miss the World Championships, which could become the pair's last, and chose to postpone the procedure until after the competition.
"I decided to do it in February because if not, the season would be over for us," he said.
In contrast to Santacana Maiztegui, technical events are now the hardest for Galindo Garces because of the strain all the turns put on his injured knee. Despite the discomfort, he was diligently at the start for both the giant slalom and slalom races, ready to tackle the course.
The pair placed fifth in the giant slalom on the opening day of racing but crashed in the first slalom run in their final event at 2019 Worlds, leaving their future in the sport in doubt.
Life after skiing
Now that Galindo Garces is headed to knee surgery, the athletes are unsure if they will be able to come back to training and competition. And after almost two decades on the Para alpine circuit, they are equally unsure of what life would be like without skiing.
"After 17 years of racing together, we see that the new people, the young boys, came into the circuit very strong so every year it is more and more difficult for us to stay at the top," Galindo Garces said. "First I have to know how the knee will be because I don't know if I will have problems with my knee. Right now, for me, the slalom is very hard."
Whatever happens, Santacana Maiztegui said the experience of being an elite Paralympic athlete will help him to succeed in any activity he chooses to pursue next.
"I don't know how, but I know that this is going to help me because to be here, at the top level, it's a big challenge so if I am able to do it here, for sure I will be able to do it in another field," the Para alpine veteran said.