USA's Thomas Walsh has aggressive approach in Kranjska Gora
Third World Cup a chance for runners-up to turn the alpine skiing season around
19 Jan 2020
Imagen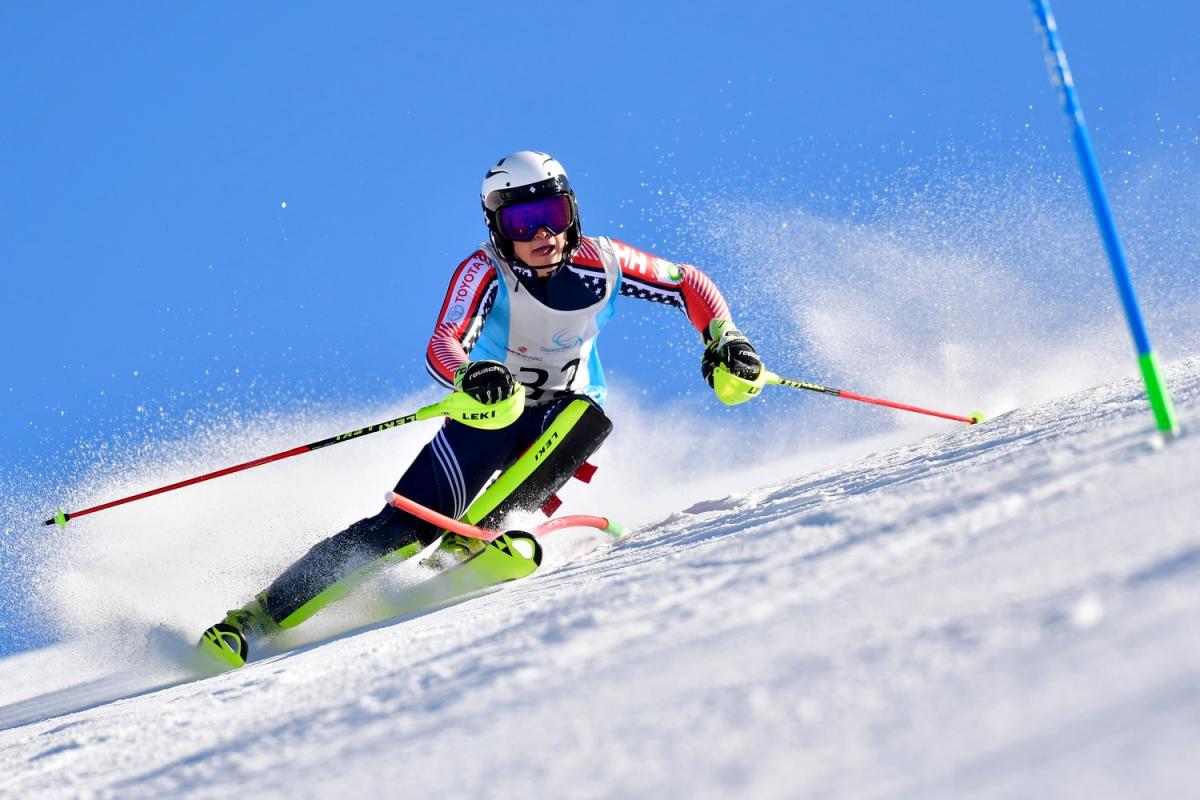 ⒸLuc Percival
By Lena Smirnova | For World Para Alpine Skiing
The USA's Thomas Walsh has been in attack mode since the start of the alpine skiing season. It is the only way he believes will get him back into winning form, as the standing skier enters the third World Cup on the 2019-2020 circuit in Kranjska Gora, Slovenia, from 20-23 January.
So far, last season's slalom Crystal Globe winner has had two fourth places, the last place and a DNF (did not finish). Those have not deterred his confidence.
"I really worked on some technical things and letting myself charge it a little bit more, and ultimately that's going to lead to more DNFs," Walsh acknowledged. "That's going to lead to more straddles. It's going to lead to some simple errors that don't necessarily come when you're skiing more conservatively.
"These past few years, my blessing has been to be consistent and fortunately last year how I won the Globe was consistency, finishing around the same spot," he continued. "But looking back at my results, I haven't won [an overall] World Cup in four, five years now. Trying to ski faster and charge it every run is the only way to be able to get there."
With his new "no-holds-barred" approach, Walsh found himself hiking up the slalom course almost as often as skiing down it at last week's World Cup in Prato Nevoso, Italy. However, he would return to the starting gates looking more determined and won the second runs twice. 
Walsh is expected to show more of the same grit in Kranjska Gora, which will see three giant slaloms - Walsh's favourite discipline - and one slalom race, which the USA skier has had the most success.
Sizing up the competition
Along with Walsh, the men's standing field will also feature the winner of this season's earlier giant slalom races in Veysonnaz, Switzerland, Arthur Bauchet of France, and fellow medallists Canada's Alexis Guimond, Austria's Markus Salcher and Switzerland's Thomas Pfyl. 
"If you look at the overall scheme of the men's standing field this season, just finishing isn't enough," Walsh said.  "While I applaud the athletes these past few days who got on the podium and done well, unfortunately, I see that they haven't exactly pushed the limit. They've kind of just gotten down."
One athlete whose style Walsh admires is Russia's Aleksei Bugaev, Paralympic silver medallist in giant slalom and champion in super combined. Bugaev broke his wrist before the Veysonnaz World Cup opener, but continued with the races and won bronze in the final slalom in Prato Nevoso.
"I like to compare myself against Bugaev and he ultimately sends it," Walsh said. "I'm trying to harness that energy in order to chase him down, in order to make myself go faster."
The competition in Kranjska Gora will be another upward climb for Bugaev who was missing from the circuit last season and is getting back into competition mode while balancing great expectations that come with being a Paralympic champion. 
World silver medallist in slalom, Thomas Pfyl, carries an even heavier burden after failing to complete all three slalom races in Prato Nevoso.
"I have some back problems and in the slalom it's the most difficult," the Swiss athlete said. "You must do more turns and move your back. But in the giant slalom I hope it is better."
Battle back from injury
This season is also a climb for vision impaired skier Noemi Ristau and her guide Paula Brenzel. The German women teamed up in December 2018. But Ristau broke her ankle on their first training in January and was sidelined from the World Cup.
Despite the long absence from the circuit, the pair have had a strong start by picking up two giant slalom silver medals and three slalom bronze medals. With Austria's Aigner sisters undefeated in all their races so far in 2020, Ristau and Brenzel have set a more modest target.
"Menna Fitzpatrick is our close competition and we want to beat her. That's our goal," said Brenzel of the British skier and her guide Gary Smith who trailed them in giant slalom, but beat them in slalom.
"The problem is the technique and so we are working on getting the right line and the communication. We trained giant slalom a lot this year and the communication is there, I think it's perfect."
Standing skier Marie Bochet has also found herself in a position of having to hike back up to the top of the podium. The French star has dominated her class for the past decade, but had an uncharacteristic start to the season in Veysonnaz with silver and bronze medals standing out noticeably against her usual streak of gold.
After a week-long break from competition, Bochet will try to recapture her old magic. 
Leader bib tug-of-war
Canada's Mac Marcoux and Italy's Giacomo Bertagnolli will face off again in the men's vision impaired class after sweeping gold medals in two different World Cup stages. Marcoux won five straight in Veysonnaz, while Bertagnolli capitalised on his rival's absence in Prato Nevoso. 
In the men's sitting class, Norway's Jesper Pedersen will aim extend his winning streak to four while fending off earlier giant slalom winners Igor Sikorski of Poland, Italy's Rene de Silvestro, as well as the always dangerous, Dutch eight-time world champion Jeroen Kampschreur. 
Like Pedersen, Germany's Anna-Lena Forster has gotten ahead in the rankings after two victories in Prato Nevoso. But the challenge in Kranjska Gora will be more robust with USA's Laurie Stephens, who beat Forster in both races in Veysonnaz.
Live results from the Kranjska Gora World Cup are available on the World Para Alpine Skiing's website.