Information for Para athletes and IPC members on COVID-19
As we have noticed a decline in the amount of information, we can practically share regards COVID-19, so we have changed the frequency of this update to every second week
23 Jul 2020
Imagen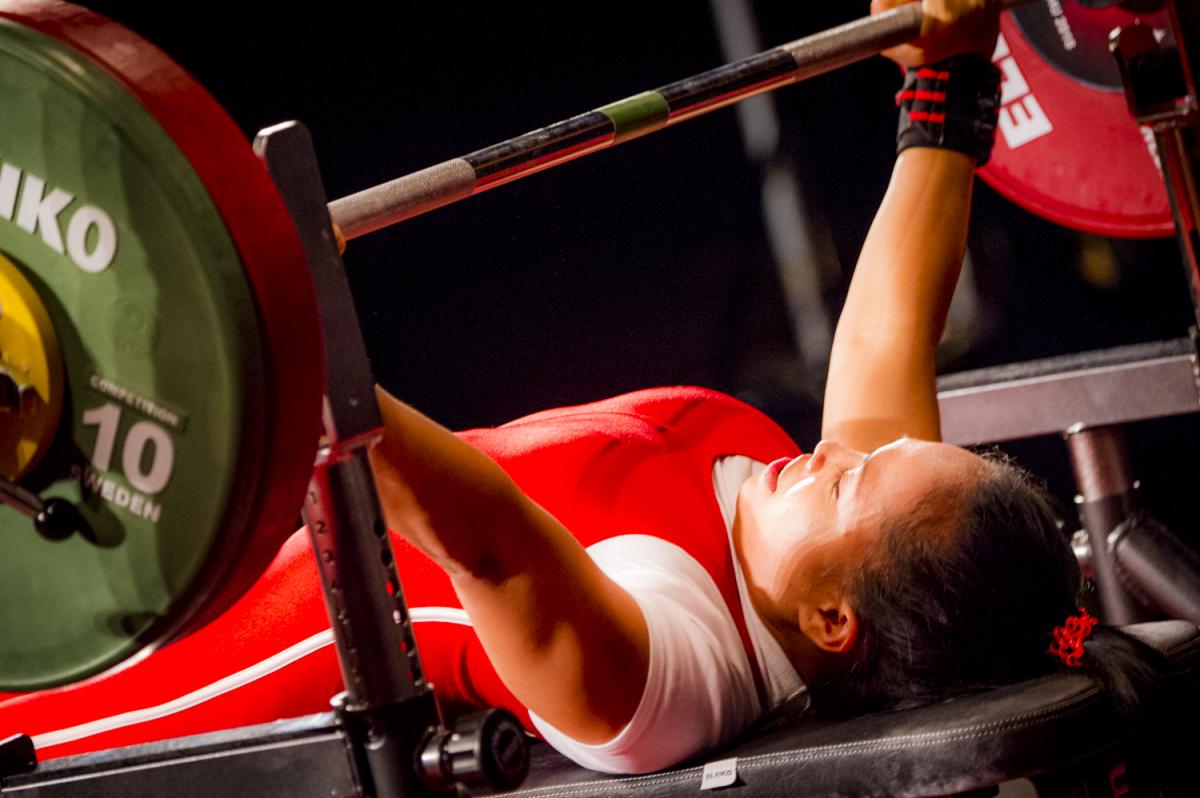 ⒸHiroki Nishioka for World Para Powerlifting
By IPC
The IPC's update on coronavirus disease (COVID-19) – 23/07/2020
The purpose of this biweekly update is to keep everyone within the Paralympic Movement informed of the latest developments with the COVID-19 pandemic and how it relates to the Paralympic Games and Para sport.
This week's update contains the following information:
IPC and Tokyo 2020 updates – 'Rising Phoenix' Netflix movie

Innovating during the pandemic: Creating and running an online competition, by Dillon Richardson, Performance and Development Manager at World Para Powerlifting

World Health Organisation update

Latest media statements from the IPC
We start this week with news about a new Netflix movie called 'Rising Phoenix', a ground-breaking film about the Paralympic Movement.
Our lead article comes from Dillon Richardson of World Para Powerlifting. Since lockdown, his sport has innovated and embraced technology to keep athletes, coaches and technical officials involved in forms of competition.
World Para Powerlifting initially created what they thought would be a one-off event, where athletes could post lifts from a home environment, then submit them online to be judged by certified Technical Officials. The idea has proved so popular that they are now on their fourth version of the competitions. Each event is easy to access, online hubs for guidance and has created a great spirit in the Para powerlifting community.  
Today marks one year to go until the start of the Tokyo 2020 Games and the Tokyo 2020 Organising Committee released a video featuring message of support for all athletes aiming to participate at next year's Games.
International Paralympic Committee President Andrew Parsons acknowledged the landmark date saying: "The one year to go mark gives everyone involved in the Games, especially the athletes, something to aim and aspire for next year. The Games offer hope for the whole world and the IPC is fully committed with all stakeholders to ensure the safe and successful staging of the Paralympics in 2021.
"It may feel like Groundhog Day celebrating this landmark again, but the Tokyo 2020 Paralympic Games will be well worth the wait. They will be a global celebration of human endeavour, resilience and hope and I am fully confident that the performances of Para athletes will entertain the world and have a profound impact on driving social inclusion in Japan and around the world.
You can read about the Tokyo 2020: 'One Step Forward +1 message' here and watch the emotional video here.
We want this platform to continually highlight initiatives that National Paralympic Committees (NPC), International Federations (IF) and athletes are doing. If you would like to let us know about your story or raise awareness of any other initiative, then please get in contact at ipc.media@paralympic.org.
IPC & Tokyo 2020 updates
'Rising Phoenix' - Netflix to broadcast ground-breaking Paralympic movie this summer
On Wednesday 26 August, 'Rising Phoenix', a ground-breaking movie about the Paralympic Movement, will premiere in over 190 countries worldwide on Netflix.
The film release was planned to coincide with Tokyo 2020 this summer but will now form an important part of the celebrations leading up to the Paralympic Games next year. 
Featuring Paralympians from across the world, 'Rising Phoenix' tells the extraordinary story of the Paralympic Games. From the rubble of World War II to the third biggest sporting event on the planet, along the way sparking a global movement which continues to change the way the world thinks about disability, diversity and human potential.   
Athletes featured in the film include Bebe Vio (Italy), Ellie Cole (Australia), Jean-Baptiste Alaize (France), Matt Stutzman (USA), Jonnie Peacock (UK), Cui Zhe (China), Ryley Batt (Australia), Ntando Mahlangu (South Africa) and Tatyana McFadden (USA).    
'Rising Phoenix' is an HTYT Films and Passion Pictures production in association with Ventureland and Misfits Entertainment. 
Tokyo 2020 Qualification
The qualification regulations for all 22 sports can be found here.
Para sport event postponements and cancellations
The list of cancelled Para sport events remains on the IPC website and is being regularly updated. You can find details here. 
Innovating during the pandemic: Creating and running an online competition, by Dillon Richardson, Performance and Development Manager at World Para Powerlifting
Faced with the postponement of several of our international events and the Tokyo 2020 Paralympic Games due to the COVID-19 pandemic and travel restrictions imposed around the world, ourselves and the Para powerlifting community did not know when or where the next competition would be.
Deep into their training plans towards qualifying for the Games, we saw the athletes sharing their workout videos on social media. Many, with support from their national federations, were provided equipment so they could train from their homes, living rooms, garages, backyards and basements.
Thinking of how we can keep our community around the world motivated and training, we decided to create an online competition as a new creative format to mimic some of the aspects of a face-to-face competition.
Creating a protocol and set of competition rules and regulations, athletes record their lift attempt videos in a similar fashion over a period of weeks and submit them to be judged by certified Technical Officials.
Originally planned as a one-time event in April, as the pandemic and travel restrictions continued, the online competition is turned into a series spread throughout 2020.
Each competition presented the opportunity to innovate and test new things. For example, a series point system was created beginning at the second competition to reward different athletes, beyond the athlete lifting the heaviest weight, for example if an athlete goes 'three-for-three' (receiving three 'Good Lift' judgements from the Technical Officials), they receive bonus points. And through collaboration with official equipment partner, Eleiko, the winner of the overall series will win a World Para Powerlifting barbell.
We wanted to ensure the competition was accessible to athletes around the world. No registration fee is charged, processes like the weigh-in only required a common household scale that goes to one-decimal place (official rules require to two-decimal places) and equipment requirements were loosened (creative athletes like Italian, Andrea Quarto, competed using a bench overlay he designed and built himself).
The involvement of the Technical Officials was important to also keep them engaged and active during this time. All Level 1 and 2 Technical Officials were provided access to an online hub and during each competition, they were invited to judge the athletes' lift videos, with the majority making up the final decision of 'Good Lift' or 'No Lift'.
Through three competitions, athletes from 25 countries have participated, representing all regions, from Paralympic Games champions like Mexico's Amalia Perez to development athletes like Janet Sibale from the Solomon Islands.
It has been great to see athletes from countries where we have been running our education and development programmes in recent years. Smaller countries like Nepal, Mali, Uganda, Cuba and Ghana have more limited budgets so often can't travel to every competition. The online competition series has given them the opportunity to compete at the same level as other countries.
We've also been really encouraged by the reaction of the athletes, coaches and technical officials. Fabio Torres of Colombia, the winner of the first competition, told us: "The online competition is really good as it looks like a real event and it pushes you to get a great result, helping athletes to remain strong."
We also had Egypt's Sherif Osman, three-time Paralympic champion and World Para Powerlifting's Athlete Liaison comment: "With the uncertainty of the outbreak, this innovative competition keeps all athletes motivated and training from the safety of their homes and gyms."
Such comments have confirmed to us that we've been doing the right thing. And we're keeping on going. The fourth edition is currently underway. NPCs and athletes interested in joining the competition can find more information on the Online World Cup Series page: https://www.paralympic.org/powerlifting/events/world-para-powerlifting-online-world-cup-series
For all of us in Para powerlifting, this has not only been a learning experience but also a hugely rewarding one. As a staff and community, it's nice to see everyone be engaged and connected from afar. Most importantly, everyone is having fun. We're doing something positive and something for everyone to look forward to.
While these times have caused challenges and changes in all our daily lives, it's also presented the opportunity to innovate, embrace technologies and be creative. As the world slowly restarts restoring different activities, hopefully these trends can continue for the better.
World Health Organisation update
According to WHO's latest Daily Situation Dashboard on 23 July 2020 10:47 CEST, the number of confirmed worldwide cases has risen to nearly 14.9 million – three countries account for nearly half the cases (USA, Brazil and India). John Hopkins University of Medicine is reporting that nearly 8.7 million people have recovered.
Positive news from the UK was that a coronavirus vaccine developed by the University of Oxford appears safe and triggers an immune response. Trials involving 1,077 people showed the injection led to them making antibodies and T-cells that can fight coronavirus. The findings are being  acknowledged as hugely promising, but it is still too soon to know if this is enough to offer protection and larger trials are under way.
The IPC continues to use the WHO and their site as its main source of information regarding the COVID-19. It provides regular situation reports and have a wide range of guidance on health and protection, travel advice, as well as extensive myth-busting and technical guidance sections.
Their 'Key planning recommendations for mass gatherings in the context of COVID-19' guidance can be accessed on this link.
WHO's WhatsApp messaging service 
WHO's WhatsApp messaging service is providing the latest news and information on coronavirus in seven languages: Arabic, English, French, Hindi, Italian, Portuguese and Spanish. 
Arabic
Send "مرحبا"  to +41 22 501 70 23 on WhatsApp
English
Send "hi" to +41 79 893 18 92 on WhatsApp
French
Send "salut" to +41 22 501 72 98 on WhatsApp
Hindi
Send "नमस्ते" to +41 22 501 73 41 on WhatsApp
https://wa.me/41225017341?text=नमस्ते
Italian
Send "ciao" to +41 22 501 78 34 on WhatsApp
https://wa.me/41225017834?text=ciao
Spanish
Send "hola" to +41 22 501 76 90 on WhatsApp
Portuguese
Send "oi" to +41 22 501 77 35 on WhatsApp 
https://wa.me/41225017735?text=oi
Latest IPC media statements
Potential impact of COVID-19 on Para Athletes (drafted 18 March, reviewed 30 April)
At the IPC the health and well-being of Para athletes is our top priority and we are working hard to gather as much information as possible on the potential impact of COVID-19 to provide appropriate advice. 
Concern has been raised that Para athletes may be at more risk of severe disease from COVID-19, in the same way as has been stated for elderly people and for people with certain underlying health conditions. 
However, the Paralympic athlete population is not a homogeneous group. Para athletes are all individuals with very different underlying conditions and health needs, so the notion of a one-size-fits-all approach to COVID-19 is not appropriate or representative of an individual athlete's risk.
Nevertheless, because of the severity of the impairment or any associated immune deficit or chronic condition, some athletes could be more vulnerable. There are no current studies on the potential impacts of coronavirus on Para athletes. The honest answer is that we don't know because this is a new strain of coronavirus and there are very little data available.
Consultation with the IPC Medical Committee and International Federation medical experts, as well as information provided by the WHO, indicates that there has been no evidence that an athlete with disability in general have a higher risk of contracting COVID-19. 
Para athletes are also more experienced than is the general population to following hand hygiene, coughing etiquette and general infection avoidance procedures as part of illness prevention education - this has been a principle of Para athlete education for some time. However, at this time we all should be even more vigilant in this regard.
The IPC will continue to seek advice from the WHO, but ultimately athletes are the best judge of their own body and their medical needs.
Our advice for Para athletes is that they should follow the current medical guidance from the WHO and their national guidelines on prevention and seek advice from medical professionals. We would urge any athlete displaying the symptoms to report to their local medical authorities without delay. 
Important website links
•    World Health Organisation
•    Centres for Disease Control and Prevention