George Wyndham leads from front, educates Sierra Leoneans on COVID-19
With sports on hold, Para table tennis player finds alternative way to fill his time
05 Jun 2020
Imagen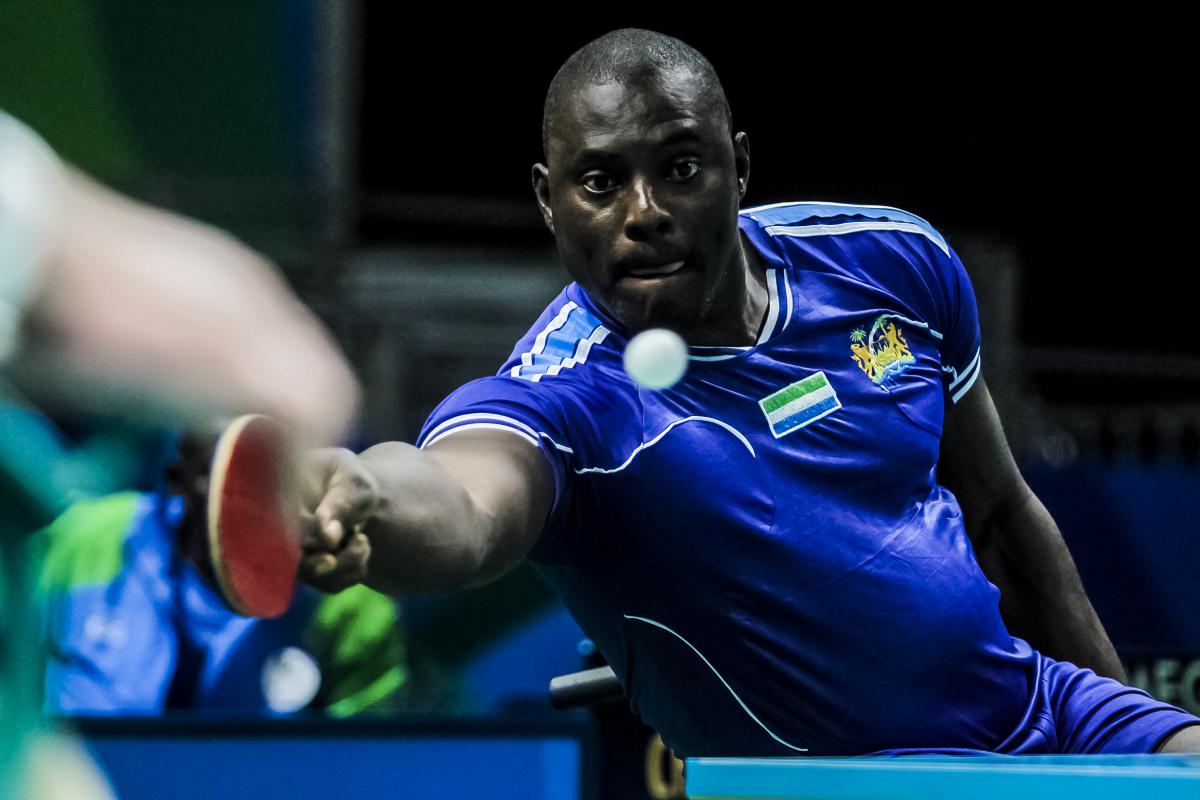 ⒸITTF
By Ros Dumlao | For the IPC
George Wyndham has had no training since the COVID-19 pandemic brought all sporting activities in Sierra Leone to an abrupt halt. 
A full-time Para table tennis player, whose income comes from the stipends he receives for training and competitions, was struggling to meet ends.   
"It has not been easy," said Wyndham, who was desperate to find an alternative to fend for his family comprising of  his mother, wife, two kids, older sister and his niece. 
"The challenges I'm having is, first the pandemic has stopped what I love most, which is sports. And it has stopped my main income for me and my family. And even what I have now is not enough to take care of me and my family," said Wyndham, who was the only athlete to represent his country at the Rio 2016 Paralympics. 
"For the country as a whole, everything is in a standstill. People are grumbling, people are crying. So much violence is going around in communities, especially with the youth," added Wyndham. 
On the radio and television, Wyndham has heard of increased problems in the country as a result of the ceased life. He explained that closings of schools and universities have led to increased idleness by youth and wanderings into the ghettos, as well as unsafe conditions for women.
Despite all odds, Wyndham chose to jump on the opportunity that came calling with the Emergency Operation Centre (EOC). 
"They were looking for people to help spread awareness and knowledge about the coronavirus throughout the country. As a Paralympian, I felt I could spread the message stronger," said Wyndham who contracted polio at a young age and began playing table tennis at 11 years old. 
 "I went for the job and automatically they said 'Yes, this is someone we need, and come these dates for training and orientation.' So I went for these dates and immediately I started the job. So roughly I get 100 dollars a month. And that's not even enough," added Wyndham, who currently holds a pair of bronze medals from the 2015 and 2013 African Championships in the men's singles class 4. 
His responsibilities involve going around communities educating people about COVID-19. He goes into shops, marketplaces and public places to ensure that people know coronavirus is real, to take preventative measures by wearing face masks, avoiding public gatherings, practicing social distancing and frequently washing hands.
Sierra Leone is in partial lockdown, meaning people cannot move between cities and communities. He currently lives with his mother, wife and kid in Freetown. His other kid is staying with his sister and daughter in Waterloo, almost 121km away from him. 
While he cannot visit them, he stays connected every day through social media.
As for Tokyo 2020 next year, Wyndham is highly optimistic. Before the pandemic, he was scheduled to compete in Tokyo 2020 qualification tournaments in Egypt, Jordan and Slovenia. He plans to pick up where he left off once sports resumes.
"I thank God for keeping me and my family alive, and that none of us are even affected and have no symptoms, and I still believe that God will keep me and my family safe until this thing is over," he said.
"I know that one day, this will be over and we will go back to normal, and I am ready."