Serbia's world No. 1 Peric-Rankovic recharging during COVID-19 pandemic
Serbian table tennis player believes COVID-19 pandemic has brought families closer and united the nation
04 Jun 2020
Imagen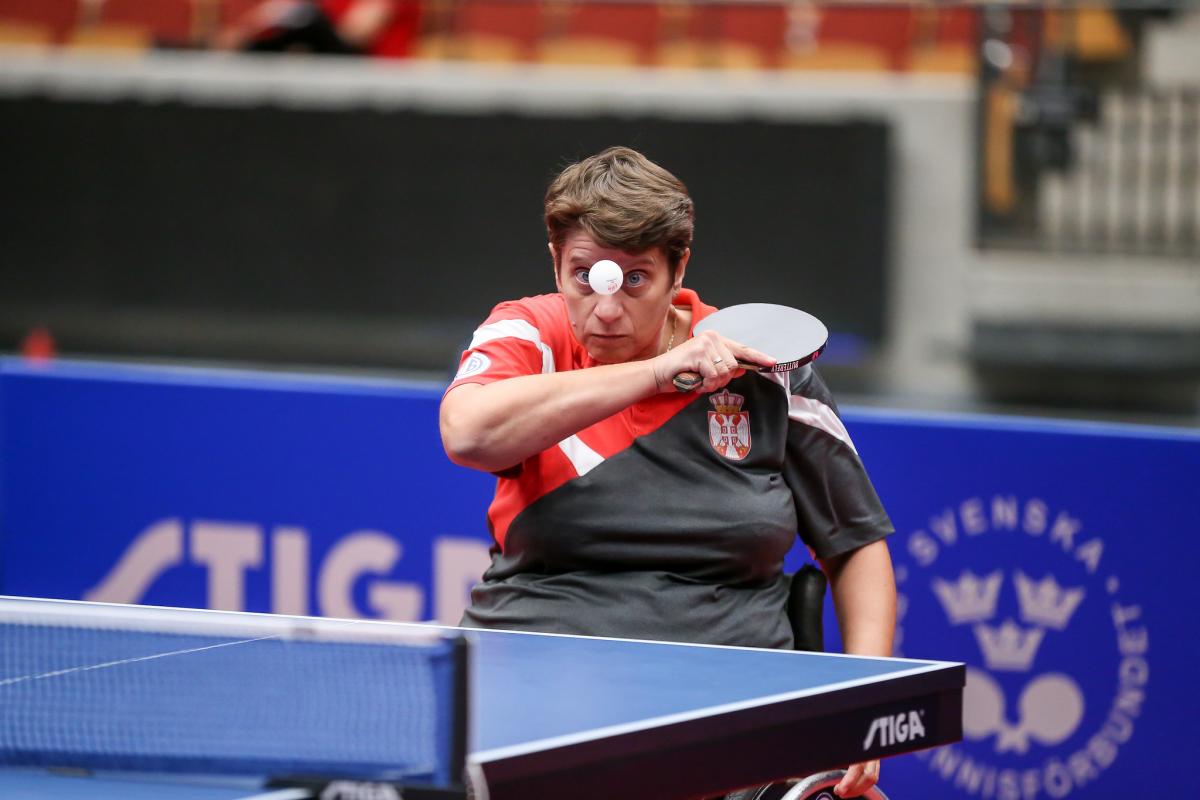 ⒸKarl Nilsson
By Ros Dumlao | For the IPC
The COVID-19 pandemic may have disrupted Borislava Peric-Rankovic's momentum for a second consecutive Paralympic title in table tennis, but it has certainly freed her time for another important activity.
"I finally spend a lot of time with my daughter," the world No. 1 class  athlete said. "Due to my training camps and competitions, we didn't see each other a lot." 

She won her first major gold medal in 2007 at the European Championships, and later added two more European singles titles. While she proved to be the top in her class regionally, the international stages were different.
 
She finished with singles bronze at the 2010 World Championships and fell short at the London 2012 Paralympic Games in the final to China's Zhou Ying.
Years of shortcomings ended at Rio 2016, where Peric-Rankovic secured her first Paralympic title in a charismatic fashion and disrupted the Chinese overhaul in the sport; in Rio, Chinese female athletes won five of the 11 singles finals in table tennis.
Now, as the reigning Paralympic, world and European champion, Peric-Rankovic had no intention of slowing down. 

Then March arrived. The coronavirus outbreak halted sports competitions around the world and pushed Tokyo 2020 to next year.
 
"I didn't expect the postponement of the Games," said the 47-year-old. "On the other hand, I accepted the postponement in the spirit of fair play – it is right that all of us, athletes, have the similar conditions for preparing for the Games. If the Games were held as originally planned, probably some of the qualified athletes wouldn't participate due to the lack of training."
With more time on her hands, she helps her daughter, born in 2010, with her online schooling.

"I finally have enough time to spend with my family and to fulfil their wishes," said Peric-Rankovic, who too is working towards acquiring a Master's degree in sports. "We also play a lot of social games, we even invented some new ones in order to make time go faster."
Though the number of COVID-19 cases in her hometown Novi Sad are not high, Peric-Rankovic, like most, share the general sense of fear but also feels the pandemic has brought her nation together. 

"It was obvious that people are scared because they didn't know how to behave in this situation and what could be the consequences of the illness," she explained. "I noticed that my fellow citizens were very disciplined and all of us were following the decisions and recommendations of the authorities. It is nice to see the solidarity among us and how people are helping each other, especially youngsters toward elders. People relied on each other in order to overcome the fear of something unknown and to make the situation easier."