Barriers 'smashed down' as table tennis grows in the Pacific
Development programme launched in 2014 transforms attitudes towards disability
03 Jun 2020
Imagen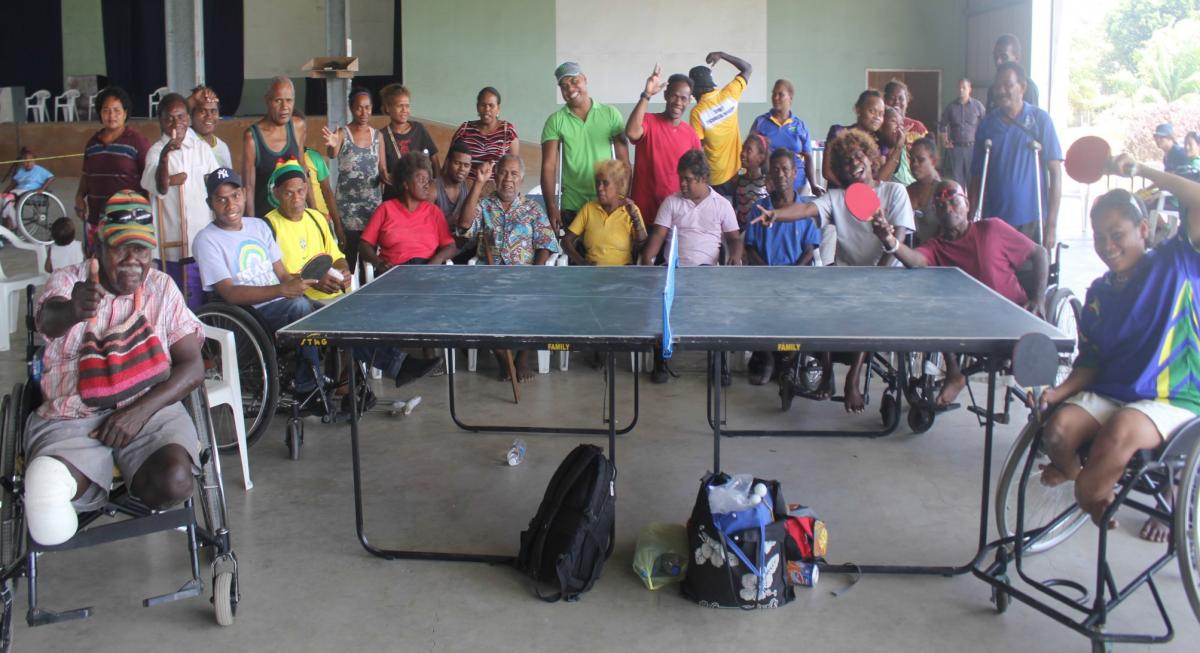 ⒸITTF Oceania
By Santiago Menichelli
Since its implementation in 2014, the Smash Down Barriers programme has introduced a staggering 4,000 people with disabilities in the Pacific into Para table tennis and has transformed attitudes towards disability in the region.
The initiative was created by the International Table Tennis Federation – Oceania (ITTF-Oceania), through the support of Table Tennis Australia and the Department of Foreign Affairs and Trade (Australia) Australian Aid programme.
Its goals are to increase levels of regular participation in quality table tennis activities by people with any kind of disability — either physical, intellectual, vision or hearing impaired — and improve the attitudes both by and towards people with a disability.
So far, the programme has reached Australia, Fiji, Indonesia, Kiribati, New Zealand, Solomon Islands, Thailand, Tonga and Vanuatu.
The Agitos Foundation, the development arm of the International Paralympic Committee (IPC), also funded an ITTF-Oceania Para Training Camp in Auckland, New Zealand, from 12-18 December 2016 through the Grant Support Programme (GSP).
Even with impressive figures, the programme focuses on transformative change rather than increasing participation. Its belief is that sports are essential contributors to social inclusion, therefore they work on three interlinked pathways: engagement in social activity, personal growth and aspirational goals.
Discovering her passion
"I'm in love with table tennis, I guess I want to say that!" expressed Fiji's Mere Roden in 2015, after taking part in ITTF Oceania's development programme.
One year later, Roden took part in her first Paralympic Games in Rio, where she was her country's flag bearer. "I was over 40, going on 50 when I started table tennis and within that short period of time from late 2014 to 2016 I was at the Paralympics. It's just up to the individual. If you're committed, then it pays off."
"I only wish that there were many other colleagues of mine there," she recalled in an interview with ABC.
The winner of the Sportswoman of the Year award at the 2016 Fiji Sports Awards night declared: "I'd be happy to see that what I am doing is going to inspire others and motivate them in some ways to become better, to be a part of a sport or whatever is happening in the community."
More than 50 Para athletes from the Pacific who took part in the Smash Down Barriers programme have represented their countries in table tennis at a continental and international level; Roden was the most notable athlete.
Programme reaches Tonga
Siaosi Vaka's first contact with Para table tennis was in 2008. However, it was not until 2017, when Smash Down Barriers Programme set foot in Tonga, that he started competing regularly. He went on to win multiple medals at Oceania Championships, Pacific Games and other international events.
"Table tennis is inclusive for everyone, even for those with severe disabilities, including intellectual and physical disabilities. There's always a way to engage the person if she or he wants to play table tennis," said Vaka, now one of the programme's ambassadors and an assistant coach in Tonga.
"My involvement in table tennis has shown me that sport is a good way for people without disabilities to learn to respect people with disabilities. 
"When they see how good a Para player is, there's an amount of respect towards that person — especially in countries like Tonga where negative perception on people with disabilities is still very high."
Life-changing experience
Vanuatu's Para athlete Rodney Ben began playing table tennis in 2014. "The Oceania Para development officer came to show us how to play. Since then we've had visits from local coaches every week and we have improved a lot."
"Table tennis helped me a lot to overcome my fears and my confidence is better," he said. "Table tennis changed my life."
Becoming an ambassador
Australian Trevor Hirth has been an ambassador for the programme since 2016. After supporting all the participants of the Oceania Development Camp in Fiji in 2016, he saw with satisfaction how all of them later competed at the Fiji Para Open.
"I distinctively remember the table tennis centre was absolutely rocking during the wheelchair final with plenty of noise... The walls were shaking! All players and coaches gathered around the final table singing, dancing and cheering."