George Wyndham aims to make a difference in Sierra Leone
As the country's only athlete in Rio, Wyndham hopes he can change the perception of people with impairments.
11 Sep 2016
Imagen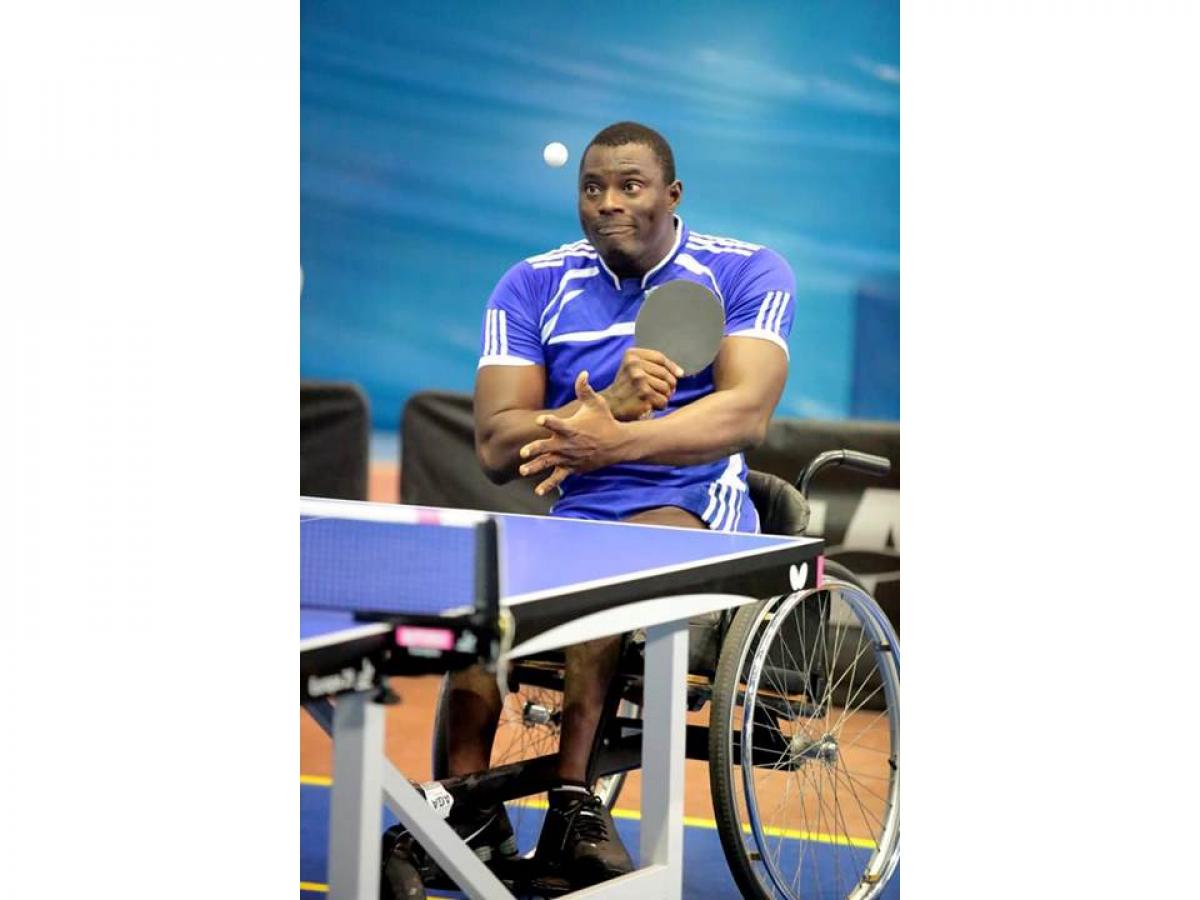 ⒸSierra Leone NPC
By IPC
Table tennis player George Wyndham looks at his life in the Athletes' Village and is surprised at the sheer contrast with his life back home in Sierra Leone.
In the Village, he has accessible accommodation, his own bedroom, a fitness centre and a massive dining hall. In Sierra Leone, Wyndham lives in his training facility.
"Now I am in Brazil living the biggest life," Wyndham said. "But when I go home to my country, I am a sufferer. With all that I am doing, with all my achievements, you couldn't believe I am staying in one of the offices in the stadium."
The 26-year-old is the lone representative from his country at the Rio 2016 Paralympic Games.
He believes it would be a big accomplishment if he reaches as far as the quarter-finals in the men's class 4, but his ambitions stretch beyond athletic performance.
"I really want to be the man who can change sports in my country," he said. "My dream is to see a delegation of 30 or 40 athletes going to a Games from Sierra Leone.
"I want more facilities and more equipment to incorporate other people with impairments in Sierra Leone."
After contracting polio when he was young, Wyndham began playing Para sport when he was about 11 years old.
He started with athletics, then one day he went to watch a football game and was passing one of the halls inside the stadium, where he saw people playing table tennis. As he watched, a coach asked if he wanted to play.
Wyndham was not interested.
"I said no, I cannot move like how these guys are moving," he said.
When he came home from school the next day, his mom said the same coach stopped by to talk with her about convincing her son to play table tennis.
Wyndham gave in and grew to like to sport.
"I became so interested in the game that I started to skip school to come and train," Wyndham said.
His major medals include two bronzes, one each from the 2015 and 2013 African Championships. However, he has struggled to compete internationally.
Wyndham received a wild card to compete at the 2014 International Table Tennis Federation (ITTF) Para Table Tennis World Championships in Beijing, China. But he could not go because of the Ebola crisis in his home country.
Then in 2015, he was invited to the Lignano Master Open, one of the biggest international tournaments. But he could not obtain a visa to travel to Italy.
"I came back home and said 'wow, this is very challenging'. The World Championships were gone. The Italy Master Open – gone," he said.
"I think my absence at the World Championships motivated me. So I tried harder because I knew one day I would [have the potential] to go to another World Championships or Paralympics," he said.
He has been a consistent podium finisher in tournaments in Africa. His best finish was silver at the 2013 Egypt Open.
Rio 2016 was never on his radar, but he got the opportunity of a lifetime when he received a bipartite slot.
Looking around, he sees the diversity of impairments and athletic accomplishments.
It is something he wishes people in his country could witness.
He said many people have come to him wanting to train in table tennis. But after a month, they would not come back because the equipment is not there and their wheelchairs are not good enough.
"Ninety-nine per cent [of people with impairments in Sierra Leone] depend on street begging," he said. "So if they take their time from training, then they lose the money that they could earn from begging."
Although the only Sierra Leonean athlete in Rio, he believes it is a start.
"I'm really trying to make a difference in Sierra Leone," he said. "I'm really trying to open the minds of the government and those thinking disabled people can do nothing."