Wetherill wins clash of table tennis net stars
Egyptian tells of pride at making Paralympic bow despite defeat against Briton in match that pitched stars of online videos against each other.
09 Sep 2016
Imagen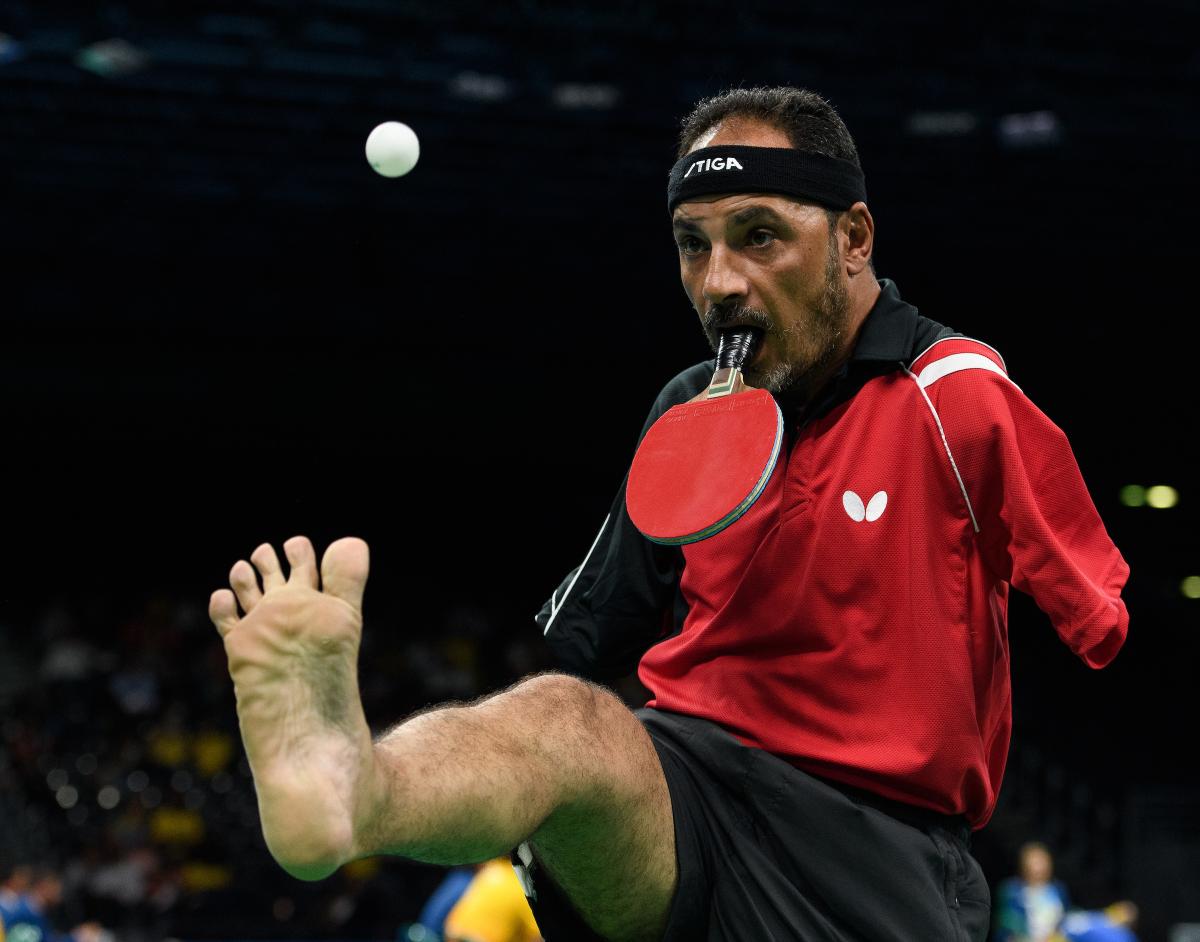 By IPC
Egypt's table tennis star Ibrahim Hamadtou has told of his excitement at making his Paralympics bow – despite falling to defeat in his opening game.
Hamadtou, who lost his arms in a train accident when he was 10, made his Games debut on the opening day of competition at Riocentro Pavilion 3 on Thursday (September 8).
The draw pitched Hamadtou against world number four, Great Britain's David Wetherill, in the Men's Singles Class 6 event.
Both men have become internet sensations over recent years.
Hamadtou was the star of the 'Impossible is Nothing' YouTube video that has been viewed more than 2.3 million times and was picked up by media outlets around the world.
Wetherill, meanwhile, shot to fame after his phenomenal shot at the London 2012 Paralympic Games which gathered over 10 million views.
Wetherill had too much in Thursday's clash, however, clinching a 3-0 victory over the Egyptian.
But Hamadtou was not too downhearted by the result.
"It's my first Paralympic Games," he said. "I was so excited when I entered the arena, because it was my first experience in the Paralympic Games. I feel that I played really well, an excellent performance.
"I am really very satisfied with my level; not all defeats are defeats, sometimes you lose but you actually win because you have added to your experience, you have added to your knowledge. Today I added to my knowledge. I lost to a very good player, David is amongst the best in the world."
Elsewhere, Brazil had a good start to the Games, with Class 9 athlete Danielle Rauen winning both her matches to lead her group in the Women's Singles event.
The 2015 Para Pan-American Champion recovered from 0-2 down to upset world number two Xiong Guiyan and then defeated Germany's Lena Kramm.
Rauen said: "It's the first time I have played Xiong, but I felt quite confident before the match, we have all worked so hard to get here. It was just tremendous when I entered the arena, I saw my family in the tiered seating and the crowd; everyone was rooting for me."