Dmytro Suiarko blazes trail from Ukrainian village to the world
Para Nordic skier makes the best of countryside training during pandemic
19 Jun 2020
Imagen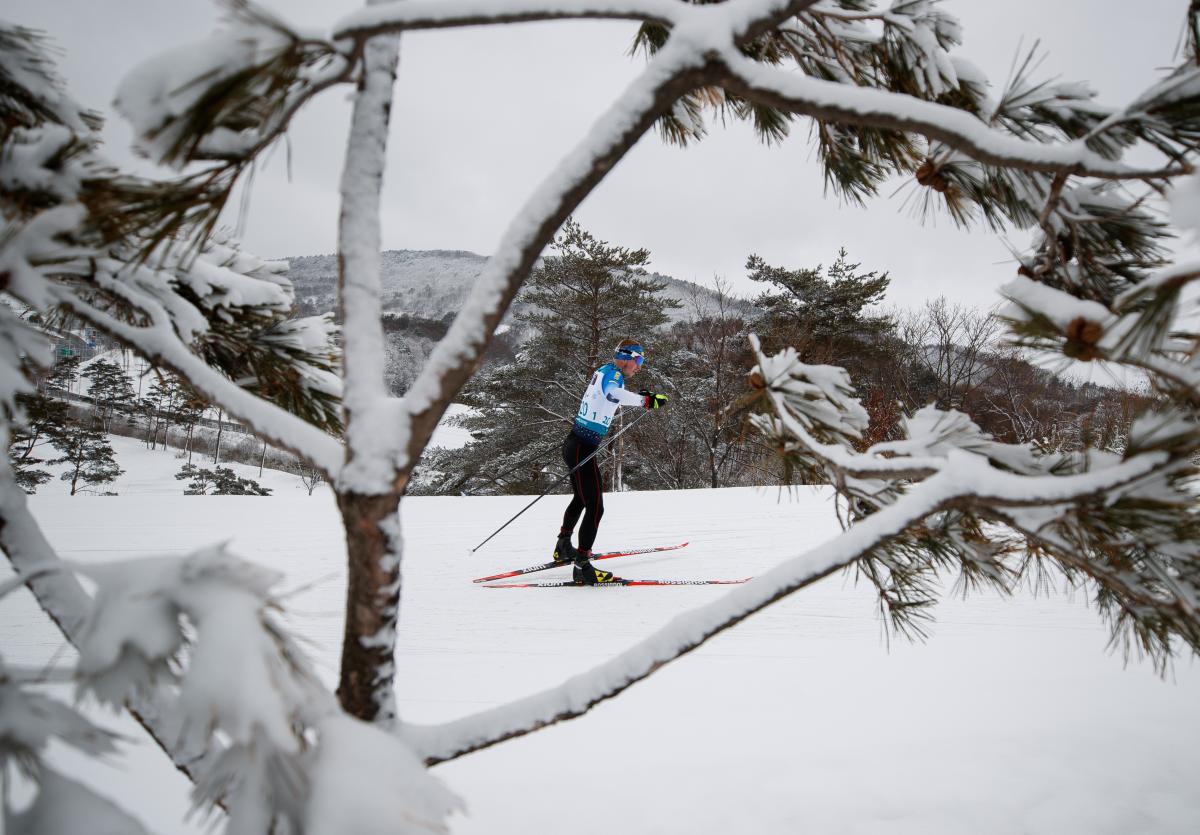 ⒸSimon Bruty for OIS/IOC
By Lena Smirnova | For World Para Snow Sports
As a fourth grader, Dmytro Suiarko looked out the window of his school and watched the students from the higher grades ski near the school grounds. 
In a few more years, he told himself, it would be his turn. However, by the time he grew up, all the school's skiing equipment was either broken or missing. His dream now seemed a distant possibility. 
But rather than give up, Suiarko opted to dream bigger. 
Although he was not able to ski in his school yard, Suiarko has instead skied on professionally-designed courses across the world. From South Korea to Canada, it has been a far journey for a boy from a Ukrainian village, and it is still just the beginning.
Village to the city
The village where Suiarko grew up has 4,000 inhabitants. 
Born with several vision impairments, Suiarko discovered skiing by accident while at a mini football tournament in Chernihiv, Ukraine. There he met the man who would become his first skiing coach.
"I was open minded. I had the desire to do something, to find an activity, because I understood that a person with a disability in my country cannot fully support himself," Suiarko said. "I needed something where I would feel complete."
But while Suiarko was drawn to skiing from the start, his parents were hesitant. At that time the 16-year-old was still an only child and his parents had always been especially protective of him because of his sight.
"I didn't go to kindergarten because I had bad vision and I was a very active, fast, energetic child, so I needed a lot of supervision," Suiarko said. "My parents were used to the fact that they needed to watch over and care for me more than for other children.
"For three months or so, I was coaxing my parents into letting me study and live in Chernihiv. It is relatively close to where I live, but my parents still had a lot of fears."
At last, Suiarko managed to persuade them and soon moved to the regional centre, which is 80 km away from his village. He attended a boarding school for vision impaired children in the morning, and after lunch he would travel to the other side of the city to train in skiing.
Village to the world…and back again
Suiarko made his debut at the World Para Nordic Skiing World Cup in 2014, quickly becoming one of Ukraine's most promising athletes in the men's vision impaired class.
He won bronze in the middle-distance biathlon race at the 2017 World Para Nordic Skiing Championships in Finsterau, Germany, and was third overall in cross country in the 2018-19 World Cup season.
While his progress has been stable, a shaky performance at the PyeongChang 2018 Paralympic Winter Games almost broke him.
Suiarko had problems with his coach and guide in the season leading up to the Games. A persistent illness kept him sidelined most of January, and once at the Games, he struggled with his shooting.
In the months after the Games, where his best result was sixth, Suiarko lost weight and the motivation to train. His mother was convinced that he was going to quit the sport.
"I am the kind of person who, if something is not working, it kills me," Suiarko said. "In the spring I did not do anything and I hardly ate. I was so destroyed, slaughtered, crushed. It was very hard."
It was a new coach, Oleksandr Semenov, who turned things around. Suiarko started training again, slowly at first and without much motivation. But once the results started coming, he regained his former zest for the sport.
The following season Suiarko went to the 2019 World Championships in Prince George, Canada with the aim of winning a medal in cross-country's middle-distance event. 
He exceeded these expectations, missing gold in that race by 2.9 seconds and taking four medals in total.
He was in top shape again for the 2020 Para Biathlon World Championships, set to take place in March, but the races were cancelled the night before due to the COVID-19 outbreak. 
"I worked for a year, did not see my family at home. I was just training, training," Suiarko said of receiving the news. "There was a lot of work done, and then suddenly you are sitting there and there is all this emptiness."
As much of the world shut down to curb the spread of the virus, curiously it was his home village that provided Suiarko a haven from his darker thoughts, as well as a world-class training ground. 
His training sessions now include long-distance running and roller skiing, with a dip in the local water reservoir as a special summertime finale.
"People know me here so the cars don't honk, but carefully go around me," Suiarko said. "If I want, I can run in the fields to the next village, and I don't have to run on asphalt so there is no strain on the knees. There are fields and forests here - everything you need for good training."
Suiarko's girlfriend usually follows close by on a bicycle to film him training. Later in the day Suiarko views the video in slow motion on television, makes note of his mistakes and sometimes sends the video to his coach for additional feedback.
The videos also get a broader audience on Suiarko's Instagram page, which he started up in November 2019 to promote the sport.
"I started a small personal blog so that people could see how I train, how much effort it takes, that I don't just travel somewhere, ski, get a medal, return home and everything is pretty," Suiarko said. "A lot of strength and energy must be spent. Your soul and life go into it."