Birgit Skarstein: 'Sometimes it felt like it was us against the world'
Para rowing and Para Nordic star proves critics wrong with history-making run on Norwegian dance show
30 Oct 2020
Imagen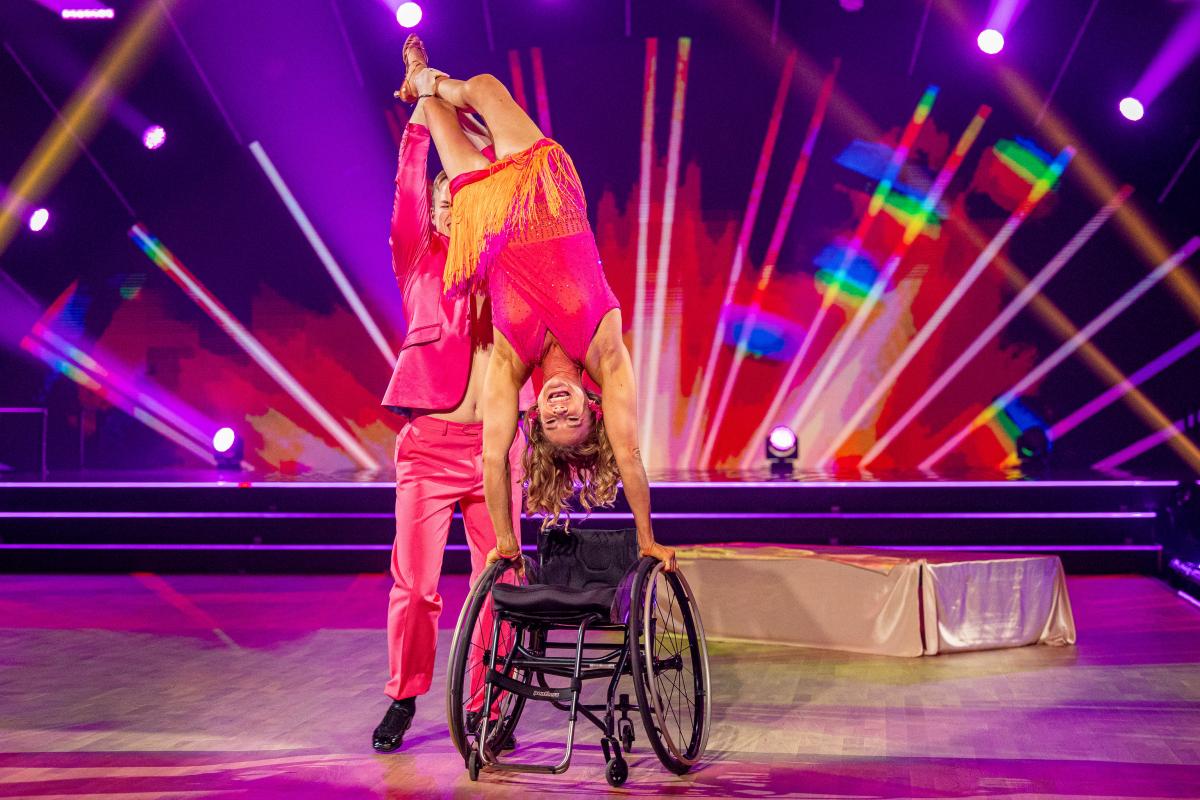 ⒸThomas Andersen / TV 2
By Lena Smirnova | For World Para Snow Sports
Birgit Skarstein broke into a wide smile as four perfect 10s shot up from the judges after her and Philip Raabe's fiery rumba performance. 
The first wheelchair dancer in the 16 seasons of Norway's Dancing with the Stars, Skarstein was now also the first contestant to get a perfect score.
The public comments that followed, however, made her realise there was still a lot of ground to cover until Para and able-bodied dancers are regarded as equals.  
"It surprised me that no matter how much we did, no matter how many boundaries we broke, or how many crazy impossible things we managed to nail, there was always some people not believing in us and saying I shouldn't be there," the Para rower and Para Nordic skier said. 
"Sometimes it felt like it was us against the world and it brought us into a mission that was bigger than us - the mission of communicating that dance is for everyone and we are a part of this world just as much as you are," Skarstein added.
Entrenched perceptions
Before taking part in Skal Vi Danse, which launched its latest season on 5 September, the 2019 Para Nordic world medallist Skarstein had never tried dancing.
But by the end of her eight weeks on the show, she had swirled in the waltz and tango, breezed through the quickstep and cha-cha-cha, done multiple flips and even hung on ropes suspended from the ceiling.
Skarstein and Raabe were among the top three couples every week. Their sixth dance on the show, set to the classic "Over the Rainbow", was rewarded with a perfect score of 40 points. 
While overjoyed with the result, Skarstein was shocked by some comments she received after. 
"When we did our first perfect dance and got the perfect total score, some people went totally crazy and we got so much hate. I had so many nasty messages. Social media went on fire discussing how the judges could be so corrupt, how the TV show could be so rigged, how we could have so many sympathy votes, how I was cheating, how we should not be there," she said. 
"That really disappointed me because it proved to me that for some people I will never be good enough, not because of how I perform, but of who I am. For some people the only thing that mattered was that I couldn't walk the steps and how I did the dance wasn't important to them. They would see through it and only see my legs not working."
Each of Skarstein's live performances on Saturday evenings was followed by a wave of criticism. The abuse was so vehement that she asked her family to stay away from social media.
"I got messages straight to me telling me to pull out and have some self-respect and that I would never be able to compete, that I should go and be with the people like me: 'You don't belong here, you belong with Paralympians, and if they make a Paralympic contest, you're more than welcome to join, but as long as it is for able bodied, it's not for you and don't you ever believe you can be equal'," Skarstein said.
Proving the critics wrong
Instead of getting discouraged, Skarstein channelled her feelings into dance, adding increasingly daring moves to her repertoire every week - from backflips to ceiling suspensions - and the most complex choreography her dance partner Raabe could invent.
"I really wanted to show them the freedom of movement that I actually have and how I am not part of the chair but I am myself and that I'm using a chair to get around, but it's not a part of me or who I am," she said. "Every show we wanted it to be a surprise for people, to show something they didn't expect, which is also why people loved it. They never knew what was coming. They only knew that something crazy was coming up." 
Perfecting the dances required hours of training, on top of Skarstein's regular workouts in preparation for the Tokyo 2020 Paralympic Games. In time, these efforts started to pay off as more people took notice of what she and Raabe were doing.
"Every week we got a new kind of dance, so we had different people understanding what we were doing," Skarstein said. "The judges were describing really clearly what technical things we did and educating people on what they were seeing."
Skarstein and Raabe had a big lead in points ahead of their Paso doble number on 24 October, but as Skarstein explained, it was precisely because the pair were in the lead that they were eliminated. Many fans assumed they would go through and cast their votes for other contestants.
While disappointed with the elimination, Skarstein was grateful to exit on a high note.
"I know that there was nothing more that I could do on the dancing. We couldn't have practised more. We were at the limit of what the body could handle every week, and I'm so strong and so fit to start with that I couldn't have done any better," Skarstein said.
"Many people are saying now we should have been in the final, not because of anything to do with the disability, but because we were the best dancers," she added. "For the past couple of days, it's only been love and admiration."
This included admiring messages from the country's top brass. The Crown Princess of Norway, Mette-Marit, called Skarstein a role model on Instagram while the Minister of Finance described her as a superhero.
Her elimination from the show was trending in Norway over the weekend and her dance videos are getting countless views online.
"Every week that has passed, more and more people have stepped up and supported us," Skarstein said. "We proved that what matters is not the disability, it is the ability and the person who we are and the work that we do."