David Weir aims to maintain record over Marcel Hug at major Championships
The British Paralympic champion lines up at Sunday's marathon World Championships knowing he'll most probably have to beat the defending champion to land the world title.
24 Apr 2015
Imagen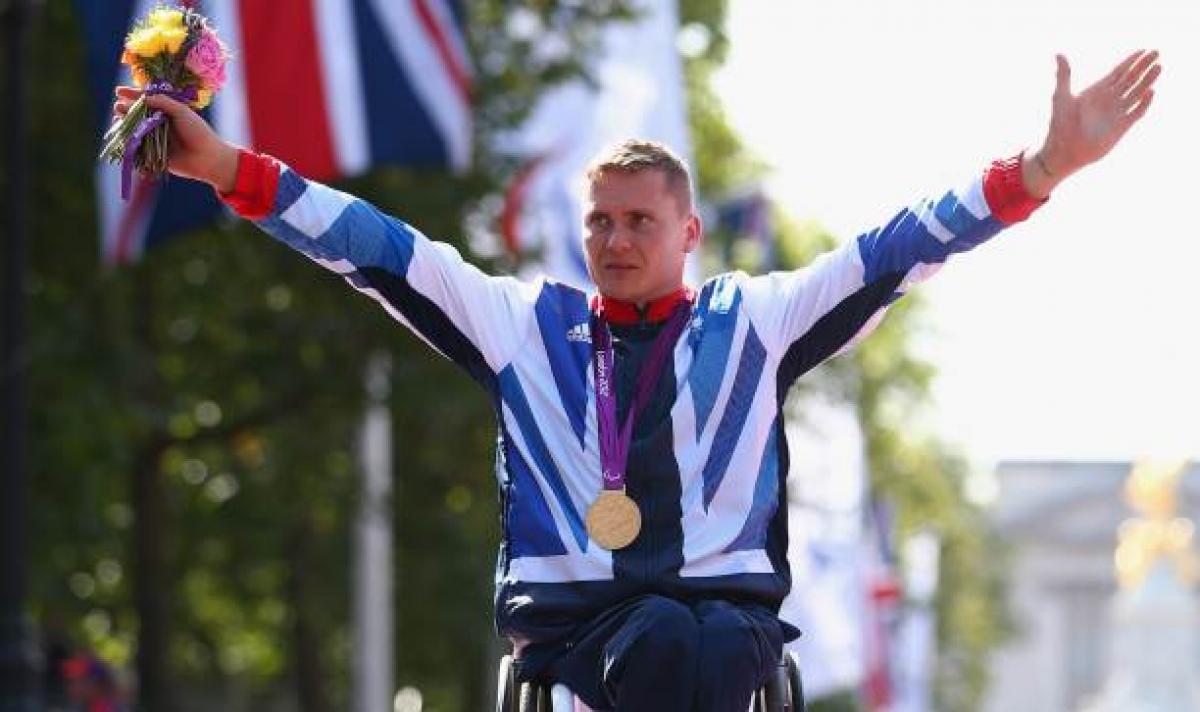 ⒸGetty Images
By IPC
"It was a bit of a challenge to get up and train. It felt like I'd had the ultimate challenge of winning four gold medals at my home Games."
Great Britain's six-time Paralympic T54 gold medallist David Weir lines up at Sunday's (26 April) 2015 Virgin Money London Marathon vying for his first major championship medal since the London 2012 Paralympic Games when he was catapulted in to the spotlight after winning four gold medals – including the marathon - in front of a euphoric home crowd.
The 35-year-old, who won 1,500m gold at last year's Commonwealth Games, struggled to adjust to his new-found fame and success after the 2012 Games - only in the last few months has he felt the hunger and motivation return.
But now Weir believes he is 'stronger than ever' as he bids to win a record-breaking seventh London marathon title in the British capital as well as secure World Championship gold.
This year the IPC Athletics World Marathon Championships take place at the Virgin Money London Marathon event, with the track and field global titles decided in Doha, Qatar, in October.
"It was tough after London to be motivated; to race," Weir admitted. "It was a shock to me even though I trained for it. It took me a long time to get over the expectations and everything else – the fame, even going out everywhere and getting stopped.
"It was a bit of a challenge to get up and train. It felt like I'd had the ultimate challenge of winning four gold medals at my home Games.
"But in the last seven months I've been really motivated to push on to Rio. I feel like I've got that urge back of wanting to train hard every day and do my best."
It is just as well Weir is feeling both mentally and physically strong, for if there is one man capable of ruining his plans, it's Switzerland's five-time world champion Marcel Hug.
Twelve months ago Hug beat Weir to the line in London by just one second - another marathon triumph for the 'Swiss Silver Bullet' having clinched the world title in Lyon, France, the year before. A further three track gold medals followed at last August's IPC Athletics European Championships in Swansea, Great Britain.
Weir is certainly in no doubt as to his rival's ability, and potential.
"Every time you race him he seems to be always peaking, so you have to always be on top of your game," explained Weir, who has never lost to Hug at a major Championships. "He [Hug] will dominate the sport in the next few years, he will be the athlete to beat because he's getting to that peak age of 30.
"Physically he'll get stronger and stronger because wheelchair racers do get slightly stronger, up to…I don't know what age, I have to be careful what I say because I'm 35. I feel stronger than ever - but he's going to be the best."
On Monday (20 April) Hug, 29, won the Boston Marathon in the US, but Weir takes some comfort from their recent encounter at the Lisbon half marathon in Portugal, where it was the Briton who came out on top.
"The good test was Lisbon - that was a really tough test. Marcel went out to break the world record, that was his plan, and I don't think he was expecting me to be on his tail all the way through the race. I outsprinted him – that felt good."
Still, Weir is well aware of the task that lies ahead, admitting that to beat Hug, "It takes everything. He could go out hard – that's what he's been doing in a lot of races, he's just been hammering it for five or six miles just to burn people off.
"You have to be able to do everything because if he goes, you've got to go with him. He seems to have got better climbing too – his overall package has got better and better because he used to struggle on certain courses that were quite hilly and twisty and turny. It seems like he's adapting his training to suit all the courses around the world."
Of course with world titles at stake, there are 54 other talented racers in the men's elite wheelchair T53/54 race all going for gold, including 2010 London champion Josh Cassidy from Canada, South Africa's Ernst van Dyk – third in London in 2013 and 2014, and the two men who finished alongside Hug on the podium in Lyon in 2013 – Poland's Tomasz Hamerlak and Japan's Kota Hokinoue.
Hug meanwhile believes he's in even better shape than last year, with a good solid block of training under his belt.
"Training has been good, we've had good weather conditions the last few weeks so I had good marathon training at home, as well as on a training camp," he said. "I've trained really hard - preparation last year wasn't so good because of the weather conditions but this year was really perfect."
An admission that Weir may not want to hear – but one that surely promises a performance to remember.