Day 4: Paralympic Games preview
A total of 56 gold medals will be at stake in nine different sports in an action-packed day at Tokyo 2020
27 Aug 2021
Imagen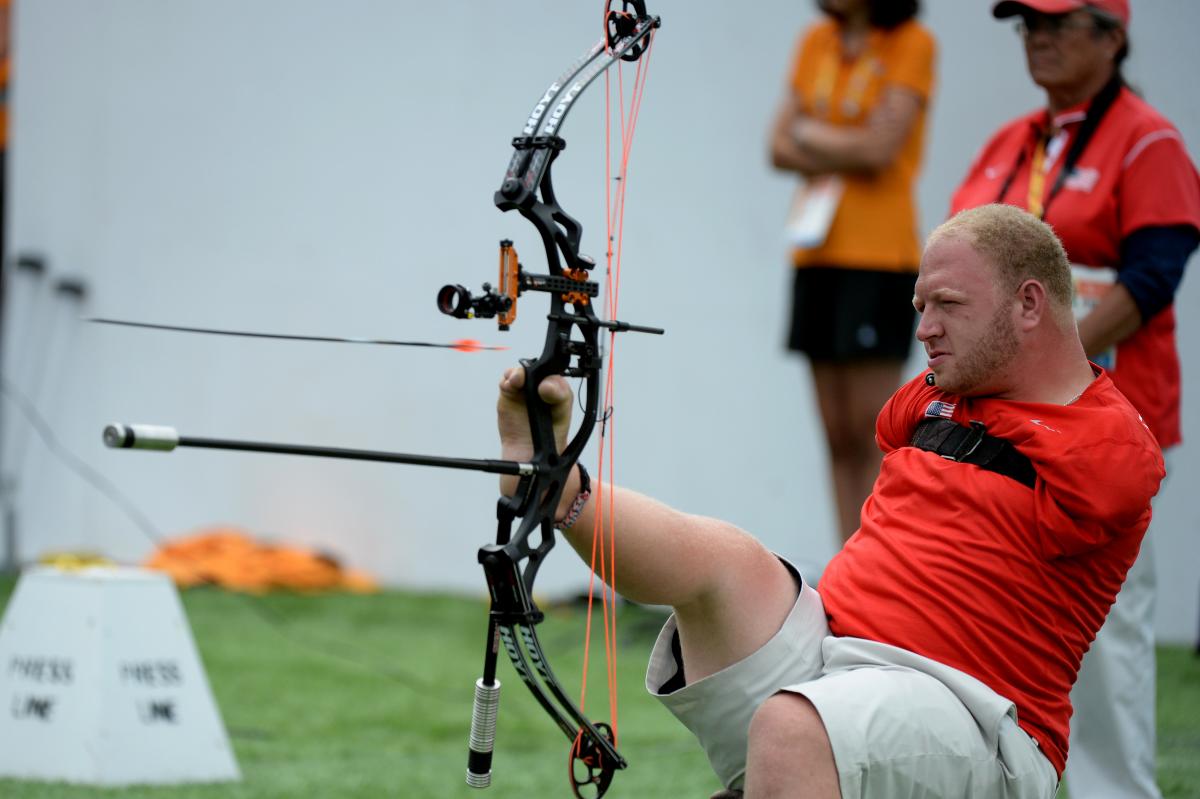 ⒸJon Blacker
By IPC
It will be another busy and action-filled day at the Tokyo 2020 Paralympic Games with 56 gold medals being awarded across nine sports Para archery, Para athletics, Para swimming, wheelchair fencing, judo, triathlon, table tennis, Para powerlifting, and track cycling.
The first gold medal in Para archery will be awarded on Saturday to the winner of the Mixed Team competition; Athletics and swimming will have the most medals awarded with 17 and 14 respectively on the schedule. Preliminary league competitions will continue in boccia, goalball, and wheelchair rugby.
ARCHERY
Timing: 9:00 am - 19:40 JST
Archery competitions will continue with the pre-quarterfinal duels in men's individual compound open followed by the mixed team W1 event in the evening, which will have the first medals in Tokyo 2020 archery awarded on Saturday.
Great Britain, which holds the world record with 152 points and also the Paralympic record of 144, is not in the fray. So it will be China, the No 1 seed, Czech Republic, No. 2 in the rankings, along with the Republic of Korea, the third seed, and hosts Japan deciding the medals. Seven teams are in the fray in the quarter-final round with China getting a bye.
ATHLETICS
Timing: 9:30 - 12:50 JST & 19:00 - 21:49 JST
If Friday was an action-filled busy day at the Olympic Stadium, Saturday will be busier and hopefully with more thrills and surprises with 17 finals on the roster. Expect some thrilling contests in women's discus throw F57, men's javelin throw T57; men's 100m T38, women's 100m T38, men's long jump T63, women's 400m T47 final, and women's 5000m T54.
The first medal is likely to be awarded in the women's discus throw F57 with Algeria's Nassima Saifi looking to adding a third Paralympic gold to her already extensive CV.
Saifi is a five-time world champion in the event (from Christchurch 2011 to Dubai 2019) and topped the podium at London 2012 and Rio 2016.
Algeria's Nassima Saifi is the clear favourite in the women's discus throw F57 athletics event
China's Mian Xu is the silver medallist from the Dubai 2019 Worlds while Safia Djelal – bronze medallist in Dubai – can give Algeria another medal at the National Olympic Stadium.
The men's shot put F12 is the first male event on day two of athletics competition and it is likely to be another battle between Spain's Kim Lopez and Ukraine's Roman Danyliuk.
Lopez is the defending Paralympic champion but had finished behind Danyliuk in two World Championships and one European. That changed at the Bydgoszcz 2021 Euros in June when Lopez took gold with the Ukrainian settling for silver.
Iran's Rio 2016 silver medallist and London 2017 world champion Saman Pakbaz will try to pull a surprise.
The men's 5000m T13 will see Australia's world champion Jaryd Clifford in search of his first Paralympic gold. The 22-year-old made headlines in 2018 when he took part in the World Athletics U-20 Championships against able-bodied runners in Tampere, Finland.
A gold medallist from Dubai 2019, he will be facing the two athletes who shared the podium with him in UAE — Spain's Yassine El Ataby (silver) and Russian Paralympic Committee's Aleksandr Kostin (bronze).
London 2012 champion and Rio 2016 silver medallist El Amin Chentouf of Morocco will be going for his third Paralympic podium.
The women's 5000 T54 final, the highlight of the morning session, will be the first race for Paralympic legend Tatyana McFadden in Tokyo. She has 17 Paralympic medals to her name, including seven gold. One of them came in the women's 5000m T54 at Rio 2016. McFadden has the best time of the season in the race but will have a huge task to defend her title.
Australia's London 2017 world champion Madison de Rozario is another medal candidate. She finished second at the Dubai 2019 Worlds behind China's Lihong Zou, who will also be looking for gold in the race.
Switzerland's Manuela Schaer is the world record holder and has the third-best time of the season. The second-best in the ranking in 2021 is the USA's Susannah Scaroni.
Another name to watch is the young European champion Merle Menje of Germany. The 16-year-old also competes in snow sports in Para cross-country.
The men's 1500m T46 will have two-time Paralympic champion Samir Nouioua of Algeria defending his title from Rio 2016 against Dubai 2019 world champion Hristiyan Stoyanov from Bulgaria.
Stoyanov finished second in this year's European Championships in Bydgoszcz behind RPC's Aleksandr Iaremchuk, the bronze medallist from Dubai 2019. Uganda's David Emong is another name to look out for as the London 2017 world champion and Rio 2016 Paralympic silver medallist.
The first jump event of the day is set to be one of the most fiercely contested of the Para athletics programme.
The women's long jump T64 will line up Rio 2016 Paralympic champion and world record holder Marie-Amelie Le Fur from France against the Bydgoszcz 2021 European champion Fleur Jong and Japan's Dubai 2019 world champion Maya Nakanishi.
Other medal contenders are Marlene van Gansewinkel of the Netherlands, who finished second in Dubai and Bydgoszcz, and London 2017 world champion Stef Reid from Great Britain – who has two Paralympic silver in the long jump.
Out on the field, Uzbekistan's Nozimakhon Kayumova will be defending her Rio 2016 title in the women's javelin F13.
She took silver at the London 2017 and Dubai 2019 World Championships behind China's Yuping Zhao. The Chinese thrower will be going for her first Paralympic medal after finishing fourth at Rio 2016.
The men's javelin F57, the first event in the afternoon session, will have Brazil's Cicero Valdiran, the Dubai 2019 world champion and world record holder trying to set right his fourth-place finish at home in Rio, keen to add a Paralympic medal to his collection.
Amanollah Papi is another thrower looking for a first Paralympic podium following his gold at the London 2017 World Championships and silver at Dubai 2019.
The first track event in the afternoon session is set to be a very tight contest for the podium in the women's 1500m T13. Tunisia's Somaya Bousaid is the defending Paralympic champion and two-time gold medallist in the race in the Games (Beijing 2008 and Rio 2016).
Dubai 2019 world champion Fatima El Idrissi of Morocco is another gold medal contender while two-time European champion Greta Streimikyte of Ireland has the best time of the year.
New Zealand's Lisa Adams will try to emulate her Olympic multi-medallist sister Valerie when she makes her Paralympic debut in the women's shot put F37.
The Dubai 2019 world champion and world record holder, Adams had Valerie as her coach in UAE. Her sister has just recently clinched her fourth Olympic medal in shot put at Tokyo 2020.
China's Mi Na will be her main rival as a two-time Paralympic champion and four-time World Championship gold medallist. She finished second to Adams in Dubai and also took silver at the Rio 2016 Games.
The National Olympic Stadium will see two back-to-back 100m T38 finals. First the men's 100m final with three sprinters who made the podium at Dubai 2019 as favourites.
China's Dening Zhu took gold in the last World Championships followed by Great Britain's Thomas Young – who successfully defended his European title at Bydgoszcz 2021 in June.
Third place at Dubai 2019, Australia's Evan O'Hanlon is a Paralympic legend in his country with two gold (Beijing 2008 and London 2012) and one silver (Rio 2016) at the Games.
Great Britain's Sophie Hahn is the name to beat in the women's 100m T38. She has not lost a major championships gold since the Swansea 2014 European Championships.
The world record holder will be defending her Rio 2016 gold and is a four-time world champion and three-time European champion in the event.
Great Britain's Sophie Hahn remains undefeated in the 100m T38 since 2014 
Hungary's Luca Ekler will make her Paralympic debut as a strong medal contender alongside RPC's Margarita Koncharova.
JUDO
Timing: 10:330 - to 13:30 JST & 16:00 - 18:40 JST
Four finals will be held in the evening session at Nippon Budokan with the preliminary rounds leading up to the semi-finals decided in the morning session. Two weight categories each in men's and women's sections will be decided on Saturday.
What out for Germany's Nikolai Kornhass, who has steadily climbed the rankings to become one of the best fighters in the men's up to 73kg.
Winning bronze at his first European Championships in 2015 on debut, he upgraded to silver in the next edition and in 2019 reached the top spot. In between, he secured bronze at Rio 2016 and the 2018 Worlds.
WATCH OUT FOR
Eduardo Avila Sanchez (MEX): 'The Judo Man' of Mexico, is a triple Paralympic medallist who will be competing in the men's 81kg. He is a triple Paralympic medallist including two golds from Beijing in 2008 and Rio 2016. Sanchez's profile in his country is not just down to his success on the mat. In 2017, he took part in a series of gruelling physical and mental challenges on the reality TV show Exatlón where he reached national fame. Perhaps it was his experiences there that fuelled his return from a serious back injury in 2019 to win gold at a Tokyo 2020 qualifier. Sanchez plans to retire after Tokyo 2020 and will be hoping for the perfect end to his career.
Eduardo Avila Sanchez
Japan's Junko Hirose will be the one to beat in women's 57kg. As one half of a judo power couple, Junko Hirose's bronze at Rio 2016 was Japan's first women's medal in Paralympic judo.
Married to Makoto Hirose who competes in the men's 90kg, Junko showed that her performance was no fluke at the 2018 Worlds with second in the women's up to 57kg.
As a fifth-grader, she became interested in judo when watching Manga cartoons. But it was after being inspired by Japan's gold medal win in goalball at London 2012 that she decided to make it her main focus.
SWIMMING
Timing: 9:00 - 11:30 JST & 17:00 - 19:50 JST
Expect some more record-breaking performances in swimming on Saturday.
The world's best para swimmers will continue to battle it out in the Tokyo Aquatic Centre pool with 14 finals on the menu on Day 4. The heats are scheduled in the morning session with those qualifying, taking the pool for the finals in the evening.
The first on the schedule will be the men's 100m breaststroke SB6 final. Ukraine's Yevhenii Bohodaiko is the favourite to take gold as the double Paralympic champion and world record holder. He also has two World Championships and European Championships titles to his name.
Bohodaiko's main threat on the route to first place will be Colombia's, Nelson Crispin. The Para swimmer born in Bucamaranga won the race in the last two editions of the World Championships. He lost to Bohodaiko at the Rio 2016 Paralympic Games and had to settle for a silver medal.
The Colombian is also a three-time Parapan American Games champion and is the fastest man of the year in the event. Crispin set his fastest time at the World Series in Lignano Sabbiadoro, Italy in April.
Japan's Tomotaro Nakamura is the fourth-fastest Para swimmer in 2021 and will look to cause an upset.
The women's 100m breaststroke SB6 comes next with the battle between Great Britain's Maisie Summers-Newton and the USA's Sophia Herzog. They are the two fastest swimmers in the event this year.
Summers-Newton, who has already won women's 200m medley SM6 in Tokyo, set her best time of the year in Glasgow in June and is more than two and a half seconds faster than Herzog who set her fastest time at the US National Trials in Minneapolis.
The 24-year-old Herzog, who finished seventh in the 200m medley on Thursday, already has a Paralympic silver medal to her name from Rio 2016 while Summers-Newton has a gold medal from the Dublin 2018 Euros and a silver from the London 2019 World Championships in the event.
Two 100m freestyle S10 events will be up next with the men's final first on the agenda. Ukraine's Maksym Krypak is the clear favourite to defend his title from Rio 2016.
The Kharkiv-born Krypak is the London 2019 world champion, as well as the Dublin 2018 and Madeira 2020 European champion. He set the season-best time in Madeira in May and will be the man to beat in Tokyo.
Stefano Raimondi from Italy, the silver medallist in Madeira, set the second-fastest time of the year at the Euros. Australia's Rowan Crothers has the third-fastest time in 2021, set in Gold Coast in April.
Brazil's Phelipe Rodrigues will certainly be the most experienced of all the Para swimmers in the pool in Tokyo when it comes to men's 100m freestyle S10. He is a three-time Paralympic medallist, four-time World Championships medallist, and the Lima 2019 Parapan American champion.
The women's 100m freestyle S10 will be one of the highlights on day four. Canada's Paralympic champion Aurelie Rivard leads the way as the world record holder and reigning world champion from London 2019.
Canadian Aurelie Rivard is the favourite in the women's 100m freestyle S10
Dutch swimmer Chantalle Zijderveld was second in London but has a European Championships title from Dublin in 2018. The 20-year-old is also the fastest this year with a time set in Eindhoven in April.
Her compatriot Lisa Kruger will also be a threat for Rivard in Tokyo as the second-best this season. She set her fastest time only a month and a half before the Paralympics at a competition in Amsterdam.
The Dutch pair is followed by Hungary's Bianka Pap this season. She was the fastest at the European Championships in Madeira and also has a bronze medal from the Mexico City 2017 World Championships.
Italy's Alessia Scortechini is another Para swimmer to watch out for in the women's 100m freestyle S10. She is the world champion from Mexico City in 2017 and a silver medallist from the Euros in Madeira in May.
Two individual medley events scheduled for day four will have the men's 200m IM SM8 first up with Ukraine's Denys Dubrov, the reigning European champion and the fastest man this year, starting as a favourite.
He is followed by the USA's Robert Griswold in the rankings in 2021. Griswold, who won gold at the Mexico City 2017 Worlds and added a silver to it in London, heads to Tokyo after setting his best time at the US Trials in Minneapolis.
Jesse Aungles from Australia might be the biggest threat for the top two contenders. He is the third-fastest in the event this year from competition in Adelaide in June.
USA's Jessica Long is the most familiar name when it comes to the women's 200m individual medley SM8. She is the three-time Paralympic champion and five-time world champion in the event.
Long's only silver medal in the race at the Worlds came in 2019 in London where RPC's Viktoriia Ishchiulova finished ahead of her.
Long is the fastest woman in the event in 2021, while Ishchiulova holds second place. The RPC swimmer set her time at the Euros in Madeira where she won the gold medal.
TRACK CYCLING
Timing: 10:00 - 12:50 JST
Three gold medals will be decided on the track - women's B 3000m individual pursuit, mixed C1-5750m team sprint, and men's B 1000m time trial - in what promises to be another eventful day at the Izu Velodrome.
In women's B 3000m individual pursuit, Great Britain's Lora Fachie holds the Paralympic record of 3:27.460 from Rio 2016 and will start as the favourite in the absence of New Zealand's Emma Foy, the six-time world champion and double Paralympic medallist who announced her retirement in April.
Lora's husband Neil Fachie will continue the family affair in cycling in the Men's B 1000m Time Trial. He is a three-time Paralympic medallist with gold in London 2012 and holds the current world record of 59.278 seconds. With regular pilot Matthew Rotherham guiding him, the 37-year-old Neil is the favourite in this event.
 POWERLIFTING
Timing: 11:00 - 18:30 JST
With China's Guo Lingling setting the tone with a world record in women's 41kg, expect more uplifting news from Tokyo International Forum where powerlifting is being held.
The men's up to 72kg will open the day's action with all eyes on reigning double world champion Bonnie Bunyau Gustin, who is in great form having set a new world record at the Dubai 2021 World Para Powerlifting World Cup in June.
Bonnie Bunyau Gustin
Gustin should be ready to tackle a strong challenge from China's Nur-Sultan 2019 silver medallist Hu Peng and Rio 2016 Paralympics silver medallist Rasool Mohsin from Iraq.
Also, watch out for the 40-year-old Nnamdi Innocent from Nigeria who would be eager to improve the medal colour after his bronze medal-winning effort at the Rio 2016 Paralympics and Nur-Sultan 2019 Worlds.
The women's 61kg final will be one of the highlights of the day with two athletes battling for their fourth Paralympic gold. Nigeria's Lucy Ejike is a three-time Paralympic and two-time world champion while Mexico's Amalia Perez topped the podium at Rio 2016, London 2012, and Beijing 2008.
Among others, prominent names in the fray are Uzbekistan's silver medallist at Nur-Sultan 2019 Ruza Kuzieva and Ukraine's Rayisa Toporkova, a two-time Worlds bronze medallist.
The evening session begins with the women's up to 67kg with a tussle expected between China's Rio 2016 Paralympic gold medallist and two-time world champion Tan Yujiao and Egypt's Fatma Omar, who is a London 2012 gold medallist and Rio 2016 silver medallist.
The presence of Nigeria's two-time World's silver medallist Olaitan Ibrahim and Kazakhstan's first Para powerlifter to win a Paralympic medal, Raushan Koishibayeva – silver medallist at Rio 2016 – will make the contest exciting.
In the last event of the day, the men's up to 80kg final, China's Rio 2016 Paralympics silver medallist Gu Xiaofei would be hoping to change the medal colour in Tokyo.
His main competitors are set to be Nur-Sultan 2019 world champion Roohallah Rostami, who is also London 2012 Paralympic silver medallist, and Egypt's Mohamed Elelfat, the London 2012 silver medallist in up to 75kg.
TABLE TENNIS
Timing: 9:00 - 15:00 JST & 16:30 - 21:30 JST
Medals will be decided in women's singles - class 11, women's singles - class 1-2, men's singles - class 6, men's singles - class 3, and men's singles - class 9.
Knockout matches leading up to the semi-finals will be held in the morning session while all the finals will be played in the evening.
Koyo Iwabuchi will carry the hopes of a nation at Tokyo 2020 as Japan's highest-ranked player in men's class 9. The world No.3 won his first major title at the 2018 World Championships when Japan took out the class 9-10 teams event. He has won six silver and four bronze medals at the Asian Championships and Asian Para Games and was victorious at the 2019 Dutch Open.
Laurens Devos of Belgium burst onto the scene as a 14-year-old at the 2014 Hungarian Open and within a year he was European champion. The Belgian class 9 athlete carried that form into Rio 2016 to become the youngest ever table tennis player to win gold at a Paralympic Games when he accounted for Dutchman Gerban Last in three straight sets.
He was crowned male Para table tennis star in 2016 and also took out the award for Paralympic table tennis player of the year. Devos added to his European record with further gold medals in 2017 and 2019 and claimed World Championship glory in 2018. The world No.1 is the favourite to defend his title at Tokyo 2020.
TRIATHLON
Timing: Starts at 6:30, 6:31, 8:30, 8:31 JST
Four gold medals will be decided in Women's PTS2 and PTVI and men's PTS4 and PTVI.
Watch out for Hector Catala Laparra of Spain, who will be making his debut at the Paralympics. Having started his career in 2014, he is now ranked No.2 in the men's PTVI class, which is a new addition to the programme at Tokyo 2020. The Spaniard has shown gradual progression over the years and is peaking at the right time. He took seventh at his first World Championships in 2015, just missed the podium in 2017 but followed up with bronze the next year. Then in 2019, Catala celebrated the biggest achievement of his sporting career with gold and he hopes to celebrate something bigger in Tokyo. He lives by the motto his father taught him - 'Whatever you do, don't do it halfway.'
Fran Brown of Great Britain starts as a favourite in women's PTS2. The 2019 World and European Champion in this class is also a former Para climber world champion. Brown – who is also a physiotherapist and session music - took up Para triathlon to complement her climbing training but then switched to the sport full-time in pursuit of a Paralympic title.
British athlete Great Britain's Fran Brown is the favourite in the PTS2 triathlon event 
Hideki Uda of Japan will be making his Games debut on home soil and starts favourite in Men's PTS4. Uda is currently ranked fourth in an ultra-competitive PTS4 class and is one of the strongest Para triathletes from Asia. Having competed on the World Triathlon scene since 2013, Uda has been working to get over the fourth-place hump for so long; he just missed the podiums at 2019, 2018, and 2017 World Championships. But it has only made him hungrier. In May, Uda carried the Olympic Torch in Koka City as part of its tour of Japan in the run-up to those Games.
WHEELCHAIR FENCING
Timing: 9:00 - 20:00 JST
Four gold medals are on the schedule in men's foil individual - category A, men's foil individual category B, women's foil individual category A, and women's foil individual - category B.
Action will start early in the morning with preliminary rounds leading to the finals in the evening.
Watch out for Eva Andreja Hajmasi of Hungary in women's individual foil - category A. Hajmasi has spent more than a decade working her way to the top of the rankings. Debuting in 2010, it took her just two years to reach the World Cup podium in her favoured weapon, the foil. A flood of medals would follow, including a gold at the 2016 European Championships and a World Championships silver medal in 2017.
As well as her accolades, Hajmasi has been a key player in maintaining Hungary's impressive team record. She made her first Paralympic appearance in Rio 2016, helping her country to silver in the team foil.