Golden treble the target for undefeated Jetze Plat of Netherlands
The 30-year-old will compete in triathlon, cycling road race and cycling time trial
27 Aug 2021
Imagen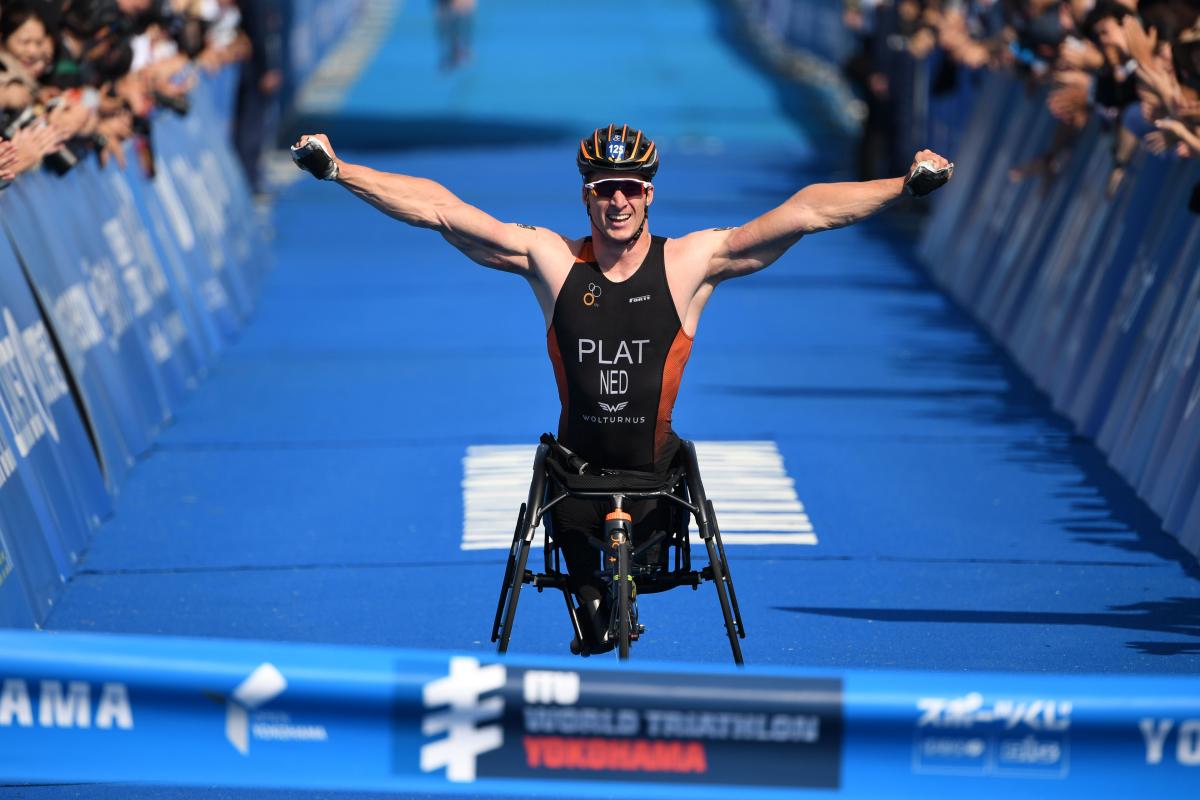 ⒸITU Media/Delly Carr
By OIS
Jetze Plat of Netherlands is undefeated in international triathlon events since 2016, when he claimed gold at the Rio Paralympic Games, and will be the man to beat when he competes in the PTWC class at Tokyo 2020.
But defending this Paralympic title is not his only goal in Japan. Plat, the only triathlete also competing in road cycling at Tokyo 2020, is aiming for a unique golden treble.
"I'm defending my Paralympic title in triathlon, but gold in hand biking is high on my list of priorities as well," Plat said.
The 30-year-old will compete in three medal events over four days at Tokyo 2020 - triathlon, cycling road race and cycling time trial. He is among the favourites in all of them.
"It will certainly be a tough couple of days, but that's what I got myself into.  I am the reigning world champion in all three (events). Based on those results, things are looking good. It's certainly not impossible. If I'm not ready by now, I must have done something wrong." 
Plat will start with the triathlon, where he faces competition from fellow Dutchman Geert Schipper, who took silver behind Plat at Rio 2016 and at all world championships since that year.
Four other champions from Rio 2016 return for another shot at Paralympic gold - Martin Schulz, USA's Allysa Seely and Grace Norman and Australian Katie Kelly.
Canada's Jessica Tuomela  has competed in three Paralympic Games. Thirteen years after her last appearance, she is back again, but this time in a different event.
Tuomela, who represented Canada in swimming between 2000 and 2008, took silver over 50m in the women's freestyle at the Sydney 2000 Games, but decided to hang up her swimsuit in 2008. Eight years later, she returned to elite sport and took up triathlon.
"When I retired from swimming in 2008, I wasn't really satisfied with my season and results at the Paralympics. I walked away with a bad taste in my mouth and knew that wasn't the way to leave the sport," Tuomela said.
"I finished a couple of degrees, finished my masters in social work and ran a massage therapy clinic during my eight-year break but I just couldn't put out the fire to train and compete."
Medals will be awarded in the men's PTS4, the women's PTS2 and the men's and women's PTV1, PTWC and PTS5 events, with competition starting on Saturday (28 August) at the Odaiba Marine Park.