Spain's Susana Rodriguez believes Tokyo 2020 will deliver message of hope
After spending 2020 on the COVID-19 frontlines, the Para triathlete turns her focus on the Paralympics 
17 Jul 2021
Imagen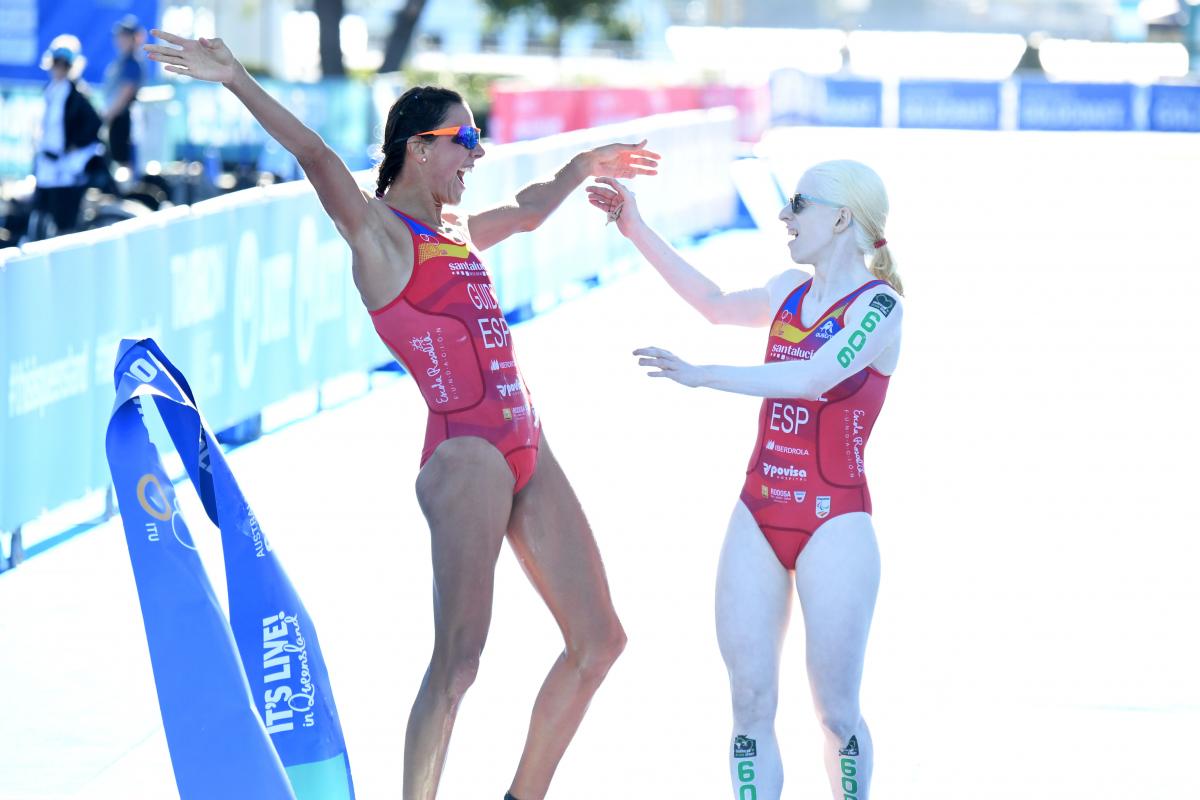 ⒸDelly Carr | ITU Media
By Rob Howell | For the IPC
​At the beginning of 2020, Spain's Para triathlon world champion Susana Rodriguez Gacio was looking forward to taking a break from her medical career to train and compete in the Tokyo 2020 Paralympic Games. The whole world knows what happens next.
For Rodriguez though, COVID-19 put her at the front line of her county's response. She works in occupational therapy helping patients get back to their normal lives after a hospital stay. "During the height of COVID I was working with patients who were recovering from the illness, and also supporting the hospital's work in diagnosing those with the disease, and determining their treatment."
It was constant pressure of double shifts, long hours, and changing working conditions. "It was difficult for me as a blind person," she said, "as I rely on touching. But with COVID 19 there was no touching as that was so dangerous. So there was a lot of cleaning for me, and keeping distance."
The postponement of the Games allowed Rodriguez to concentrate more on her work and completing her medical training in physical medicine and rehabilitation. That involved extra work through the summer to September this year when she became the first blind person in Spain to achieve that qualification.
Her success in that area led the hospital to offer her another year's work, but instead she chose to concentrate on the rescheduled Games instead. "I decided to focus now on Tokyo instead," the 2018 and 2019 world champion explained, "because it has been a hard year - it has been so challenging and stressful." 
For now, the Spaniard has embraced the life of a full-time athlete. She has been training at the Canary Island of Lanzarote with her guide Sara Loehr and her trainer Luis Piña. "We have gone there to train on it's good roads, and then we'll head to the south of Spain for altitude training," she added.
Since making that decision, Rodriguez sees one of the main benefits to her new regime is allowing herself to fully recover from her morning and afternoon training sessions. "Before I would train in the morning, then work, and then train again in the evening," she said. "Now I have the time to recover properly between sessions.
"It was a big change in my life as I had spent many years studying and working and training, but the athlete life is a very different perspective because you can recover from one day to another. Last year I could never recover. I look back and see the value of what I was doing but I realise now it was very hard."
Early in August, Rodriguez and her guide will leave Lanzarote and join a selection of Spanish teammates in a team bubble. From that day on she will not be able to see or mix with anyone outside of that group until the end of the Games. Sadly, that bubble resulted in the cancellation of her final training camp in Japan itself, a move she describes as a shame due to the intense heat expected in Tokyo during the Games. "It's important to get used to the Tokyo heat," she said, "but we have to accept and respect the decision."
After the Games, another big change in Rodriguez's life will also begin to take shape, the further training of her new guide dog, Yellow. "He's nine months old and a bit naughty," she laughed, "but already he has made a big difference to me and gives me greater confidence when out in the street."
The dog is named after the famous song by Coldplay. "It's my favourite song," she explained. "I don't have any superstitions as you just lose time. You focus on what is going on and sounds and that's enough.
"Japan has worked so hard to give us a fantastic Games," she added, "and while it's sad we may not have the full Games experience these are still the full Olympic and Paralympic Games and being able to get there safely and give a good performance after everything that has happened is good. 
"We can show the world a message of hope."