Climbing, percussions and 'Hamilton' musical explain Fran Brown's triathlon talent
But British athlete's Paralympic debut would have to wait due to coronavirus pandemic
19 May 2020
Imagen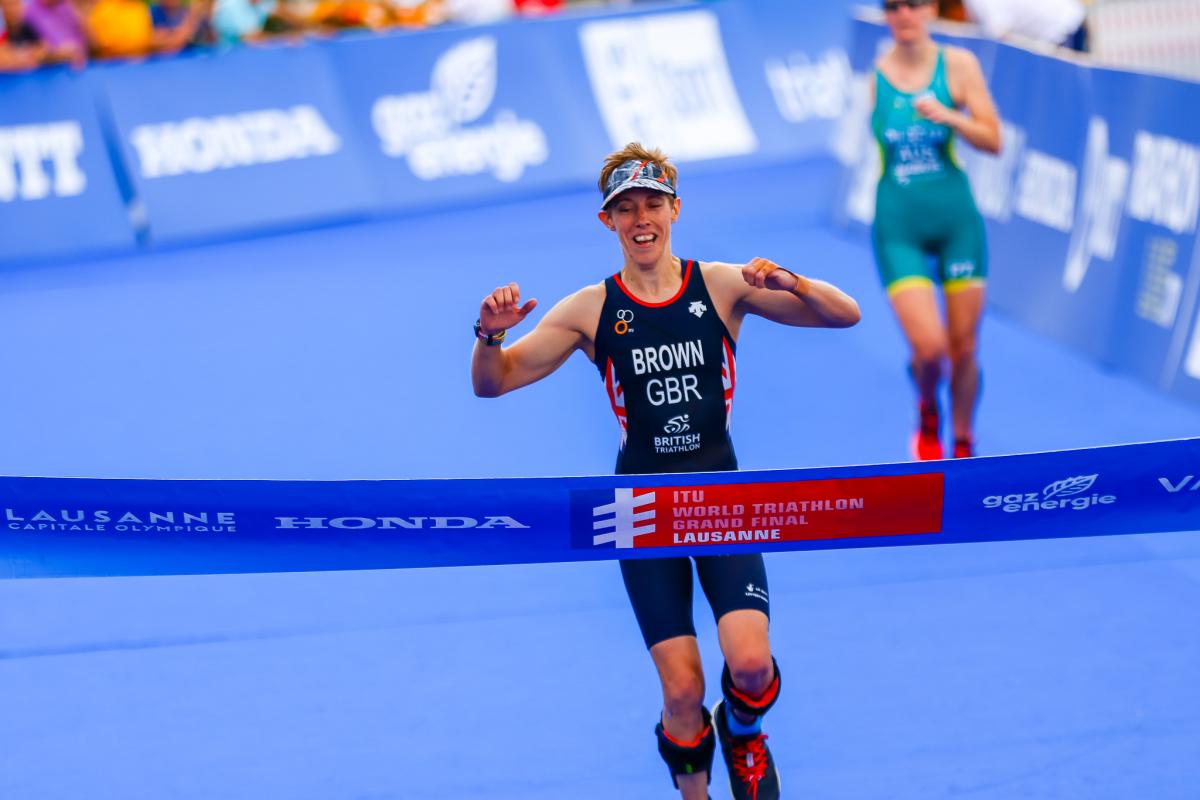 ⒸBen Lumley for ITU
By Rob Howell | For the IPC
Para triathlon world champion Fran Brown was weeks away from completing her winter training in Spain when the COVID-19 pandemic struck the country in late March. It was a disruption for the British athlete who has been an upcoming star in the sport.
Looking to add Paralympic gold to the world title she won for the first time in 2019, Brown had to return to her home country.
"We had a few athletes in Spain, and with the very quick change to the social rules, they were all forced to pack up and get out," recalled Jonathon Riall, head coach of British Para triathlon.
When exactly Brown can pick up on her Paralympic dream is uncertain, as Tokyo 2020 was postponed to 2021.
She burst into the scene at the 2019 Worlds, where the Brit upset reigning Paralympic and world champion Allysa Seely of the USA in the PTS2 class.
As a seemingly newcomer to Para triathlon, the 35-year old is no stranger to Para sport, having been a multiple world Para climbing champion. That, however, is not on the Paralympic Games programme, and she wants a Paralympic medal, hence the change to Para triathlon.
"I was inspired to get to a Games," Brown said. "In climbing, I was in the most impaired grade and was still winning against those with less impairment, so I wanted to move into a more competitive sport, but also one with a more level playing field. I started triathlon in the 2014-2015 season, after winning the climbing World Championships."
She admitted the transition from a strength-based to an endurance sport was a challenge, though she had some experience of swimming from strength training.
"For me, triathlon is a combination of challenges," Brown explained.
"My arms and legs are affected by my tetraplegia. I may be a weaker swimmer and less powerful runner, but it all balances out. In the cycling phase, I try to build up a lead so that people have to chase me down in the run."
But that dream will have to wait until next year.
"By the time the news came through, it almost felt inevitable," Riall said. "It was devastating though, as athletes shape their entire lives around these four-year cycles. However, in the context of the global emergency we are in, it also a relief to have clarity and the best decision for the health of the athletes and staff has been made."
Brown's determination and focus will be hard to deter. It is seen in how she balances a range of activities and skills. For example, she is a physio therapist and an accomplished percussionist who plays the drums and xylophone.
"It's great for stress relief and always makes me feel better," Brown said. "I try to do a bit for work as it's an escape from the triathlon.
"The music especially helps with my running, as I can think of music patterns and rhythms, and use that to keep my pace going. Swimming is about maintaining rhythm as well so it all really helps with my coordination."
That ability to multi-task is special about Brown, according to Riall: "Look at her background – percussionist, climber, even a ballet dancer – she's always pushing boundaries. I've never met someone so tenacious."
Brown's disability was the result of an industrial accident in 2006.  Riall said her impairment affects all parts of her body, "but she has the capacity to take a blow and which impacts her and then just focus on finding a solution."
One final source of inspiration for her is the smash hit musical Hamilton, the story of how one of the USA's founding fathers fought the odds to become successful and influential.
"I love the idea that you are what you make yourself," Brown explained. "I have a quote from one of the songs on my website which says 'I am the one thing in life I can control. I am inimitable. I am an original'."