Japanese legend Wakako Tsuchida targeting home Paralympics
With exactly six months to go until Tokyo 2020, one of Japan's sporting greats hopes to star at her seventh Paralympics
25 Feb 2020
Imagen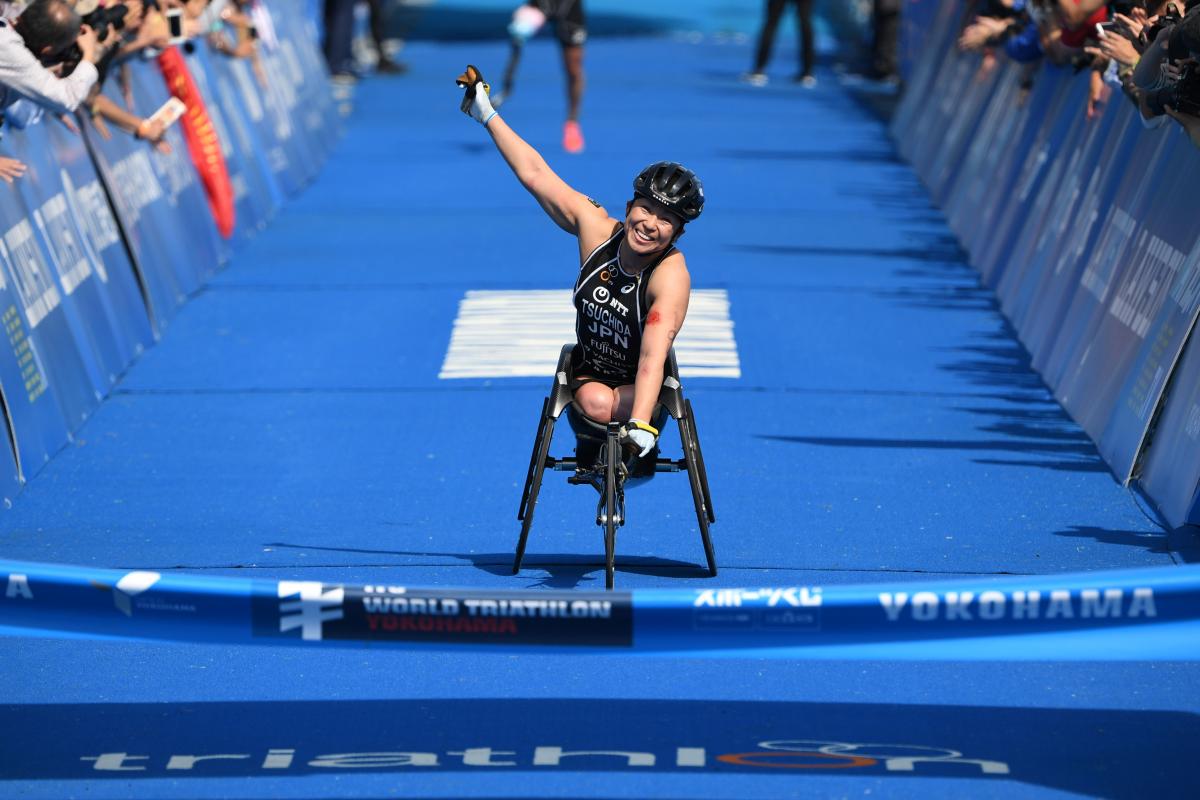 ⒸITU Media/Delly Carr
By Teddy Katz | For the IPC
Wakako Tsuchida is the first Japanese athlete to win gold medals at both a Summer and Winter Paralympics.  She has also starred in the world's top wheelchair marathon races.  But she is not dwelling on the past when asked the biggest highlight of her 20-year career.  
"(That) will happen in Tokyo 2020," she said ahead of the upcoming Paralympics exactly six months from today.
The 45-year-old is  set to wear her country's colours in a new event for her at Tokyo 2020 -- triathlon. She will be competing about an hour from where she was born.
Tsuchida knows what it is like to participate at a home Games.
At the Nagano 1998 Paralympic Winter Games, she won two gold medals in ice sledge racing.
"I was young at the time and while I was happy winning the gold, there is no lingering memory."
This time around she hopes the Games will be a catalyst for change.
Less than a year out, surveys have shown awareness for the Paralympics in Japan is higher than it was in Great Britain at the same time before the highly successful London 2012 Paralympics.  There has been a concerted effort by the Organising Committee and its corporate sponsors to feature advertisements with Para athletes on television.  
Although Tsuchida was offered a spot in the commercials, she turned them down so younger Japanese athletes could get exposure.
"It's my wish that understanding towards the Paralympics will deepen and that our society will be a place where every person, whether disabled or not, can coexist; and that it will not end as a temporary trend because of Tokyo 2020."
When she was 17 in high school, Tsuchida was in a traffic accident that and lost both her legs, ending up in a wheelchair.  Her doctor recommended sports and she tried different types. When a coach from Norway came to Japan to introduce ice sledge racing, Tsuchida became "attracted to speed."
At the time, persons with disabilities were almost invisible in Japanese society.  Families often kept their loved ones with disabilities indoors as their way of protecting them.   Tsuchida says her family was different.
"My mother encouraged me to live alone immediately after I left the hospital and gave me the opportunity to be self-reliant," she said. "I was self-conscious about people looking at me in my wheelchair. However, since I was able to do most of the things on my own such as driving a car just like when I was able-bodied, I was gradually able to accept my disability." 
She competed at the 1994 Paralympic Winter Games in Lillehammer, Norway. Tsuchida won Paralympic golds four years later, and she was only beginning. 
She switched to summer sports for the Sydney 2000 Paralympics and won a bronze medal in the women's wheelchair marathon.
At the Athens 2004 Paralympics, she made history, winning gold in the women's wheelchair 5000m and becoming the first Japanese Paralympian to finish on top of the podium at a Winter and Summer Paralympics. 
The recognition kept growing.  She went on to become one of the world's top wheelchair marathon racers winning the Boston and Tokyo Marathons several times.
"I felt there were more people cheering my name every year I raced in the Tokyo Marathon." 
In 2011, her country gave her the Prime Minister's award for her accomplishments.
"I was extremely honoured.  I also felt I was able to give back to my parents to some extent," said Tsuchida.
Shortly after a fourth-place finish at the Rio 2016 Paralympics in the women's wheelchair marathon, Tsuchida was diagnosed with exercise induced asthma and started swimming to deal with it.
That got her thinking about a new sport – triathlon.  But it has not been easy.
"I didn't have much experience swimming in the ocean, so I had hard time during the first season," said the PTWC-classified triathlete. 
Her husband, Keiju Takahashi, a former speed skater helps coach her.
"When I participated in the Grand Final in Rotterdam (in 2017), I couldn't start because my body couldn't adjust to the low water temperature."
In 2018, she got onto the podium in every race.  Tsuchida finished second at the 2018 World Triathlon Grand Final in Australia.
"I'd like to become an athlete who is remembered by the people," she added.  
A gold medal in Tokyo would help ensure that.