Japan's Wakako Tsuchida exploring possibilities and testing limits
I'll train hard to secure a place in triathlon and marathon and make a mark at the Paralympic Games
08 Apr 2021
Imagen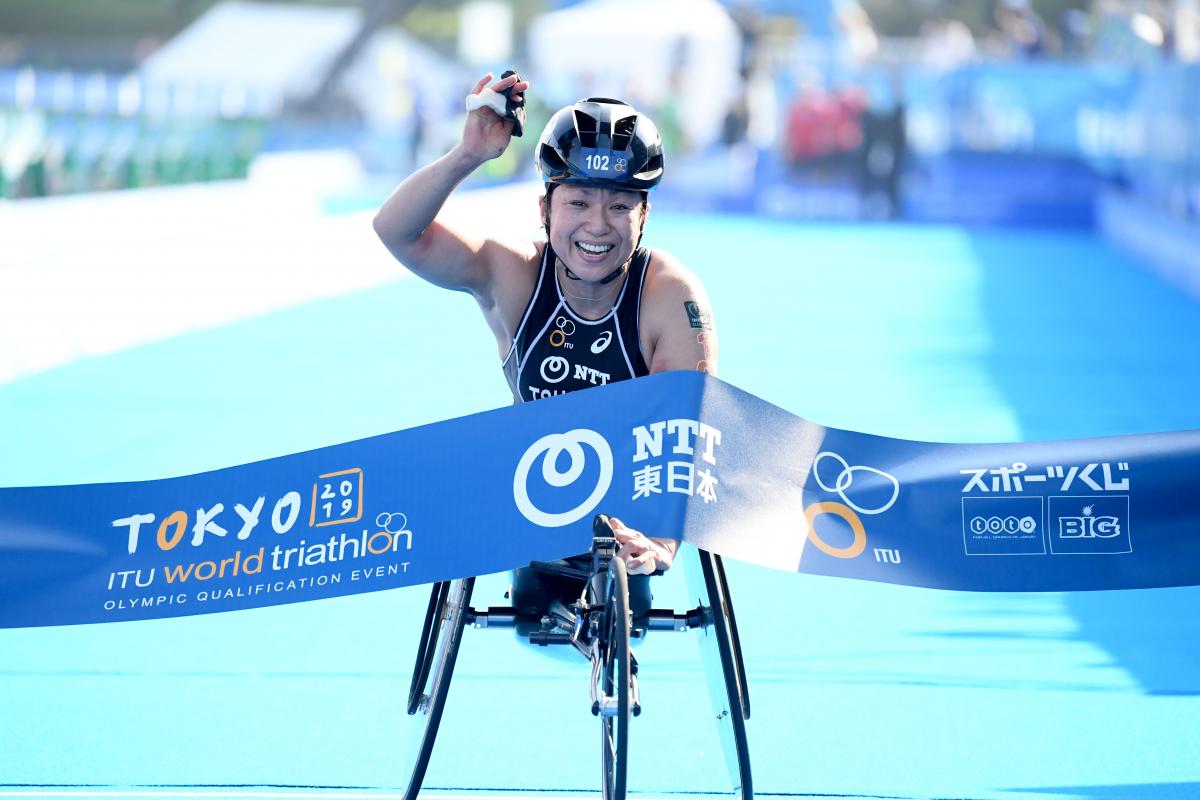 ⒸITU Media/Delly Carr
By Tokyo 2020
"Actually, I want to return to marathon, so I've decided to take on the challenge of participating in both triathlon and athletics." - Wakako Tsuchida states with a spark in her eyes.
Tsuchida, who has been to seven Paralympic Games — five summer and two winter — is the first Japanese athlete to win the gold medal in both the Summer and the Winter Games.
After the Rio 2016 Paralympic Games, Tsuchida developed exercise-induced asthma and decided to switch to triathlon in order to improve her physical health. After just one year, Tsuchida entered the 2018 Paratriathlon World Championships and found herself among the world's top contenders, winning a silver medal. And her health improved significantly in time for her swim training for triathlon.
"I didn't have much experience in swimming so at first, I was afraid and it was difficult. I just kept practising in seawater. Swimming is very good for maintaining a healthy body, and I no longer suffered from asthma. I was able to compete in athletics again," the 46-year-old athlete said.
Tsuchida's first marathon challenge was at the Sydney 2000 Paralympic Games where she won the bronze medal. She won a sliver at the Athens 2004 Games, but withdrew from the marathon race at the Beijing 2008 Games due to an accident during her 5,000m race.
At the London 2012 Games, Tsuchida fell during the race and did not win a medal. She focussed on the marathon event at the Rio 2016 Games, but finished in the fourth place with only a second separating her and the gold medallist from China, Lihong Zou.
So Tsuchida felt she had unfinished business, and was determined to make a comeback in the marathon.
"I hope to participate in both the triathlon and the marathon at the Tokyo 2020 Games. I'll train hard to secure a place in those events and make a mark at the Paralympic Games," stated Tsuchida.
THE TRANSITION FROM WINTER TO SUMMER SPORTS
Tsuchida's first encounter with the Paralympic Games was in a winter sport.
After a traffic accident when she was a junior in high school, Tsuchida became a wheelchair user. Shortly thereafter, she started ice sledge speed racing (a speed skating event for athletes with an impairment in their lower limbs) and decided to go for the Paralympic Games. Just three months after she started the sport, at the age of 19, Tsuchida participated in the Lillehammer 1994 Paralympic Winter Games.
In the Nagano 1998 Games, Tsuchida won gold in the 1,000m and 1,500m events, and silver in the 100m and 500m events.
"I was extremely moved to experience first hand the excitement of the Games hosted in my own country. I have special memories of Nagano because I felt so proud as an athlete to win the gold medal."
However, ice sledge speed racing was removed from the Paralympic programme after the Nagano Games so Tsuchida decided to switch to athletics.
Whether it was a winter or summer sport, Tsuchida proved to be an outstanding athlete.
In her first summer Games at Sydney 2000, she won bronze in T54 marathon. At Athens 2004, she won gold in the 5,000m event and silver in the marathon. Tsuchida went on to participate in Beijing 2008, London 2012 and Rio 2016, making five consecutive Summer Paralympic Games appearances.

WHAT DRIVES TSUCHIDA
Tsuchida's career as a Para athlete has spanned three decades, and during that time she has appeared in seven Games and won seven medals, including three golds. At the Tokyo 2020 Games, she has her eyes on gold but in another sport, triathlon - her third after ice sledge speed racing and athletics.
So what keeps her going?
"I have the will to expand my possibilities," she responded.
"There were times when I thought it's time that I retire from competition. But as long as there is a goal, I want to pursue, and if I still feel there are other possibilities for me, I think I should continue. My curiosity and a challenging spirit, plus the people who support me, keep me going."
Tsuchida has overcome many obstacles.
At Beijing 2008, she was involved in an accident during her race, suffering serious injuries that kept her in the hospital for two months. But even faced with the possibility of ending her career as an athlete, Tsuchida accepted this as a challenge and only looked to the future.
"Whatever happens, whatever the outcome, the experience is going to help me grow as a person."
"Only a few athletes can win a medal at the Paralympic Games, but it's the process that counts — the process every athlete endures to stand on that podium."
Tsuchida is as driven as ever to continue her journey.
There are lessons she has learnt through the Games as well. One of them is: do not try too hard. This is something Tsuchida has been telling herself since the London 2012 Games.
"There was a time I tried too hard and it felt like I was making fruitless efforts. I realised that being my usual self is the key to performing at my best. It's not easy, though, because athletes tend to push themselves to the limit."
CONTRIBUTING TO THE APPEAL AND SUCCESS OF THE PARALYMPIC GAMES
Less than six months remain until the Tokyo 2020 Games, which could be Tsuchida's eighth Paralympic appearance - if she is selected - she is training everyday to improve her time to secure a ticket to a home Games.
"The Paralympic Games are the most valuable event in the world where athletes demonstrate their limitless possibilities. It is an opportunity where people with impairments can make a challenge, and the experience of participating will help you grow as a person," said Tsuchida.
That is why she desires to be 'an athlete that can demonstrate the appeal of the Paralympic Games'.
She hopes to be a role model for young athletes who aim for the Paralympic Games and a source of hope and encouragement for children with impairments.
"My point of view of the world expanded because I found a sport through which I could express myself and aim for the Paralympic Games. If you believe in yourself and take a challenge on a world scale, you are taking your first step to explore your unknown possibilities. From there, you will feel a ripple effect taking place. So it's important to 'take a challenge!'"
Tsuchida faces a new challenge toward the Tokyo 2020 Games as she hopes to compete in two sports.
"I hope my performance will encourage as many people as possible toward the future."
Tsuchida pledges to achieve a new goal at the Games as a gesture of gratitude to all the people who have supported her too.