With renewed expectations Japan's Seiya Norimatsu looks to Tokyo
"Who would imagine myself to be on the Tokyo Paralympic stage?"
09 Sep 2020
Imagen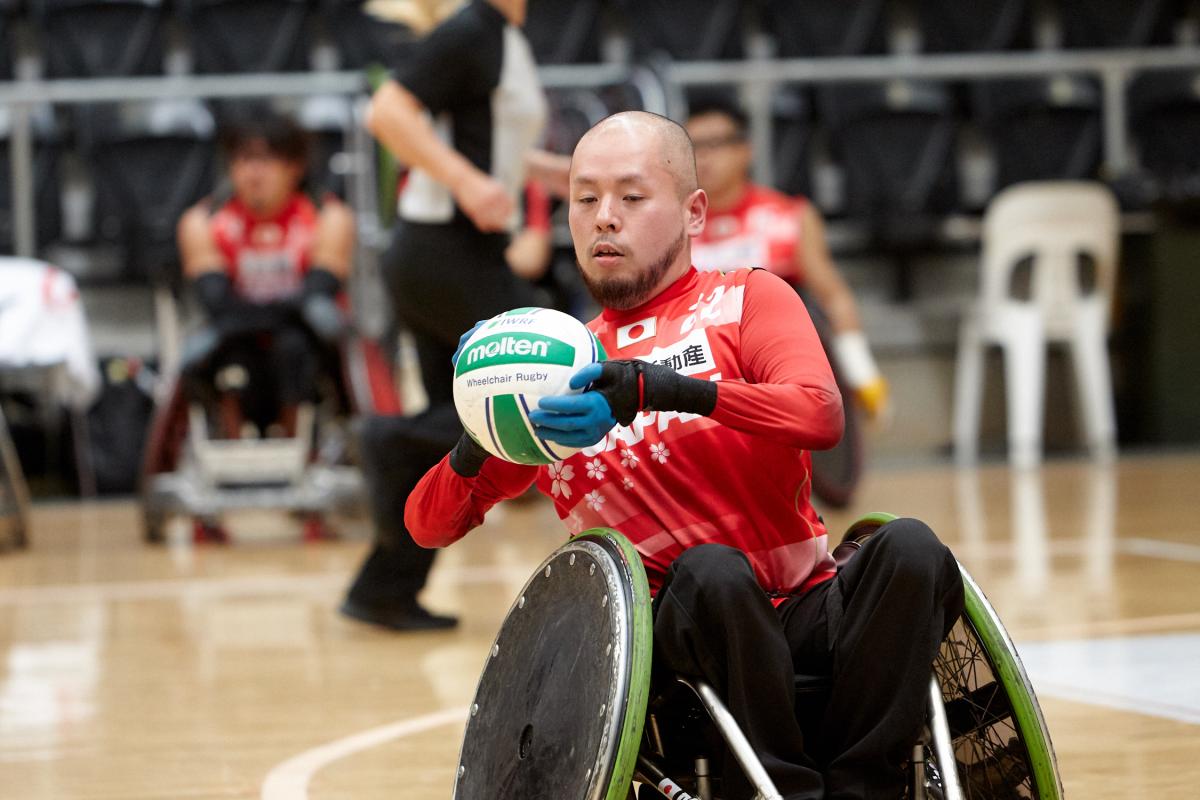 ⒸCherie Harris | IWRF
By EJ Monica Kim | For the IPC
When Japan was awarded the 2020 Paralympic Games, Seiya Norimatsu did not think much about it. He was not sure if he would still be competing by then.
Fast-forward seven years later, Norimatsu made it to the national wheelchair rugby team. Even more, he could also be part of history if his side can go on to win the title. 
"I saw news that Tokyo was awarded the 2020 Olympics and Paralympic Games back in 2013," he recalled. "But I had no reaction about it. I was like, 'Oh, I see.' That was all.  Who would imagine myself to be on the Tokyo Paralympic stage at that time?" 
Japan is favoured to win the Paralympic title at next year's Games, which would be their first in history. The nation came close to winning four years ago, Norimatsu vividly remembers those exploits.
The-30-year-old confessed that the baggage from the team's loss to Australia in the semi-finals at the Rio 2016 Paralympics lasted until the bronze medal match against Canada, the following day. 
"When our gold dream was thwarted by Australia, I had never been that sad during my sporting career. It broke my heart a lot," reminisced Norimatsu.
However, his Games debut had a happy ending by bringing home his country's first Paralympic medal in the sport. 
"The medal around my neck raised my sense of responsibility," he said. 
"I realised that I would be also able to feel such a huge happiness in my life." 
Coaching change brings positive changes

Norimatsu is staunch believer in the saying "There are efforts that would not be always rewarded, but it is not a waste."
"I keep reiterating this saying whenever I can't get the results that I expect." 
In 2018, his team put up a better showing against the Australians. They successfully took revenge for their Rio 2016 loss by beating the Aussies in the final at the World Championships, spoiling the Steelers' celebrations on home court.
The Worlds gold was the first achievement for Japan under new head coach Kevin Orr, who was appointed in 2017. 
"Despite a language barrier, Kevin always understands each of us and keeps thinking about how to develop our techniques based on an abundance of his knowledge and experiences.
"For me, he is the best coach. Therefore, I want to make him the world No. 1 head coach next year in Tokyo."
Expectations for Tokyo 2020

In 2013, the Kumamoto-native switched from wheelchair basketball to rugby due to his disability in the upper limbs; he was diagnosed with Charcot Marie tooth (CMT) that affects peripheral nerves at birth.
He hopes the Paralympics will transform the Japanese society.  
"It will be a great opportunity for able-bodied people to discover how people with a disability can play sports, so that we can make a harmony in the society by having better understanding one another," he said. 
The postponement of Tokyo 2020 to 2021 due to the COVID-19 has not deterred his motivation, and he returned to training in August.
"I wasn't really shocked at the postponement of Tokyo 2020. I appreciated that the right decision was made for everyone's safety," Norimatsu continued. 
"I have received numerous support from people in my life. I wish them to feel pride after watching my performances. It will be awesome to share a joy of gold all together in the end."