Denmark's 30-year journey to wheelchair rugby history 
Revamped programme helps nation make for Paralympic debut at Tokyo 2020 next year
08 Jul 2020
Imagen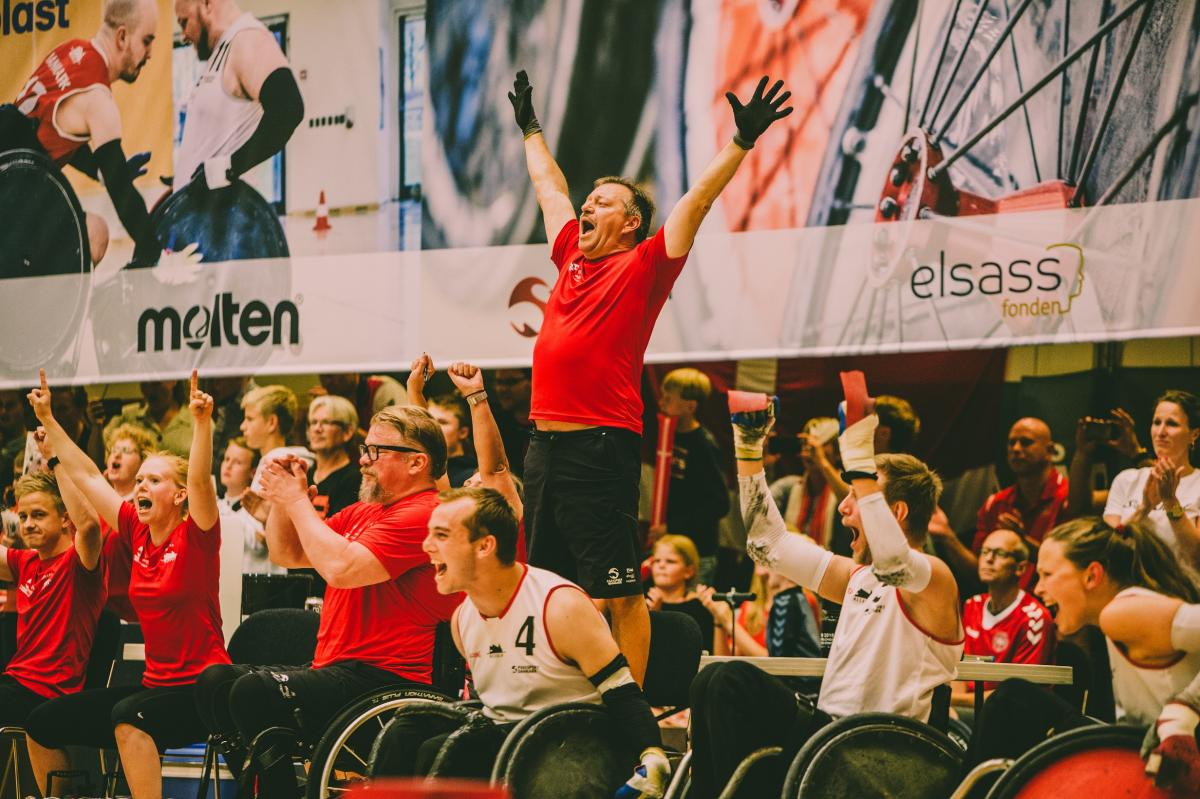 ⒸLees Foto
By Beau Greenway | For the IPC
Before, Denmark's wheelchair rugby programme was more about fun. Then Thor Johansson came in, sprinkled touch of professionalism, and is set to make history at the Tokyo 2020 Paralympics next year. 
Star player Sebastian Frederiksen, who joined the national team in 2012, attributes the programme's success to Johansson.
"He hasn't been coach for the past four years, but he started the programme and played for about 20 years," Frederiksen said. "He changed the way of playing and the entire commitment of the team. Before that, it was more about fun for the team, going out to tournaments and drinking beer after every game."
Denmark earned their ticket to Tokyo 2020 via the 2019 European Championships, taking runner-up to winners Great Britain. The Danes matched their best finish at a Europeans since the 2013 edition, and that moment in 2019 was 30 years in the making.
"When (Johansson) came in, he came up with a more professional way of doing things. He made a big deal about how much we had to practice and set some goals for what had to be done to succeed," Frederiksen continued. "I heard stories about how they played before and it was a team for fun. We still do it for fun now, but we want to be the best in the world too and we feel we're getting closer."
The bigger picture

It was hard to find many happier people than Johansson when Denmark broke through to qualify for Tokyo 2020. He moved out of the main coaching role following the appointment of former US Paralympian Jason Regier in 2017. Since then, Johansson said he now acts as a "sparring partner" for Regier and works on player development and tactics.
"When you are extremely close to reaching a major goal and then miss out – of course you're disappointed," said Johansson on Denmark's loss to Great Britain. "However, when the dust settles and you think about it, Denmark rose to the top of European rugby in only a few years, and maybe we did not have the level of experience needed back then to close it out in the dying minutes."
Johansson and Torben Nygaard, who also spent time as head coach, made it their mission to turn Denmark into a competitive force.
"I think everybody had their heart and soul into wheelchair rugby and wanted to win," Johansson reflected. "However, there was a not much structure in the organisation, and unclear roles and responsibilities. Especially the team around the players is critical to allow players to focus 100 per cent on their game." 
Johansson said a key part of developing a team is building a true programme that carefully selects specialists surrounding the team. They all must have clear defined roles, responsibilities and goals. 
"Once you have that in place, it's all about creating a winning culture, which is easier said than done," Johansson added. "All people are different and we are driven by different things, we react differently to things, some pay attention to details, some don't." 
Diversity in the group but with a common collective goal was key in reaching Tokyo, Johansson noted.
It was a rollercoaster, however.
Loss becomes motivation

Frederiksen has been through the team's highs and lows, including the heartbreak loss to Scandinavian rivals Sweden at 2015 European Championships to deny them a Paralympic berth at Rio 2016.
But it was motivation for them in 2019 at their home Europeans in Vejle.
France awaited them at the semi-final stage on this occasion, and, after four long years since missing out on Rio 2016, the Danes booked their place at Tokyo 2020 with a thrilling 53-49 victory in front of a packed arena of home fans.
"It was the complete experience," recalled Frederiksen, who played almost every minute of that semi-final. "It's awesome to actually be on the other side getting to the Paralympics now and being secure.
"That has been motivating me and the older guys like (captain) Leon (Jorgensen) and our low-pointers for practice, but on the day of the semi-final at the Europeans, it wasn't that much in my mind.
"Some of the other guys knew the statistics and in the last 10 games we'd lost seven against France. If I had thought about that on the day, it probably would have messed up my mind, so I tried to keep that away."
Great Britain went on to defeat Denmark 55-45 in the gold medal match.
"It's not okay to say, but that's what happened. We were satisfied by qualifying, but we need to try to make bigger goals now and reach for the stars instead," he said.