Aussie Ryley Batt's love at first sight with wheelchair rugby
'I've never thought for one second that I was different. I'm different from everyone but I believe I've lived a better life than people with legs even'
17 May 2020
Imagen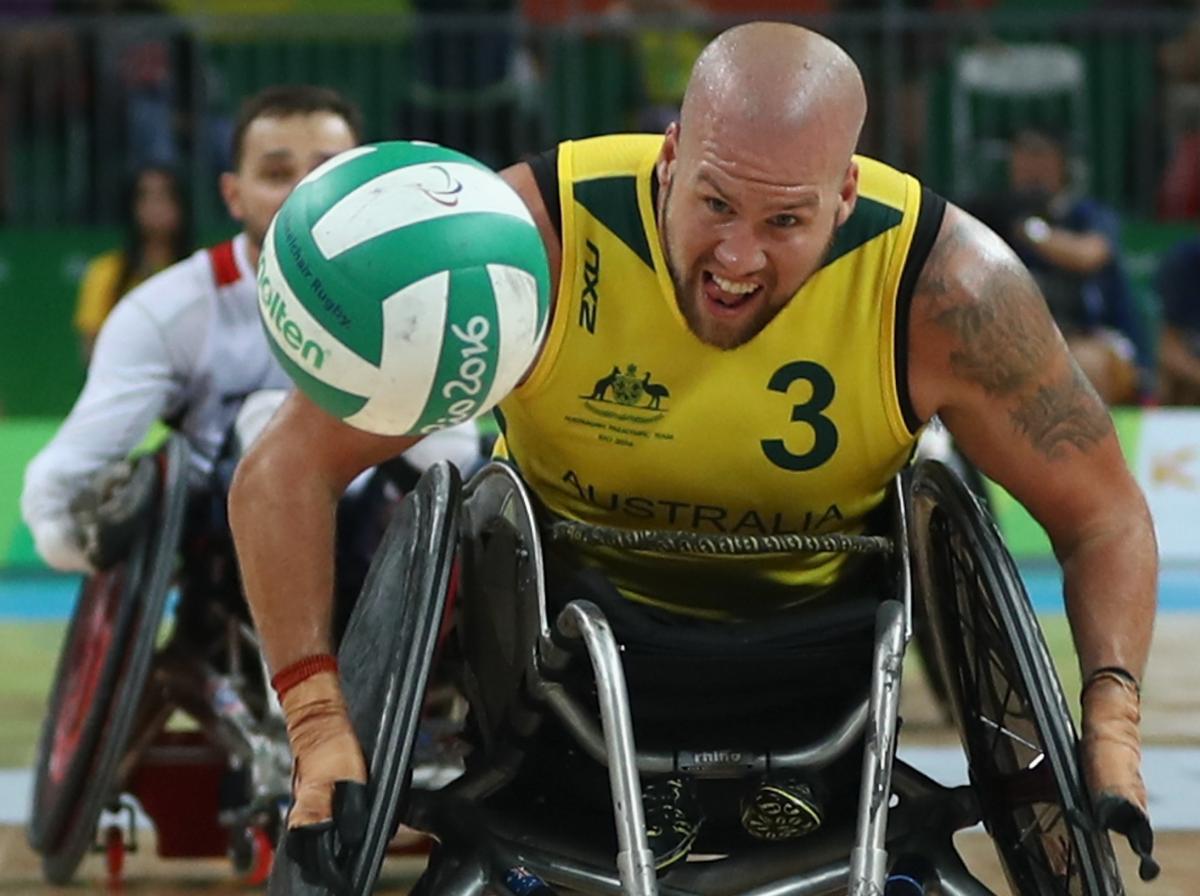 ⒸBuda Mendes/Getty Images
By Gaurav Joshi | For the IPC
Ryley Batt resembles a rugby player in every facet.  The bludging arms, the crew cut, the tattoos, and the fear-provoking eyes. The minute you tell him about his intimidating looks he begins to laugh before stating "I'm blessed I have a perfect body type for wheelchair rugby."
Batt was born without legs, there was no webbing on his hands and an operation had left him with four fingers. The ultrasounds indicated he had no physical impairments, but that was far from the truth. Batt's parents, however, made a conscious decision to raise him as a regular boy.
"I've never thought for one second that I was different. I consider myself lucky, I'm different from everyone but I believe I've lived a better life than people with legs even. All of it is because of my upbringing and my love for wheelchair rugby," said the four-time Paralympian.
The Tokyo Games will be Batt's fifth. The 30-year-old is a dual gold medallist and is regarded as the best wheelchair rugby player for over a decade. So how did this love for wheelchair rugby develop?
"I was never a fan of the wheelchair and to be honest - I hated it. Even during school, I used a skateboard. Then when I was in grade six, I went to a PCYC for school sport and saw wheelchair rugby for the first time." 
Though interested, Batt was not totally convinced. Two weeks later, while on the beach, someone stole Batt's skateboard leaving him with no form of transport. The mishap led Batt to trailing the wheelchair and the next time he was at school, he was playing rugby. It was the start of a remarkable journey.
Not your normal rugby
But above all the achievements, it is Batt's bubbly personality along with his attitude towards life, that makes him such a unique character. 
"Mate, I'm a normal person, actually I'm a bit of an adrenaline junkie," he says with a smile, before adding, "I love getting out the motorbike, going skiing, four-wheel driving and camping. That is my way to ground myself and come back to my normal life."
Batt has been employed by Insurance company Suncorp for the past seven years. He has the flexibility of working from home, but by the time the Paralympic Games is back on the horizon, he will have to balance work and training.
"Wheelchair rugby is as professional as any other sport, so we have to be conscious about our nutrition, training methods and recovery. You might have homework to do from the coach that is based around some video sessions based on tactics, so it does get hectic."
Ask him about the tactics in wheelchair rugby and Batt immediately says, "Forget your normal rugby, this is a game that is a combination of basketball, netball, handball, the only thing is that it is physical and you can ram blokes."
Tokyo 2020 Games will be Batt's fifth. But this time around, he will have the added responsibility after being selected as a co-captain of the Australian Paralympic teams.
"It is a great honour and I'm super proud of it. When Kurt Fearnley told me, it was one of the most memorable moments of my life and I will never forget it," says Batt, who now 'desperately' wants to win the third gold medal.