Ryley Batt: Not every day you can bash your opponents
Reigning Paralympic and world champion explains why he loves his sport ahead of Rio 2016 test event.
26 Feb 2016
Imagen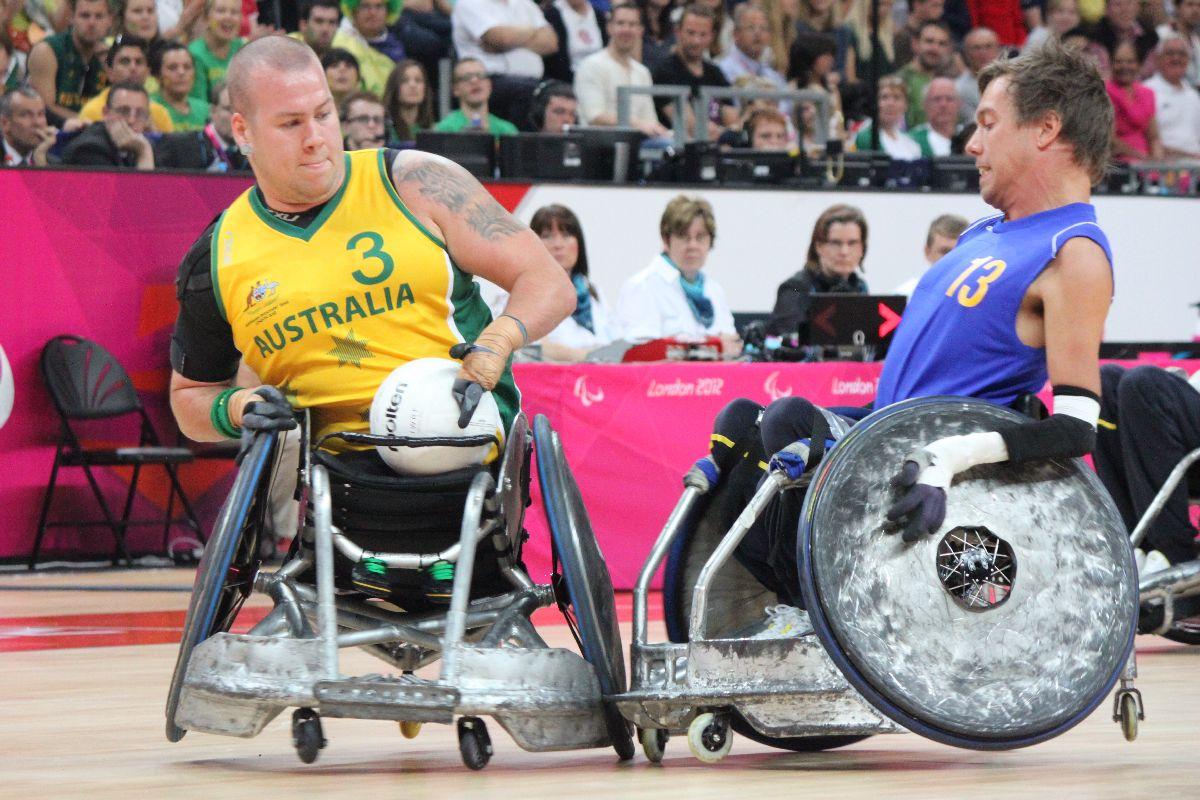 ⒸIPC Credit
By Rio 2016
"I like anything that's got a fast motor. I like to ride jet-skis and motorbikes, and water ski."
Anyone still labouring under the impression that Paralympic athletes might deserve our sympathy, even our pity, should listen to Ryley Batt. The Australian wheelchair rugby captain, who has been described as the Lionel Messi or LeBron James of his sport, is the reigning Paralympic and world champion who will be seeking to defend his title at the Rio 2016 Paralympic Games. And Batt likes nothing more than to mix it up.
"What attracts everyone to wheelchair rugby is the physical side," he told rio2016.com. "It's not every day that you can go out in a wheelchair and bash up other guys in wheelchairs. It's pretty good fun. It's a sport, a team sport that creates great friendships, and that aspect is pretty cool. But what draws me to the game is the hits and the speed of the game. I just love it."
Batt is also very good at it. Widely regarded as the best player the sport has ever seen, he made history as the youngest ever wheelchair rugby player at the Paralympic Games, when he played at Athens 2004 aged 15. "I think I was perhaps a little bit young to play in a Paralympics, but it was an awesome experience," said the man who went on to win silver at the Beijing 2008 Games.
So when he's not bashing his opponents and winning gold medals, what does Batt like to do?
"I like anything that's got a fast motor. I like to ride jet-skis and motorbikes, and water ski," he said.
Batt is in town for the Rio 2016 test event for wheelchair rugby, a sport that involves so much physical contact that it was initially known as 'Murderball', which is also the name of a highly-acclaimed 2005 documentary about the game. The Aquece Rio International Wheelchair Rugby Tournament will feature four teams – Australia, Brazil, Canada and Great Britain – and take place at Carioca Arena 1 in Barra Olympic Park from Friday to Sunday (26-28 February).
Born with a limb deficiency, Batt does not have legs and required surgery to separate his fingers from each other. But feeling sorry for himself was the last thing on his mind and he pushed himself on a skateboard to keep up with his mates. "I didn't see myself as different from anyone else, I wanted to be a normal boy," he said. "The way I hung out with my friends was by skateboarding, that was my mode of transport. I really didn't like wheelchairs.
"But when I was about 12 or 13 I discovered wheelchair rugby and overcame my dislike of wheelchairs, and ended up liking them, as I got into the sport.
"Without wheelchair rugby in my life, I don't know what I'd be doing. It's brought me so much happiness and given me that competitive edge"
Batt admits that Australia will be seen as favourites at Rio 2016, but stresses that their rivals have improved and that topping the podium in Brazil will be harder than ever. Canada, in particular, will be keen to dethrone the Aussies, after losing to Batt and co in the London 2012 Paralympic gold medal match and the 2014 world championship final.
However, the Australians are determined to defend their title and are using their time in Rio now to get sightseeing out of the way and ensure they are totally focused in September. Or as Batt puts it: "We've seen the sights and it's a beautiful city, but now it's down to business and it doesn't matter what city we're in, we just want to win."
Sport fans from around the world can now buy their Paralympic tickets for Rio 2016 from authorised ticket resellers (ATRs).
The IPC's Global ATR is Jet Set Sports, and Rio 2016 tickets and packages can be purchased on the CoSport website.
Residents of Brazil can buy 2016 Paralympics tickets directly from the Rio 2016 website.