Venezuela's Lisbeli Vera finds inner strength through Para sports
Parapan American champion heals from childhood bullying and becomes one of the world's top sprinters
14 Mar 2021
Imagen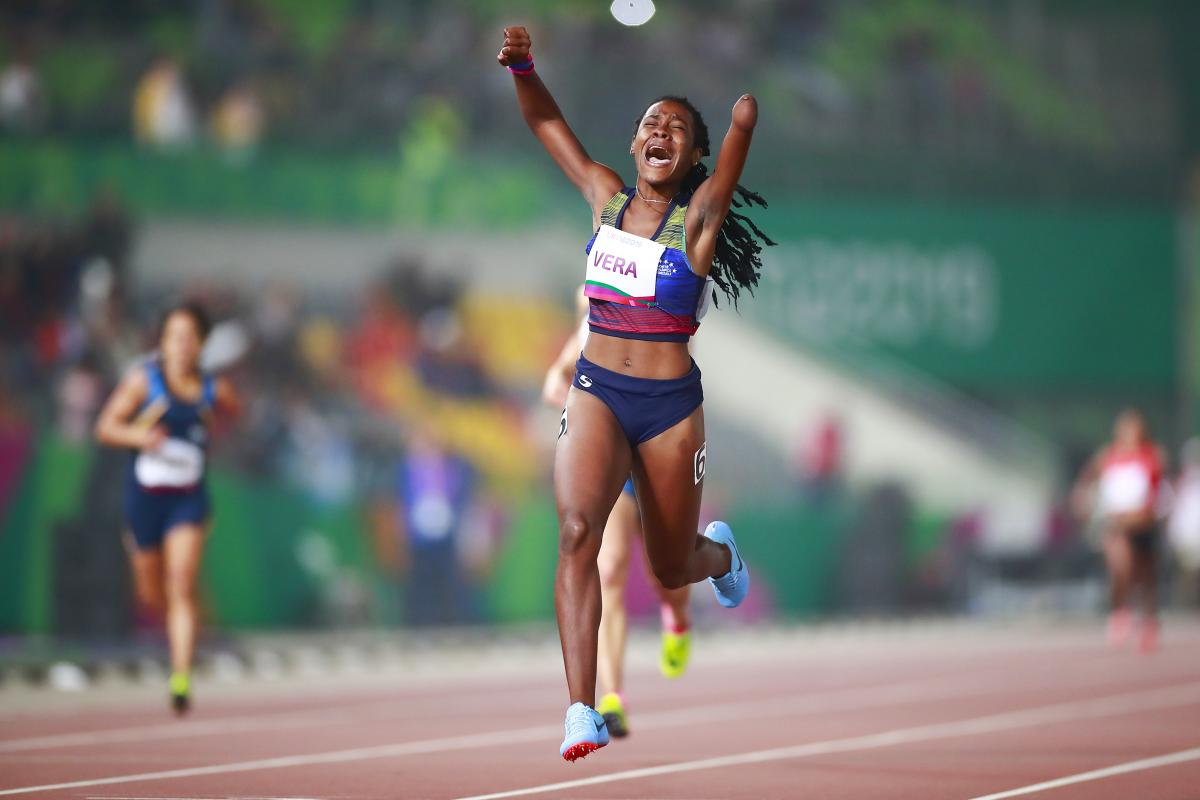 ⒸLima 2019
By Laura Couto | For the IPC
Lisbeli Vera Andrade is currently one of the best Para athletes in the world and Venezuela's big medal hopeful at the Tokyo 2020 Paralympic Games.
Born without part of her left arm, the 19-year-old has nevertheless had to overcome childhood bullying before achieving success.
"When I was at school I was teased because I was missing that part of my body, and that always made me feel different. I would lock myself in my house and say I didn't want to go out," she said.
"When I was bullied, sometimes I didn't pay attention because all they did was make me feel bad. They would tell me I was missing an arm...This teasing started at school when I was about 5 or 6 years old when I entered first grade. 
"The teachers would scold them, send them to the principal's office or tell them that I was the same as everyone else; that even with a disability I was the same as everyone else, that I was like them, that my disability did not prevent me from being the same as them. 
"Since I was little, I had lived with my grandparents. I didn't tell them anything about what happened to me at school. They would find out that I was being bullied when I had a fight with a classmate or when the teachers came by the house and told them". 
However, she came up stronger and forged her future. "Those jokes made me mature because I knew that at some point I was going to have to face life, that I wasn't always going to be protected and that I had to stand up for myself."
So strong was her conviction that when sport came knocking at her door, she did not hesitate.
TRYING PARA ATHLETICS
In her hometown of San José, Vera Andrade used to do physical education at school. She would do athletics only at school competitions. It was by chance that a coach recognised her skills and introduced her to Para athletics.
"I was discovered in a street race. There were several coaches there, Leonel Cabezas among them: he was the one who saw me and recommended me to coach Isidro Barthelemy," she said.
Motivated by this, Vera Andrade decided to leave the house where she had always lived with her family and travelled to the city of Maracaibo to begin training. "It was there that I really got into athletics," said Vera Andrade, who stayed with her uncle Erbenis Andrade.
"When I got into athletics I was very shy, I didn't talk to anyone, only to my coach. I didn't speak to anyone. Everything I did, I did it on my own". 
"It was only a matter of time before I gained confidence through sport. My coach told me not to be so shy, to talk to the other kids, to open up. It was a matter of time when I started to gain more confidence. 
The teenager cried because she missed her family but was convinced this was on the right path.
FIRST VICTORIES
The Sao Paulo 2017 Youth Parapan American Games were Vera Andrade's international debut, as she competed in the T47 sprint events.
"From that moment on, my life changed a lot. I never thought of becoming part of the Venezuelan national team in any sport. And it was a demonstration that what people said about me was a lie. I was always able to get out of bad situations and fight for my dreams," she said. 
The Venezualen continued to improve and won the Parapan American title in the 400m T47, as well as silver medals in the 100m and 200m, at Lima 2019. She went on to add two bronzes at the Dubai 2019 World Championships.
Venezuelan athletics legend and Vera's sporting idol Elsa Antúnez praised the young Para athlete: "I knew she had extraordinary conditions, as well as a lot of dedication and strength. I always compared her to me because she has a lot of courage when competing".  
"I have known about her since she arrived in Maracaibo. I was very interested in her from the beginning and the coach would give me reports on everything, as I was the senior coordinator of sport. To me, she is phenomenal, there is no other word to describe her."
Building on her recent results, Vera is dreaming big as she trains hard for this year's Paralympic Games. 
"The first thing I want to do is to represent my country well. And also to win three medals in the events I will compete in (women's 100m, 200m and 400m T47); I would really like to win the gold medal, but I know it's very difficult."