Hollie — The Arnold of records aims for more at Tokyo 2020
'I feel like I can go out there and push the world records even further so people can't reach that'
22 Feb 2021
Imagen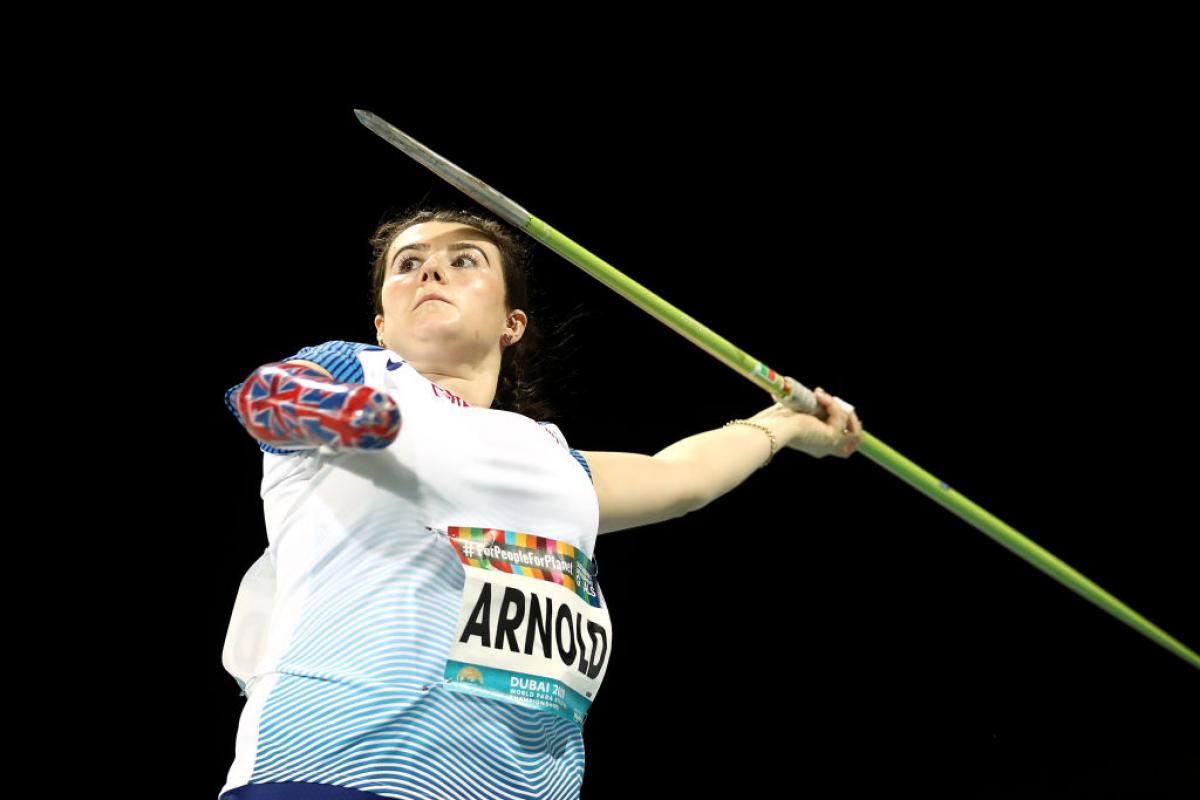 ⒸLynne Cameron/Getty Images
By Tokyo 2020
Hollie Arnold has done it all. She is a three-time Paralympian, a Rio 2016 gold medallist, a F46 world record holder, an MBE awardee (Member of the Order of the British Empire) and recently, has also become a British television celebrity.
The list of accolades continues and whilst she's got plans to venture into other things like book writing or even producing a Netflix-type Paralympian show/series, the British star javelin thrower, still lists sports as her number one priority.
In just a few months, Arnold will be up for her fourth Games at Tokyo 2020 to defend her Paralympic gold title.
"My main goal for this year is, of course going to Tokyo, [is to retain] my Paralympic champion status and to bring home that world record gold medal that I've had for years and years - and [I'm] still having that dream," said Arnold.
However, Tokyo 2020 victory is not the only thing in her cards as she sees more records to conquer in her athletic career.
"I just feel like there's always more, I feel like I can go out there and push the world records even further so people can't reach that. I want to keep winning Paralympic medals, keep winning world titles, keep winning European titles," Arnold added.
Currently, Arnold is continuing her training in Loughborough, England and remains positive and hopeful for a Paralympic Games amid this global pandemic.
"I feel like there needs to be some happiness and some excitement about this year. And even though it's still in my head as 2020. It's the new 2020. It's the better version. It's 2021. And fingers crossed we can go ahead and hopefully show the world what we're made of," the 26-year-old said.
The joys of competing
When Arnold made her Paralympic debut at Beijing 2008, she was the youngest member of the British athletics team to ever compete in the Games. Whilst she finished 11th, it ignited a love for the sport of javelin that has never waned since then.
"Back in 2008 when I competed in Beijing for my first ever Paralympics at 14, which is kind of crazy, I think only then and that moment when I threw the javelin there, was the moment I knew that I want to be a Paralympian. I want to win gold medals and I want to break world records."
After having a first taste at the Paralympic stage in Beijing, Arnold made a prediction that eventually was bound to happen in the next two Games.
"My granddad has it on tape. And I actually said to somebody who interviewed me back in 2008 that I was going to win Rio 2016."
Not only did Arnold win a gold medal at Rio 2016, she also broke the world record with a 43.01m throw then followed that with another record at the 2018 Commonwealth Games in Australia. A year prior, she was bestowed a member of the British empire award for her contribution to British sports.
For Arnold, all these titles come down to one thing: the joy of competing.
"When I'm competing, I'm at my happiest. And even though there's pressure and stress and nervousness, I mean, my stomach is always in knots and I just feel awful. But as soon as I'm out there and throw the javelin, I just feel complete."
Acceptance and a television stint
Arnold, who was born without one arm, has become some sort of spokesperson about body image positivity after dealing with her own issues as a young teen with impairment.
"It's the self-confidence issues where boys start to get involved and you start becoming aware of your body and your hormones and growing up. And I think for me, it was then I really looked different and I didn't like the way I looked. I would hide my arm in shopping because they were staring at me."
It was sports that got her through that challenging period in her life and eventually, led her to accepting her impairment.
"I guess really sport enabled me to realise that I have a different passion and my passion is not about sometimes how I look, it's about how I throw the javelin and to feel accepted within when I see people in the Paralympics. There is a massive array of different disabilities out there. And for me, I kind of took a step back and went, you know, you're not really that disabled, Hollie. You know, you have yes, one arm. And yes, certain things in life are a little bit difficult, but you can achieve and overcome."
In 2020, right at the heart of her preparations for the Paralympics and when it got postponed, Arnold appeared on the British television show 'I am a Celebrity' – and was the first Paralympian to do so on national television.
For Arnold, it was her way of not only dealing with the postponement of the Games but also help inspire viewers - able-bodied or disabled - that they can do anything.
"I had the opportunity to go on something like that, which is incredible in itself and to be the first disabled and first Paralympic athlete to go on there. The fact that we have had some incredible responses, these people that messaged me [and] said 'my daughter, my son has seen you do what you just get on with that - they now wanted to get involved in the Paralympics."
For women in sports and Tokyo 2020
As one of the most prominent female Paralympians in the world, Arnold hopes for Paralympic sports to expand even further and include more disciplines.
"I think we do an amazing [job]. I think we have grown really, really thick and fast. We've become really dominant in a lot of events. And what I would like to see is - obviously speaking on behalf of my events first - is we only have javelin as a throws event. We don't have shot put and discus. So I'd love to see more throwing events for us to be able to expand."
With events like sprinting and wheelchair racing on the spotlight for female athletes, Arnold only rallies for further female representation in sports.
"You can see that this dominance in sprinting, in wheelchair racing and throwing and obviously a good couple of years ago, even back to Beijing, women weren't particularly that dominant as right now."
"And to see that we are slowly growing and, you know, I think that's really exciting. I've seen Beijing to London, to Rio and then Tokyo, I think hopefully we can see there's a big, big difference and a lot more numbers of females and I kind of feel like females are running the world."
Arnold is now considered a veteran in her sport, but the pursuit of winning at the Paralympic stage still keeps that fire burning.
"I don't think that you can get better than the Paralympics. I honestly don't. And the same as the Olympics. It's just that it is that one event that everybody wants to go to."
"It's everybody's dream to go out there and compete and represent their country. And I just feel like the Paralympics has such a grasp of everybody's heart. It's just that moment and that is the energy."
But she hopes that fans would be able to watch the events live.
"It's the people that make us. It's the support we get, the feeling of the the crowd shouting our names or just cheering for anybody. It brings out incredible sportsmanship and partnership."
For Arnold, it would mean everything to be able to compete in Tokyo 2020 and win a gold medal again.
"I get elevated talking about it and you know, it's just being in that moment. And it's also for athletes definitely. There are moments where you have so many ups and downs along the years, we don't just train for a four-year cycle. I've been training since 2008, and it took me nearly 10 years to get where I wanted to be in Rio, to become a Paralympic champion for the first time ever and break the world record.
"But it took me a long time to get there. And I feel like it's such a sweet moment when things happen and you become a Paralympic champion to stand on that podium knowing that you've sacrificed yourself, your life, your family. And they've done the same and everything's gone right in that moment."