A day in the life of…Double world and Paralympic champion Jason Smyth
Ever wondered what the world's fastest Paralympian does each day? Wonder no more as Jason Smyth takes us through his day.
09 Jun 2014
Imagen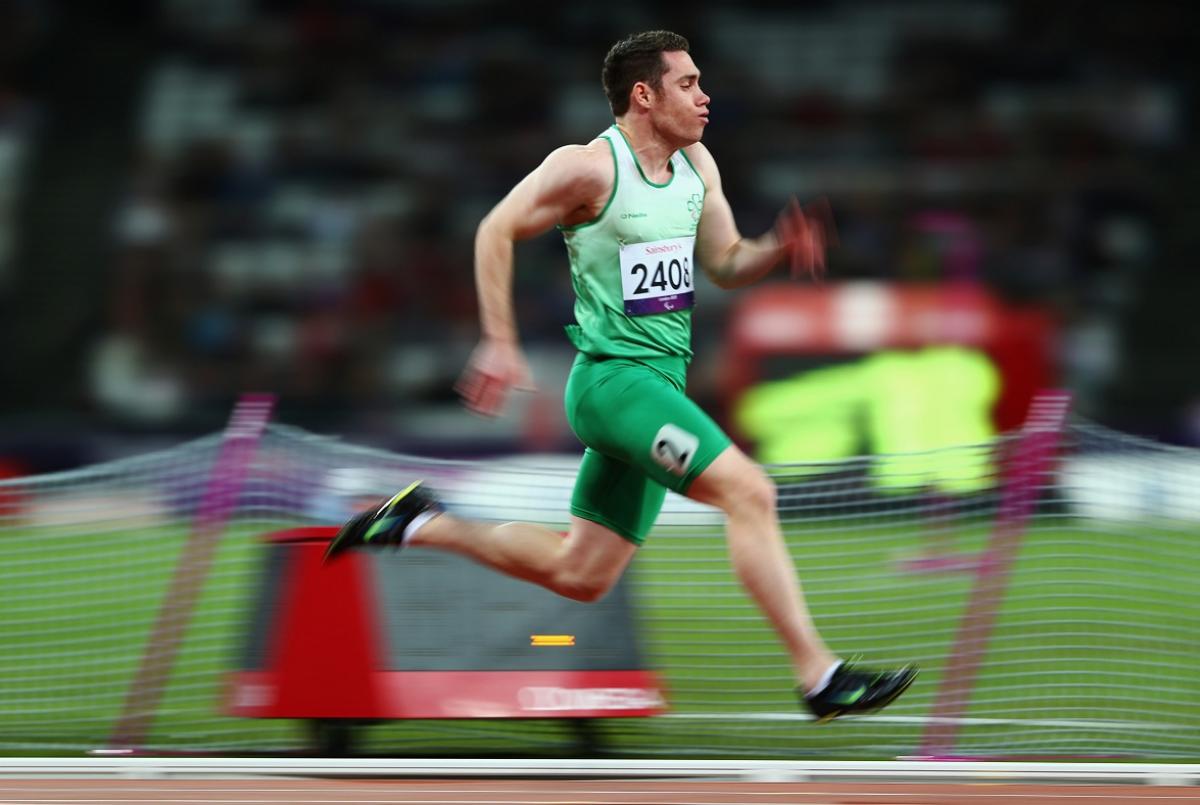 ⒸGetty Images
By IPC
"I'll start training about 9.30am. I warm up - jog, stretch, and do some drills"
The Irishman – dubbed 'the world's fastest Paralympian' - won 100m and 200m T13 gold at the London Paralympics in emphatic style, completing the 'double double' as he successfully retained the titles he won in Beijing four years before, in world record time.
In 2013 he stormed to victory at the IPC Athletics World Championships in Lyon, France, and now looks to add the European titles to his collection as he heads to Swansea in August. Here, as part of a new IPC Athletics series, he talks us through his day.
"My alarm goes off at 8:00am – there's no way I'm jumping out of bed - I get up after a few minutes and then have breakfast. I usually have Alpen, a banana and a yoghurt, and just some water. Once I'm washed and dressed I'll go on my computer and check out what's happening on BBC Sport. I'm a big football fan - I support Liverpool, and I like to check what's happening with them.
"Then I'll head out the door and get on the bus down to Lee Valley Athletics Centre where I train. I live in Tottenham Hale in London, so it takes me 30 or 40 minutes. I use the time on the bus to think, not about anything specific, it just depends what's going through my head that day – it could be to do with Liverpool, my future plans, or what's for dinner, anything really. It's London – there is zero camaraderie, you just don't talk on the bus.
"I'll start training about 9.30am. I warm up - jog, stretch, and do some drills, which takes me about an hour, then I do some strides, maybe 50m or 60m just in my trainers, then I go into my spikes and do something similar, but increasing my speed before I do my session.
"That could be a blocks session, with a number of 10m, 20m, 30m, maybe 50m, all focussed on getting your start right so that when you go to race you are able to do it at full speed. Then I do a couple of fast runs, maybe 90m, working on top speed.
"I'll be done with my running about midday, so then I'll head indoors to the gym. I have some cereal bars that I eat after running, and I have a protein shake. I'll spend another hour or so doing lifts, hamstring work, and upper body stuff. Everything is focussed on what you do on the track - it's all geared towards creating the power to be able to explode out of the blocks.
"After the gym I'll go do maybe 300 abdominals and a bit of stretching, then I'll head out of there by about 1:45pm - back on the bus and home for late lunch. I'll have a sandwich – maybe chicken, lettuce and mayo, and some carrot sticks or an apple on the side. Depending how hungry I am I might have another half sandwich, or maybe a snack like tuna and crackers. I don't regularly have a treat, but if I want something like a wee slice of chocolate then I wouldn't not have it. As long as I have the main things in my diet then a little treat here or there isn't going to kill nobody – it's when those treats become the rest of your day when you're in trouble!
"After a shower I'll relax for half an hour, which usually means lying on the sofa on my laptop. I go on to the sports websites; find out what's happening in the football world – there might be scores to check, or else this time of year I'll see what the gossip is. I'll check my emails, and have a wee look on Twitter or Facebook too.
"Then it's off to physio. I jump on the tube this time to central London. By the time I'm back home it's dinner time. I'm not a cook – my wife Elise is; she does all the cooking, and I do all the eating – a good combination. She usually has something ready, like barbequed chicken with pasta and broccoli.
"We live in a small apartment with not much room, so we don't have a table, we just sit on the sofa and eat, then I'll do the dishes and clean up, and we'll watch a movie or a TV show. I watch any movie, but my favourite is Gladiator. I enjoy watching TV, because after running, when your body is sore and tired, it's nice just to relax and waste no energy. Of course I'm very much looking forward to the World Cup. I'll be supporting England, as I like seeing the home countries do well.
"I head to bed by 10pm; I'll have a snack before that though. When I go to bed I just lay down and it wouldn't take me more than half an hour to fall asleep. I'm a great sleeper, that's pretty much me 'til my alarm goes. The London noise doesn't really get to me."