De Groot wins US Open to follow Golden Slam with calendar Grand Slam
De Groot: "This is something that nobody's ever done and no one's ever going to take that away from me"
12 Sep 2022
Imagen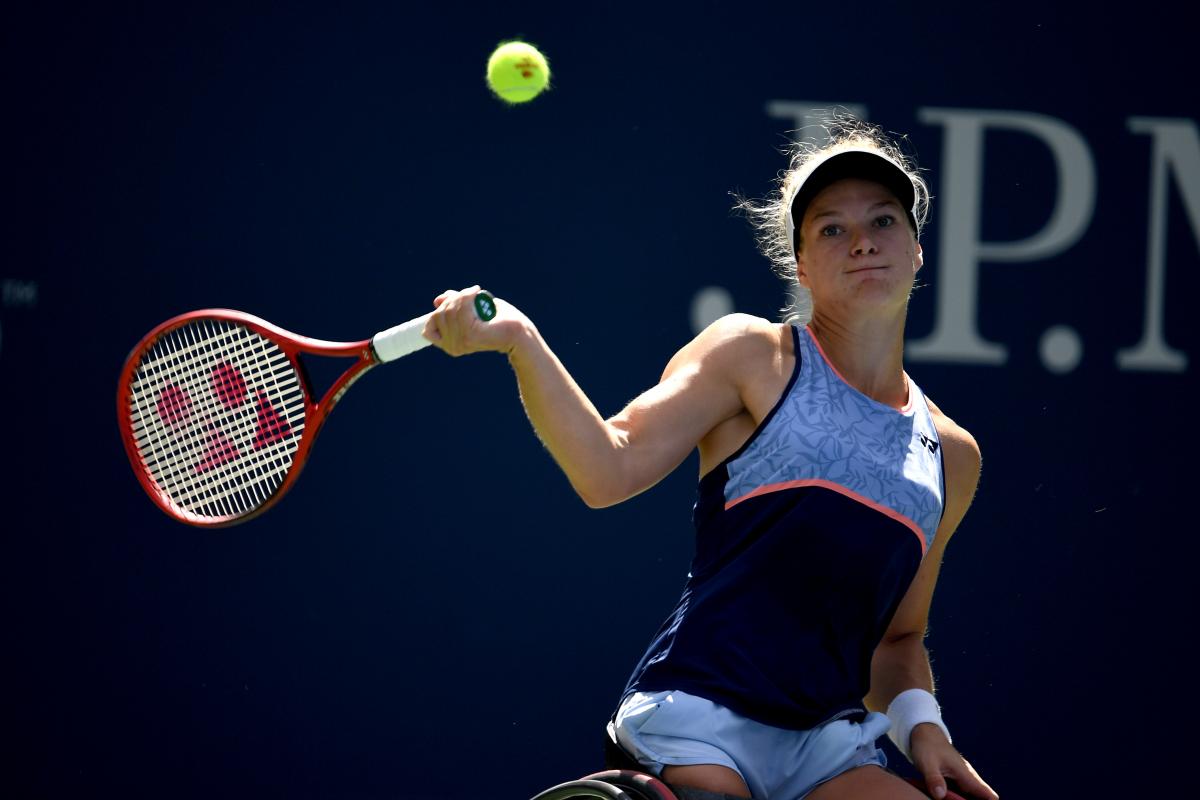 ⒸGetty Images
By ITF and IPC
Given everything she has achieved in her career you'd think Diede de Groot would have run out of history to make, but it appears not.
With her latest 3-6 6-1 6-1 victory over court rival Yui Kamiji, the Dutch athlete not only won her fifth consecutive US Open singles title, she also achieved something nobody has yet achieved in wheelchair tennis in any division - following up a Golden Slam, which saw her winning all four majors plus Paralympic gold in the same year, with a calendar Grand Slam.
"It feels amazing right now," de Groot said. "I haven't lost a singles match in a long time and I think that it can sometimes look like it comes very easy to me, but it doesn't and I think that final just showed how hard I have to work for it."
Rocky match
At the start of this year's final at Flushing Meadows, de Groot admitted she felt she "wasn't at the top of her game as soon as she went out there". Meanwhile, Kamiji was playing some clever tennis and looking confident out on court with her shot making.
Momentum shifted at the end of the first set, however, and de Groot started to relax more into the match. The unforced errors reduced as did the double faults and from that moment she was taking a one-way express all the way to her singles title.
"Before the match I knew Yui was going to try different things and she was really going to make it hard for me," de Groot said. "At the start of the match I sort of gave her a few opportunities here and there and she took them so I knew she was on top of her game.
"This court suits Yui too. She can go back as far as she wants and she'll see exactly at what point I'm trying to open up the rallies, so it's really difficult on a court like this to hit those winners so sometimes you can sort of overdo it.
"But as soon as I started relaxing and not pressing too hard, those balls that were going long started to reduce and that was the key to winning the match."
Setting the bar higher
For de Groot, coming through a tight contest against a player she has faced in multiple Grand Slam finals on her way to achieving both the Golden Slam in 2021 and the calendar Slam this year, creating her own bit of history feels "important", she said.
With her ample collection of singles and doubles titles the idea of de Groot one day breaking the records compatriot Esther Vergeer achieved during her phenomenal career continually comes up in press conferences.
While de Groot tries not to think about these records for now, becoming the first player in any division to achieve what she has done with her latest singles title win in New York has set the bar for others to follow.
"I'm not chasing those numbers that people keep asking me about relating to the amazing things Esther did throughout her career," de Groot said. "Maybe I get them, maybe I don't and if I don't, well, I don't want that to have an effect on how I view my career when I look back at it.
"This is something that nobody's ever done and no one's ever going to take away from me. Even if someone does it after me it's still going to be me that's done it first."
'The next ones'
On the men's side of the draw, Japan's Shingo Kunieda was also going for a bit of history as he aimed to become the first men's open division player to achieve a calendar Grand Slam.
But that achievement still remains elusive as Britain's Alfie Hewett claimed his third US Open singles title with a 7-6(2) 6-1 victory over the world No. 1 at Flushing Meadows in a high-quality match.
Hewett and de Groot claiming singles titles in New York was a reminder of those early days of their careers when one would often see them lifting trophies at junior wheelchair tennis tournaments together.
"It's really special," de Groot said. "We talked about this in Australia actually, about how funny it is how both of us when we were juniors all of the people around us said, 'You're going to be the next ones'.
"I remember looking at Alfie and thinking, "Yes he's going to make it, but I didn't know about myself. I had trust in him, hopefully he trusted me.
"I actually still have the photo from Tarbes all those years ago where we both held up the trophy, so this moment this year with both of us winning the singles in New York, it's special."