Declan Farmer: My first time
When the Paralympic champion first tried sledge hockey, there were very few opportunities at the grassroots level in his hometown.
11 Feb 2016
Imagen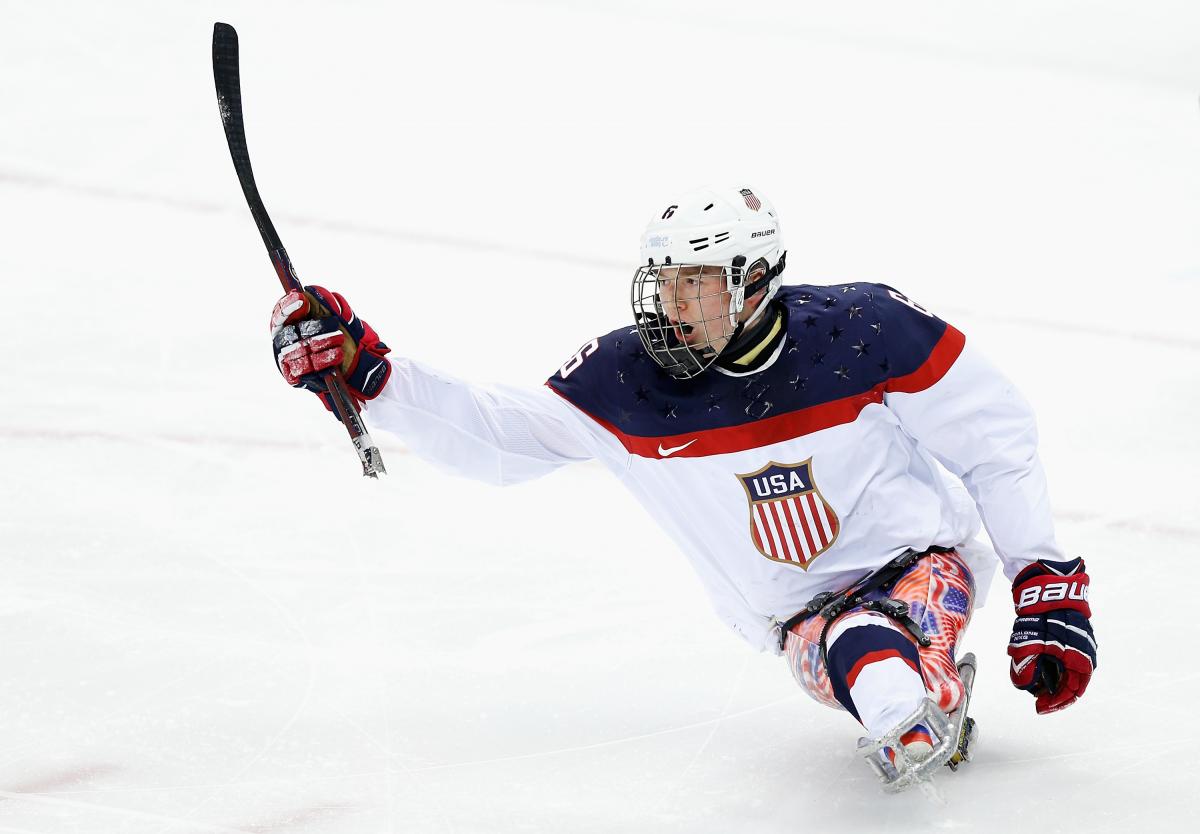 ⒸGetty Images
By Stuart Lieberman | For the IPC
When the USA's Declan Farmer first took up sledge hockey in 2006, there was not a single programme or club for the sport in his home state of Florida.
Today there are five, a testament to how much the sport has grown over the last decade in the US, even in a state filled with beaches and palm trees.
Farmer, who helped the USA win gold at the Sochi 2014 Paralympics and the 2015 IPC Ice Sledge Hockey World Championships as a teenager, has led a career that perfectly personifies that growth, having started the sport just as it was beginning to gain momentum.
Born a bilateral amputee, Farmer sat in a sledge for the first time during a clinic in his hometown of Tampa Bay that was carried out by a sledge hockey club from New York. About 10 sledge hockey players from New York traveled south to introduce the sport to a group of newcomers, and Farmer was the youngest of the participants at just nine years old.
"I was always athletic as a kid and into sports, so I was looking for something I could be competitive in," Farmer said. "Sledge hockey was the first disabled sport I tried, and I just loved it right away. I just had a blast.
"It was pretty tough at first, but it was the fastest I'd ever moved before. I did soccer as a kid, and obviously that was really tough with two prosthetic legs, but with sledge hockey, I just felt really free out there."
Farmer's parents were pleased he was able to find a sport he could excel in after having become frustrated with playing soccer on two prosthetic legs.
Despite being raised in a tropical climate where summer sports reign supreme, Farmer knew immediately he was made to play on the ice.
"I tried wheelchair basketball after I tried sledge hockey, but I really just didn't like it," Farmer said. "It just wasn't my thing. When I started sledge hockey, I felt like a natural out there in the sledge, and it was just for me."
During those early years on the ice, Farmer looked to veteran player Ron Richardson – nearly 40 years his elder – as a mentor to help him keep up with the more experienced adult skaters.
A year after Farmer took up the sport, the NHL's Tampa Bay Lightning started a sledge hockey club team, increasing their outreach to the community and giving athletes such as Farmer the opportunity to play on a regular basis.
"I can't wait to the point where I say, 'I know him,'" Richardson told the Tampa Bay Times during Farmer's early years on the club team. "He's just going to be a phenom. I guarantee it."
Richardson was right.
Farmer won an ESPY in 2014 as the Best Male Athlete with a Disability, scored the game-winning goal for his team in the gold-medal game at last year's World Championships and most recently had a tournament-high seven goals in the USA's first-place finish at last month's World Sledge Hockey Challenge.
What is even sweeter is that the sport has experienced just as much growth as Farmer over the last decade.
Now, with five sledge hockey programmes in Florida and six different ice rinks within driving distance of Farmer's home, sledge hockey at the grassroots level in the US has never been stronger.
"That just helps to develop more talent for the national programme," Farmer said of local sledge hockey opportunities. "The more club teams there are around the country, the better the US will be in the future."