Diede de Groot's Golden Slam bid gains momentum
The 24-year-old now has all four Grand Slams in her possession for the second time, having previously achieved the feat after topping the podium at Roland Garros in 2019
11 Jul 2021
Imagen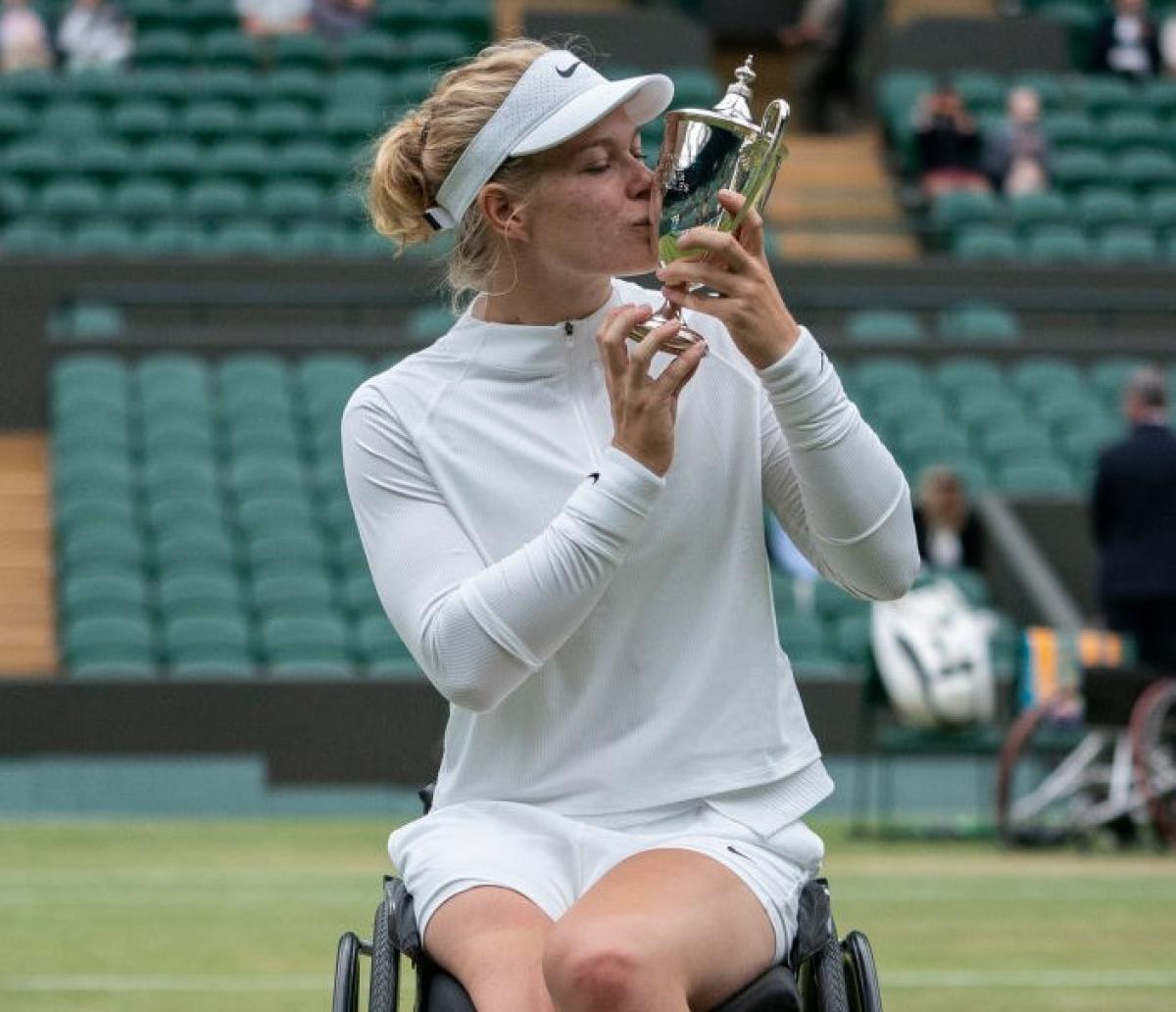 By ITF - Ross McLean
It would not be a Grand Slam in 2021 if Diede de Groot of the Netherlands was not picking up silverware before fending off questions about a Golden Slam. Both she and the questioners at her post-match press conference lived up to their billing.
Half an hour or so before the questions rained in, de Groot had claimed the 11th Grand Slam singles title of an increasingly special career after defeating first-time finalist Kgothatso Montjane of South Africa 6-2, 6-2.
The 24-year-old now has all four Grand Slams in her possession for the second time, having previously achieved the feat after topping the podium at Roland Garros in 2019.
Having already lifted trophies at the Australian Open and in the French capital this season, de Groot's third crown at the Wimbledon Championships – her first here since 2018 – means she will head to the Paralympic Games in Tokyo on the brink of history.
Never before has the calendar Grand Slam or Golden Slam been achieved in wheelchair tennis and de Groot, who won silver in Rio de Janeiro in 2016, was reluctant to discuss its potential. She instead preferred to focus on the here and now.
"It feels really great to be Wimbledon champion," she said. "I think a lot of people think, 'Diede, she is good on grass'. I think that's because this is where I won my first Grand Slam. But I don't necessarily think I'm really good on grass.
"For us wheelchair tennis players, it's very difficult and you need to have the right mindset. I did that well today and I'm happy just to play well and play my own game, even though that's not really a grass game."
Given de Groot's majesty on court, the showdown was always going to be a tough ask for Montjane, who became the first black woman from South Africa to contest a Grand Slam singles final.
She did, however, surge into a 2-0 lead in the first set only for de Groot to turn the tables and win six successive games to take a firm grip on proceedings. She was equally as clinical in the second set and romped home largely unscathed.
But with the clash taking place on Court No. 1, there was a wider significance to the contest as for the first time in history a wheelchair tennis match was staged on one of Wimbledon's show courts.
"I was a little bit surprised yesterday when I saw the schedule," she added. "But it was so great to go there and to see how many people were watching us. The noise they made was fantastic.
"For us as wheelchair tennis players, we don't always have that many people cheering for us, so that was great also. Like I say, I was a little bit surprised but, at the same time, very excited.
"I had a few people coming out to watch me. They had the opportunity and they cheered for me. I also think it was on television, which doesn't normally happen."
De Groot has twice as many winners as Montjane, but even for someone with the experience and on-court know-how of the Dutch top seed, the showpiece event was not free of tension.
"For the first two games, I'm sure KG [Montjane] was a little bit nervous as well, but I was shaking. I felt a little bit nervous. I felt it in my tummy. That was just something I had to control. I had to calm down.
"After I settled down a little bit, I played a few good points and that helped me to get in the rhythm for the third, fourth and so on games."
GERARD CONQUERS SW19, SETS SIGHTS ON MORE SLAMS AND PARALYMPIC GOLD
Belgium's Joachim Gerard was without a Grand Slam singles title for long and now two have come along at once.
Gerard was in an inspired form at the 2021 Wimbeldon SW19 final as he dispatched home favourite and 2016 champion Gordon Reid on Court No. 3, winning 6-2, 7-6(2), to land the second men's wheelchair title of his career and his first at the Wimbledon Championships.
Gerard with his success continued an impressive campaign for the 32-year-old who conquered all before him at the Australian Open in February to secure a maiden and much-cherished Grand Slam singles triumph.
"It feels amazing," said world No. 4 Gerard, who overcame Great Britain's Alfie Hewett and Stephane Houdet of France in the earlier rounds. "I knew I could do one Grand Slam, I knew I could do two and I know I can do many more.
"But when you actually win, it feels completely different. It has been an amazing week in singles with such great results – I love it here – and I want to keep my focus for the next tournaments.
"The mental side of the game and the improvements I have made is one of the keys to my form this year. I have worked so hard to improve but have also worked a lot on the physical and tennis side."
With two of the season's Grand Slams safely under his belt, Gerard certainly seems to be hitting form at an opportune time, with the Paralympic Games in Tokyo only weeks away.
He won bronze in Rio de Janeiro five years ago and has his sights set on a podium finish and a different coloured medal this time around. He also believes he is capable of regaining the world No. 1 spot which he last held in December 2016.
"There are no limits to what I want to achieve," he said. "My goal is to be world No. 1 and stay there for as long as I can.
"I will do the best I can in every tournament and at the Paralympic Games my goal is to go for the gold, for sure. But we know there are many players who all want the best medal they can get. But, as I say, my goal is to go for the gold."
Despite being forced to save break points in the second game of the clash, which would have given Reid a 2-0 advantage, Gerard found his rhythm and duly claimed the first set in some style and with relative ease.
A gleaming trophy was seemingly destined for his clutches after he surged into a commanding 4-1 lead in the second set, only for Reid to retaliate and take the next three games to level matters.
Gerard, however, was not to be denied and prevailed in the tiebreak, gaining some sort of revenge for his defeat to Reid – their only previous meeting in a Grand Slam singles final – at the 2016 Australian Open.
As expected, Gerard also had to contend with a British crowd who were cheering passionately and incessantly for Reid. While joking that he can recite some of the songs from previous Wimbledon visits, he concedes that overcoming partisan support was not always his strongest suit, but it is now something which is becoming less arduous.
"I don't have a favourite song because I try not to listen and I'm in my bubble," he added. "I always have the 'Gordon Reid and Alfie' one from doubles in my head, and it has been in my head for many years.
"But to play against that is a big mental process and a few years ago I would have been p****d off because I heard that and miss balls because I heard that, but now I just focus on my game and do what I have to do – that is the difference."