Direct qualification events for Tokyo 2020 Paralympics updated
Para athletes can secure slots for their nations at nine upcoming events
23 Apr 2021
Imagen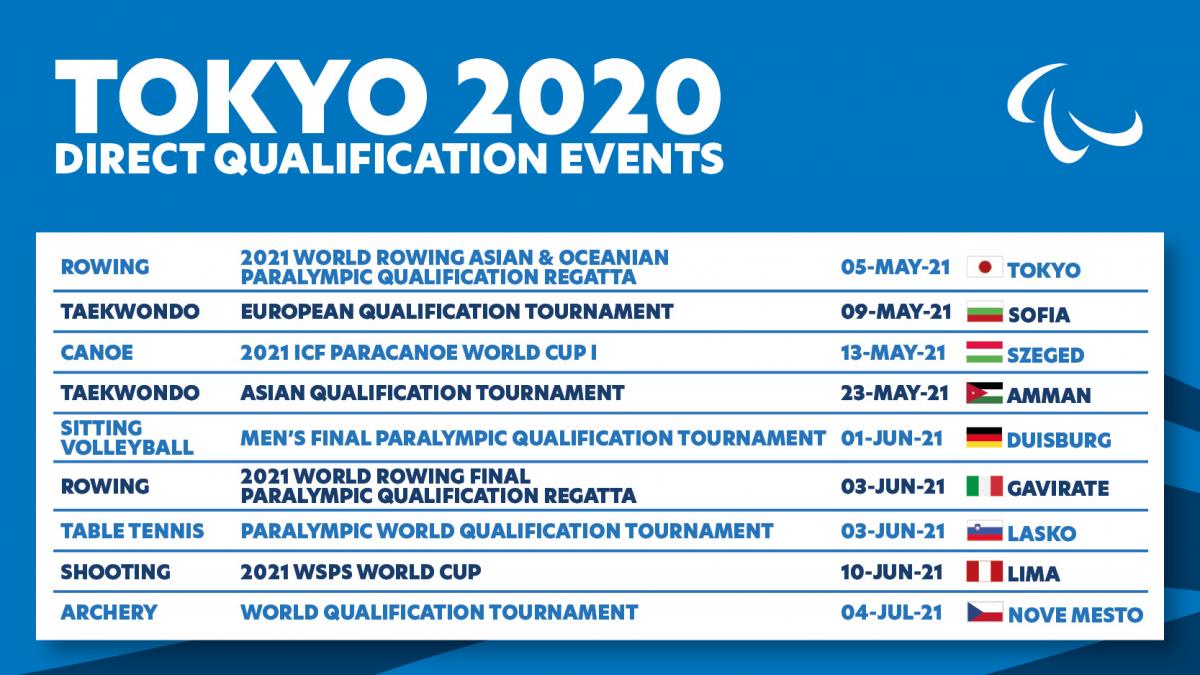 By IPC
Seven Para sports have confirmed direct qualification opportunities for the Tokyo 2020 Paralympic Games. 
Athletes in archery, canoe, rowing, sitting volleyball, shooting, taekwondo and table tennis have a chance to secure their nation's tickets to Tokyo 2020, which are set to take place from 24 August – 5 September. 
Nine direct qualification events are scheduled in between now and the Games, while other valid events in a number of sports are also taking place for qualification rankings or to achieve eligibility. 
Paralympic Games Sport & NPC Services Senior Manager Juergen Padberg said: "I would like to thank the International Sport Federations and event organisers, among other key players, for setting up these final qualification events. It has been an immense challenge for everyone on all sides with the COVID-19 pandemic, and we hope these competitions give Para athletes renewed motivation in their journey towards Tokyo 2020."
The Tokyo 2020 Paralympic qualification regulations are available on the IPC website. 
TOKYO 2020 DIRECT QUALIFICATION EVENTS
Rowing
2021 World Rowing Asian and Oceanian Paralympic Qualification Regatta 
5-7 May, Tokyo, Japan
Slots: 1 male, 1 female
Taekwondo 
European Qualification Tournament
9 May, Sofia, Bulgaria
Slots: 3 male, 3 female
Canoe
2021 ICF Para canoe World Cup I
13-15 May, Szeged, Hungary 
Slots: 18 male, 15 female*
Taekwondo
Asian Qualification Tournament
23 May, Amman, Jordan
Slots: 3 male, 3 female
Sitting volleyball
Men's Final Paralympic Qualification Tournament 
1-5 June, Duisburg, Germany
Slots: 1 team (12 athletes)
Rowing
2021 World Rowing Final Paralympic Qualification Regatta
3-5 June, Gavirate, Italy
Slots: 7 male, 7 female
Table tennis
Paralympic World Qualification Tournament 
3-5 June, Lasko, Slovenia
Slots: 11 male, 10 female
Shooting
2021 WSPS World Cup
10-19 June, Lima, Peru
Slots: 5 male, 6 female, 7 gender-free
Archery
World Qualification Tournament 
4-11 July, Nove Mesto, Czech Republic
Slots: 11 male, 12 female* 
*This includes reallocation of slots from previous methods