Do Nascimento dreams of Paralympic success
The T47 sprinter, who features in the latest video in the road to Rio 2016 film series, hopes to qualify for the Paralympic Games one day.
12 Sep 2016
Imagen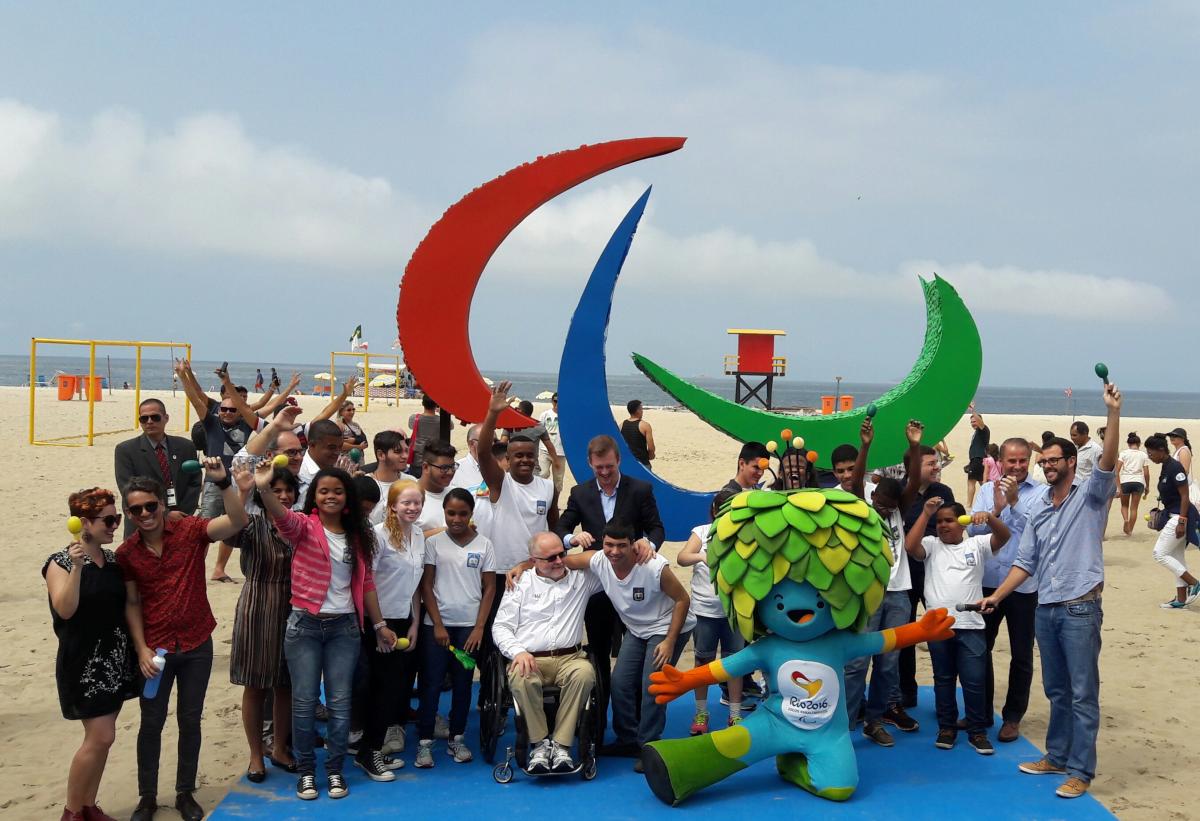 ⒸIPC
By Agitos Foundation
Like millions of kids across Brazil, Washington do Nascimento used to play football when he was little hoping to become the next Neymar or Pele, but everything changed when one of his mother's best friends introduced him to Para athletics.
At first, do Nascimento thought it could be the perfect way for improving his physical condition and thus his football skills, but eventually he got hooked on Para athletics and started dreaming of one day qualifying for the Paralympic Games.
"I did not go to practice often at first – only few times per week. But then I competed at the School Paralympics and gradually started liking it more," said do Nascimento. "In 2013, I decided to fully focus on athletics."
During this time, do Nascimento, who has a congenital impairment in his right arm, never felt he could not do what he wanted.
"When I was young it was a bit hard for me to accept my disability, but while I was growing up I learned to love myself the way I am. The truth is I have always been able to do what I wanted," he said.
This was possible thanks to the support of his loved ones.
"My family and my friends have always been by my side. It is a very pleasant feeling to know that your community respects you," do Nascimento said.
Do Nascimento is one of eight athletes from Latin America who attended training sessions run by the Agitos Foundation. Their remarkable stories are being told in a series of powerful short road to Rio 2016 films.
Over the last 18 months, a total of 155 athletes, coaches and classifiers from 23 countries, including do Nascimento, have benefitted from expert training provided during the Road to Rio 2016: Agitos Foundation Sessions.
Organised in partnership with the Rio 2016 Organising Committee and Brazilian Paralympic Committee, the sessions aimed to improve coaching and Para sport standards as part of the legacy of Latin America's first Paralympic Games.
"The help from the Agitos Foundation is very important for me. Thanks to them I learned more about Para sports and I really appreciate that," said do Nascimento.
There are days when he cannot leave his house in Rio de Janeiro's famous favela 'Cidade de Deus' or 'City of God' to go training due to trouble in the surrounding streets.
The 18-year-old knows how dangerous that is, but still feels attached to the place where he, his family and friends have lived their entire life.
"For me is nice and calm to live in Cidade de Deus, but sometimes can be dangerous as well and you have to be careful of stray bullets. But I am happy living here, it is my home place," he said.
Do Nascimento likes running the sprint events and competing in the long jump. "The 100m is the race that inspires me, I absolutely love the speed," he said.
Even though he will not compete at Rio 2016, do Nascimento aims to qualify for future Paralympic Games.
"I am giving my best in training to hopefully represent my country and do it in the best possible way," he said.
Clean, broadcast quality versions of do Nascimento's videos are available free of charge to all media. Requests should be submitted to footage@paralympic.org. The Agitos Foundation must be credited for all use of footage.
The Agitos Foundation road to Rio 2016 videos are featuring a series of athletes, to show the compelling stories that exist in Para sport development as part of #TeamAgitos.
Anyone can use #TeamAgitos on social media to show they are part of the team for developing Para sport, whether they are fans, athletes, coaches, part of the Paralympic Movement or a partner organisation.
Do Nascimento sueña con los Juegos Paralímpicos
Como millones de chicos en Brasil, Washington do Nascimento solía jugar al fútbol cuando era niño esperando convertirse en el siguiente Neymar o Pelé, pero todo cambió cuando una de las amigas de su madre lo introdujo al Para atletismo.
En un comienzo, do Nascimento pensó que podía ser la manera perfecta de mejorar sus condiciones físicas y, consecuentemente, su habilidad para el fútbol, pero eventualmente se interesó más en el Para atletismo y comenzó a soñar con un día clasificar a los Juegos Paralímpicos.
"No iba a practicar seguido al principio, sino solo unas pocas veces por semana. Pero luego competí en las Paralimpíadas Escolares y empezó a gustarme cada vez más", dijo do Nascimento. "En el 2013, decidí focalizarme por completo en el atletismo".
Durante todo este tiempo, do Nascimento, quien tiene una discapacidad congénita en su brazo derecho, nunca sintió que no podía hacer lo que quería.
"Cuando era chico, fue un poco difícil para mí aceptar mi discapacidad, pero a medida que fui creciendo, aprendí a amarme como soy. La verdad es que siempre pude hacer lo que quería", dijo.
Esto fue posible gracias al apoyo de sus seres queridos.
"Mi familia y mis amigos siempre estuvieron a mi lado. Es muy placentero saber que tu comunidad te respeta", dijo.
Do Nascimento es uno de ocho atletas de América Latina cuyas destacadas historias están siendo contadas en una serie de videos cortos ´Road to Rio 2016´, producidos por la Fundación Agitos.
Durante los últimos 18 meses, 155 atletas, entrenadores y clasificadores de 23 países, entre ellos do Nascimento, se han capacitado en las sesiones 'Road to Rio 2016': Agitos Foundation´. Este proyecto, organizado en colaboración con el Comité Organizador de Río 2016 y el Comité Paralímpico Brasileño, tuvo el propósito de mejorar los estándares de entrenamiento y deportivos como parte del legado de los primeros Juegos Paralímpicos en América Latina.
"La ayuda de la Fundación Agitos es muy importante para mí. Gracias a ellos aprendí más sobre el Para deporte, lo cual aprecio muchísimo", dijo do Nascimento.
Hay días en los que no puede dejar su hogar en la famosa favela ´Cidade de Deus´, en Río, para ir a entrenar debido a problemas en las calles circundantes.
El joven de 18 años sabe cuán peligroso es, pero aún así se siente profundamente unido al lugar del que él, su familia y amigos vivieron toda su vida.
"Para mí es un buen y tranquilo lugar para vivir, aunque a veces puede ser peligroso también y debes tener cuidado con las balas perdidas. Pero soy feliz viviendo aquí, es mi casa", dijo.
A do Nascimento le gusta correr las pruebas de velocidad y competir en salto en largo. "Los 100m es una carrera que me inspira, amo la velocidad", dijo.
Si bien no competirá en Río 2016, do Nascimento ya se ilusiona con clasificar a futuros Juegos Paralímpicos.
"Estoy dando lo mejor en los entrenamientos para poder representar a mi país y hacerlo de la mejor manera", dijo.
La versión final del video de do Nascimento está disponible libre de costo para todos los medios. Las solicitudes deben ser remitidas a footage@paralympic.org. La Fundación Agitos debe ser citada para cualquier uso del material.
La serie de videos ´Road to Rio 2016´de la Fundación Agitos presentan una serie de atletas, mostrando las atractivas historias que existen en el desarrollo del Para deporte como parte del #TeamAgitos.
Cualquiera puede utilizar #TeamAgitos en las redes sociales para mostrar que son parte del equipo, ya sean fans, atletas, entrenadores, parte del Movimiento Paralímpico o de una organización asociada.