#TeamAgitos: Kerguelen, a life devoted to Para sports
The Colombian aims to raise awareness of Para sports in his country and is hoping to see one of his pupils qualifying for the Paralympic Games one day.
29 Aug 2016
Imagen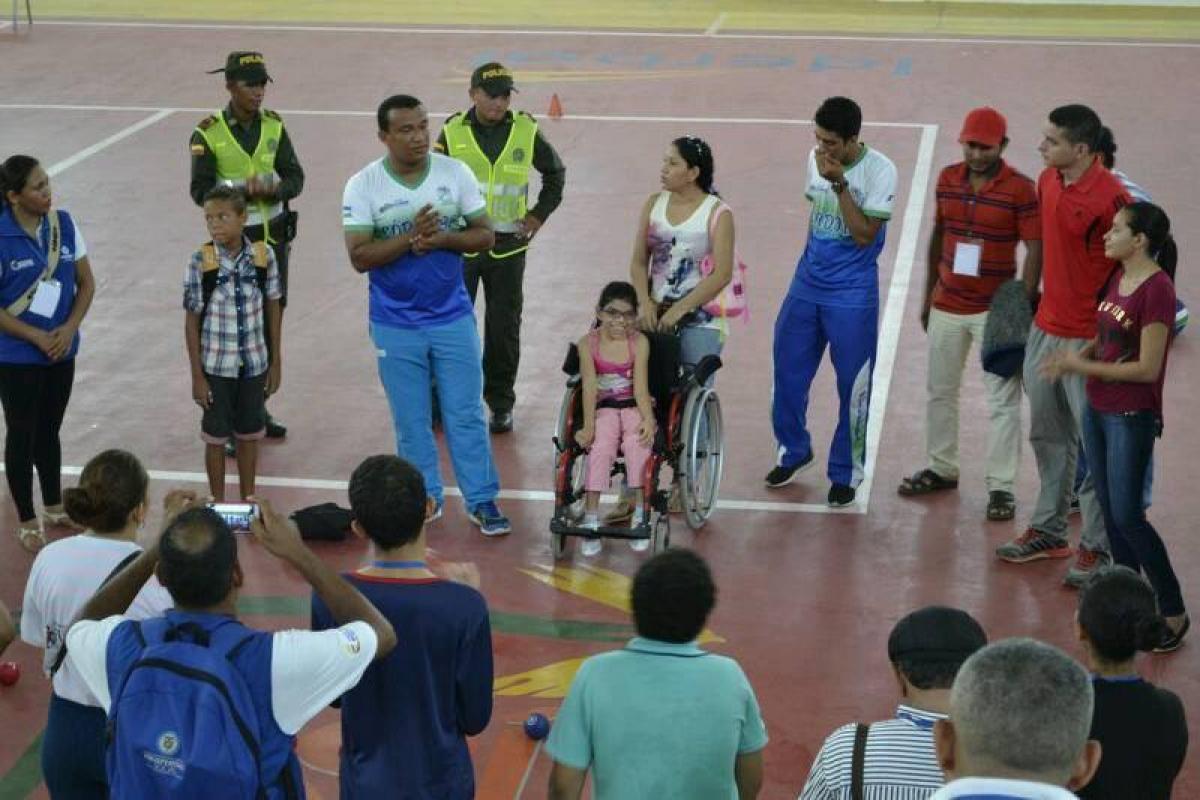 ⒸAgitos Foundation
By IPC
"I dream of seeing one of my pupils competing at the Paralympic Games."
Colombian Coach Jesus Kerguelen has devoted the last six years of his life to identify youngsters with impairments in Cordoba, Colombia, and to encourage them to take up sports to lead a healthy, productive and active life.
The 28-year-old has faced many obstacles, though, mainly due to lack of information and people's misconceptions, but has never lost hope.
"Working with people with impairment is so inspiring," said Kerguelen. "Many kids believe they cannot achieve great things due to their disability.
"Helping them fulfill their dreams provides me with self-satisfaction. Many are hopeless when they come to their first class but eventually realise that they can also achieve great things."
Kerguelen got involved with Para sports in 2013, when four children with impairments enrolled in his physical education class. Since then, he has been heading up projects to raise awareness of Para sports.
"In the beginning, I had to pick up each of my pupils´ from their houses to take them to practice because otherwise their parents would not send them," he said.
"We have organised sweepstakes to get money to travel and compete against Para athletes from other regions.
"I even produced the first goalball balls with bottle caps inside so that the players could hear it."
Now, around 40 athletes from Cordoba compete in athletics, boccia, goalball, football 7-a-side and powerlifting.
In 2015, Kerguelen travelled to Sao Paulo, Brazil, to take part in a training camp funded by the Agitos Foundation, the development arm of the International Paralympic Committee (IPC).
"This was a great opportunity to acquire new knowledge that I could later multiply in my country, benefitting dozens of kids," he said.
Kerguelen also highlights how important the media´s role is.
"Take my pupil Luis Herazo as an example. Since a video about him, produced by the Agitos Foundation, was released, Para sports in the region have gained a lot of exposure," he said.
With little financial resources but a big motivation to make a change, Kerguelen aims high.
"I dream of seeing one of my pupils competing at the Paralympic Games," he said.
Two videos about Luis Herazo's background and family life have been produced as part of the road to Rio 2016 film series, which documents athletes that have taken part in Agitos Foundation activities as part of #TeamAgitos.
Over the last 18 months, a total of 155 athletes, coaches and classifiers from 23 countries, including Herazo and Kerguelen, have benefitted from expert training provided during the Road to Rio 2016: Agitos Foundation Sessions. Organised in partnership with the Rio 2016 Organising Committee and Brazilian Paralympic Committee, the sessions aimed to improve coaching and Para sport standards as part of the legacy of Latin America's first Paralympic Games.
Anyone can use #TeamAgitos on social media to show they are part of the team for developing Para sport, whether they are fans, athletes, coaches, part of the Paralympic Movement or a partner organisation.