Doha 2015 Newsletter - Incredible legacy
SUHAIM BIN HAMAD STADIUM: Home to the World Championships
07 Sep 2015
Imagen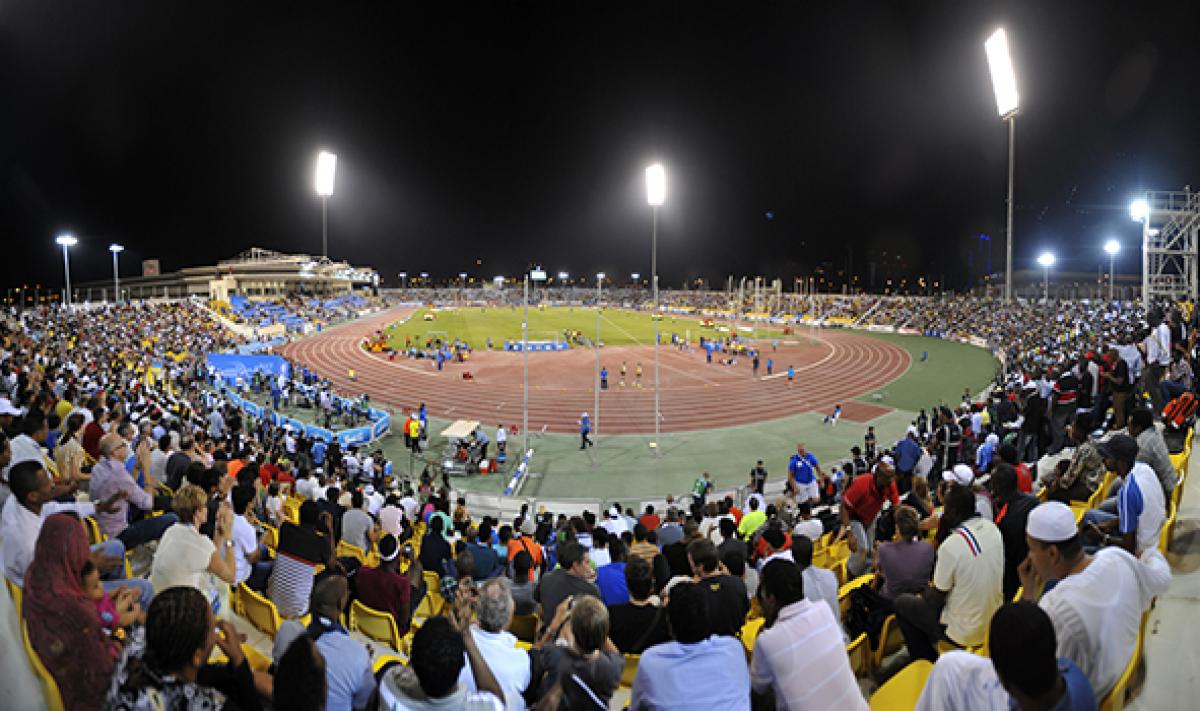 ⒸDoha 2015
By Doha 2015
The 2015 IPC Athletics World Championships Doha will take place in the 15,000 capacity Suhaim Bin Hamad Stadium, home to Qatar Sports Club.
Originally built in 1984, and later renovated in 2010, the stadium annually hosts a multitude of prestigious international events, including the annual IAAF Diamond League meeting.
Adjacent to the stadium is an additional eight lane warm-up track which is frequently used by the Al-Sadd and Al-Arabi Clubs. This track will be used as a training venue during the World Championships.
The iconic stadium has been transformed into one of the most accessible sports arenas in Qatar. It contains four platform lifts which enable athletes and spectators to easily access the higher levels of the stadium.
Numerous other improvements are currently being implemented including a platform lift for the VIP area, and wheelchair ramps for the VVIP, media and anti-doping areas in the stadium. Portable WCs will be strategically placed throughout the venue and several small ramps will be situated around the stadium to ensure it is fully accessible for all.
These improvements will create an incredible legacy for future generations of athletes and fans alike and will undoubtedly create a new standard across Qatar and the entire Middle East.
----
ملعب سحيم بن حمد: موطن البطولات العالمية
ستقام منافسات بطولة العالم لألعاب القوى لذوي الاحتياجات الخاصة الدوحة 2015، على ملعب سحيم بن حمد بنادي قطر الرياضي. يسع الملعب لحوالي 15000 متفرج.
تأسس الملعب في عام 1984 ، وأُعيد تأهيله في 2010، ويستضيف الملعب سنوياً العديد من الأحداث الدولية المرموقة ومنها الدوري الماسي لألعاب القوى.
يوجد بالقرب من الملعب مضمار إحماء وتدريب إضافي بثمان مسارات تستخدمه أندية السد والعربي بصورة متكررة ، كما تستخدم هذه المنشأة للتدريب والأحماء أثناء تنظيم البطولات العالمية.
أصبح هذا الملعب الرائع إلى واحد من الملاعب القطرية التي يتردد إليها الجماهير باستمرار. يحتوي الملعب على أربع مصاعد ومنصات دخول تساعد الرياضيين والجماهير للصعود بسهولة إلى أعلى مستويات الملعب.
يجري حالياً تنفيذ العديد من التحسينات الأخرى بالملعب، ويشمل ذلك مصعد منصة لمنطقة كبار الشخصيات وسلالم الكراسي المتحرك لذوي الاحتياجات الخاصة، ومناطق ممثلي وسائل الإعلام، ومكافحة المنشطات بالملعب. وتم تركيب دورات مياه مؤقتة في جميع أنحاء الملعب وسيتم تجهيز العديد من الأرصفة المنحدرة حول الملعب لضمان دخول جميع الجماهير إليه.
وستكون هذه التحسينات بمثابة إرث رائع لأجيال المستقبل من اللاعبين والمشجعين، ودون شك هذه التحسينات ستخلق معايير جديدة في كافة أنحاء قطر ومنطقة الشرق الأوسط.