Dong Chao wins China's second shooting gold medal
Chao beats off challenges from Jonas Jacobsson and Josef Neumaier
31 Aug 2012
Imagen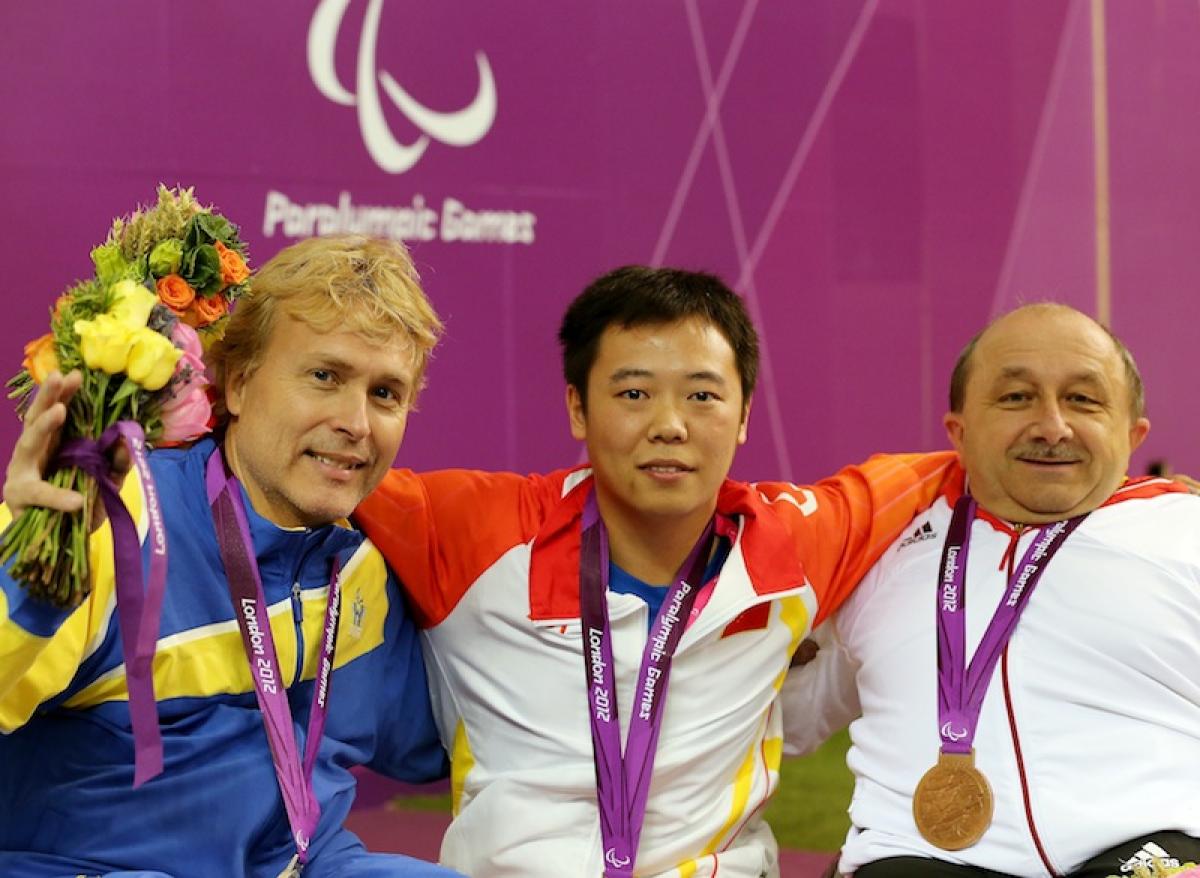 ⒸGetty
"I have never seen a shoot-off that went into a third shot, at the Olympic Games or anywhere else."
Dong Chao won China's second shooting gold medal of the London 2012 Paralympic Games, winning the men's R1 10m air rifle standing SH1 competition at the Royal Artillery Barracks.
Dong qualified for the final in first place, equaling the World and Paralympic record of 596 set by Sweden's shooting legend Jonas Jacobsson at the Beijing 2008 Paralympic Games.
In the final, Jacobsson looked like making a real run towards first and his 17th Paralympic Games gold medal, pulling 0.9 points back to Dong and 1.0 points to German Josef Neumaier after the first shot.
Dong however was too strong, not shooting less than 10.0 with his next nine shots, including two perfect scores of 10.9, as he scored a total of 699.5 to win the gold medal.
Jacobsson went on to win the silver medal with a final score of 696.5, while Neumaier had to compete in a shoot-off with Korea's Lee Seungchul for the bronze medal. Both shooters scored 10.5 with their first shot, followed by 10.0 each with their second, before Neumaier triumphed, scoring 10.3 in the third shoot-off, compared to Lee's 9.5.
Paralympic champion Dong said the victory was for him, his supporters and for China.
"It's my first Paralympic gold medal and I was very happy to beat a shooter like Jonas Jacobsson, who I respect greatly and hope to compete against in the future," Dong said.
"It's (the medal) a reward for very hard work and I feel I have to work harder being a standing athlete, compared to many of my opponents who are in wheelchairs, because it's steadier for them."
Sweden's Jacobsson paid tribute to Dong. "The way I shot today, I knew I was too far away from Dong," he said.
"I would had to have been at the top of my game. The world record is still mine, but I would've had to have been right up there to get it (gold)."
Neumaier spoke of his surprise at the way he won the bronze medal.
"I have never seen a shoot-off that went into a third shot, at the Olympic Games or anywhere else. Usually this ends with one shot, but luck was on my side."
In day two's other event, the women's P2 10m air pistol SH1, it was all about Macedonia FYR's Olivera Nakovska-Bikova, who set a world record score of 381 in qualifying and went on to win the gold medal with a Paralympic record score of 475.7.
Nakovska-Bikova said the it would take some time for her to believe she had won.
"It's a big excitement," she said. "I didn't look at the monitor, I didn't know I had won."
Marina Klimchenko from Russia won the silver medal and Sareh Javanmardidodmani of Iran won the bronze medal.
Klimchenko said it was hard to put the result into words. "The medal is as heavy as the route to winning it," she said.
"Everyone can see the medal but no one can see the other side of the medal - the inner victory."