Double world record for Russia at Swimming Euros
Uzbekistan's Muslima Odilova also burst onto the scene with a new world best alongside Italian Arjola Trimi in Funchal, Portugal.
01 May 2016
Imagen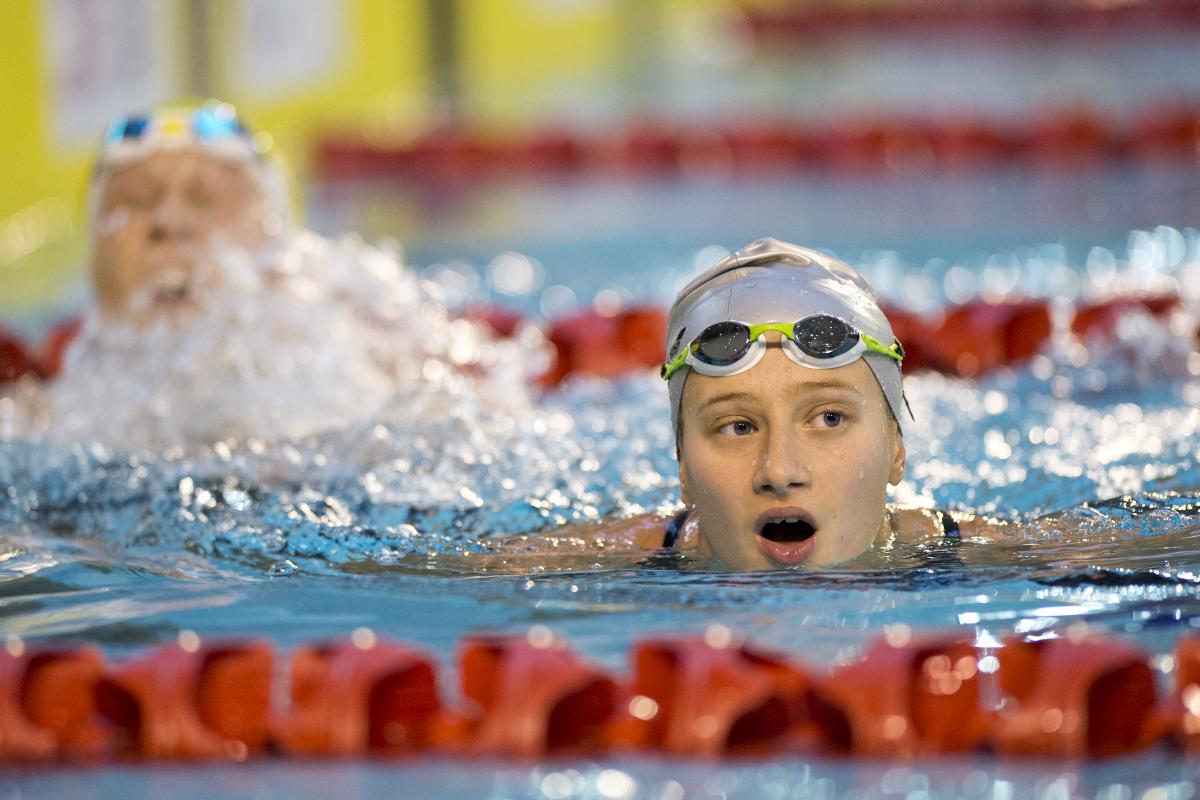 ⒸLuc Percival Photography. All rights reserved.
"I wanted it but I knew anything could happen because I had Elodie next to me. She really pushed me in the last 50m."
Russia opened the 2016 IPC Swimming European Open Championships with two new world records in Funchal, Portugal, on Sunday (1 May), courtesy of Dmitrii Kokarev and Valeriia Shabalina.
Russia's Dmitrii Kokarev (4:12.76) went one better than his European record from the heats, breaking the world record in the men's 200m freestyle S2. Ukraine's Serhii Palamarchuk (4:21.76) was more than a second ahead of compatriot Ievgen Panibratets (4:31.53).
There was further world record success for Russia in the women's 200m freestyle S14, as Shabalina took down the best of absent British swimmer Bethany Firth which was only set on 26 April.
Shabalina led throughout the race on her way to gold in 2:03.54. British Paralympic champion Jessica-Jane Applegate (2:06.29) was second ahead of Spain's Michelle Alonso (2:16.87) in third.
The Russians dominated proceedings on Sunday evening, taking a further five golds.
In the women's 100m butterfly S13, world champion S12 swimmer Darya Stukalova (1:04.92) was victorious.
However Uzbekistan's Muslima Odilova (1:04.98) broke the S13 world record with her Open silver medal swim, on her international debut. Teammate Shokhsanamkhon Toshpulatova (1:05.08) completed the Open podium and a stunning opening day for the pair.
Poland's Joanna Mendak (1:06.44) secured European silver alongside Italy's Alessia Berra (1:07.81) with the regional bronze.
Multiple Paralympic gold medallist Olesia Vladykina (1:09.97) climbed onto the top spot of the podium in the women's 100m freestyle S8.
"I'm very glad, but I know that this result is not perfect result," Vladykina said, knowing that the event is not her favourite despite her gold. "We'll see what happens but it's a nice surprise to win."
Denmark's Amalie Vinther (1:10.86) stood in between two Russians as Mariia Pavlova (1:11.86) took third.
Roman Zhdanov (1:24.24) took gold ahead of second-placed Slovenian Darko Duric (1:28.21) and former title holder, Ukraine's Andrii Derevenskyi (1:28.54), in the men's 100m freestyle S4.
Anastasia Diodorova (1:26.67) retained her European title in the women's 100m backstroke S6.
The Ukrainian duo of Oksana Khrul (1:27.71) and Yelyzaveta Mereshko (1:29.34) were second and third respectively.
World and European champion Denis Tarasov rounded off the Russian golds in the men's 100m freestyle S8, touching in at 58.09. Great Britain's Oliver Hynd (59.88) and Ukraine's Bohdan Hryenko (1:00.19) left with silver and bronze respectively.
Italy's Arjola Trimi also wanted to get in on the record breaking action, setting a new women's 100m freestyle S4 world best of 1:28.02.
Ukrainians Mariia Lafina (1:38.57) and Maryna Verbova (1:54.01) were second and third respectively.
Spain's world and European champion Sarai Gascon was in record-breaking form once again, bringing down her own women's 50m freestyle European record and just missing out on a new world best with a 28.89 second dash.
Russia's Natalia Mamlina (29.79) was second, as Nuria Marques Soto (30.03) claimed another medal for Spain with bronze.
In a close back and forth race between Ukraine's Denis Dubrov and Russian world champion Dmitri Bartasinskii, the Ukrainian emerged the winner of the men's 400m freestyle S10.
Bartasinskii (4:08.77) took the lead at 200m but it was Dubrov (4:08.54) who had the stamina to then overtake his rival, claiming the European title from the Russian after a very close last 50m.
Brazil's Andre Brasil (4:13.34) took Open bronze, with Poland's Patryk Karlinski (4:17.09) sealing the third place on European podium.
Hennadii Boiko (5:04.11) secured another medal for Ukraine in the men's 200m freestyle S1. Italy's Francesco Bettella (5:05.70) came back from third place to take silver, ahead of Boiko's teammate Anton Kol (5:07.90).
Ukraine's Worlds bronze medallist Olga Sviderska (56.03) led for the entirety of the women's 50m backstroke S3 on her way to gold.
Russia's Iuliia Shishova (59.51) was second ahead of Greece's Alexandra Stamatopoulou (1:01.05) who claimed her first medal at the European level.
Great Britain had a great night in the pool, claiming four gold medals.
Great Britain's Matthew Wylie (25.85) won his first European title in the men's 50m freestyle S5 after a well-executed race. Finland's Leo Lahteenmaki (26.17) was second, leading Spain's Jose Mari Alcaraz (26.22) onto the podium in third.
"I'm happy with that, it's slightly slower than my time last week [In Glasgow, Great Britain] but to come here and leave with the gold medal, it's always nice," Wylie said.
Paralympic champion Jonathan Fox (1:10.62) beat Russian world and European champion Andrei Gladkov (1:11.45) in the men's 100m backstroke S7. Ukraine's Yevheniy Bohodayko (1:12.96) was third.
Then in the men's 200m freestyle S14, Thomas Hamer (1:57.96) took the title from Iceland's European champion Jon Margeir Sverrisson (1:58.06) in an incredibly close race.
Hamer worked his way up from third place, overtaking Sverrisson in the second 100m but the Icelander pushed him all the way to the wall. Russia's Mikhail Kuliabin (1:58.75) completed the podium.
Great Britain's Andrew Mullen (36.91) kept his European title in the men's 50m butterfly S5. Russia's Dmitrii Chernieav (38.38) was second, beating Turkey's Eroglu Beytollah (38.41) into third.
Another exhilarating race took place in the women's 400m S10 between Canada's world champion Aurelie Rivard and French Paralympic and European title holder Elodie Lorandi.
Rivard and Lorandi matched each other stroke for stroke over the first 200m, before Rivard took the lead, finishing with European gold and Open silver.
"I wanted it but I knew anything could happen because I had Elodie next to me," Rivard said. "She really pushed me in the last 50m."
Lorandi did however see off a last 100m charge from Poland's Oliwia Jablonska, (4:35.91) who finished with European silver and Open bronze. Hungary's Bianka Pap (4:45.77) claimed European bronze.
Belarus's world and Paralympic champion Ihar Boki (54.65) put on a dominant display in the men's 100m butterfly S13. Boki, looking in good shape ahead of defending five titles at the Rio 2016 Paralympic Games, was 0.21 seconds outside his own world record.
Russia's Roman Makarov (57.03) was second ahead of Uzbekistan's Kirill Pankov (57.97).
Brazil's Talisson Glock (1:18.36) came back from third to claim Open gold in the men's 100m backstroke S6. Ukraine's Oleksandr Komarov (1:18.82) left with European gold and Open silver. Germany's European champion Sebastian Ivanow (1:19.27) took European silver and Open bronze, ahead of the Netherlands' Thijs van Hofweegen (1:20.78) who completed the European top three.
The women's 50m butterfly went to form, with Norway's Paralympic, world and European champion Sarah Louise Rung (43.71) taking her third career gold in the event ahead of Spain's Teresa Perales (46.14). The pair, who have been long-time friends as well as rivals, embraced at the finish. Hungary's Reka Kezdi (46.41) was third.
"It's not the best time I ever had but I feel strong in the water," Rung said. "I just need to build up my speed."
It was a German one-two in the women's 100m backstroke S7, as Verena Schott (1:28.14) and Denise Grahl (1:28.95) stepped onto the podium in first and second respectively. Italy's Arianna Talomona (1:32.79) was third.
Italy's World Championships silver medallist Vincenzo Boni (45.94) converted his fastest qualifying performance to gold in the men's 50m backstroke S3. Russia's Alexander Makarov (48.03) touched in ahead of Spain's Miguel Tajuelo (52.53) in third.
Live coverage and results will be available between 1-7 May at www.Funchal2016.com. Morning sessions begin at 9:00am (WET) and evening sessions at 5:00pm (WET) each day.
Live updates and behind the scenes coverage will be posted at @IPCSwimming and Facebook.com/IPCSwimming or search #Funchal2016.
Broadcast
For non-rights holders, the following material will be available:
Daily newsfeed x 1 (following News Access Rules)
Race clips (at cost)
For more information and for access to broadcast footage, please email sascha.beck@paralympic.org.
Photographs
A selection of rights-free images will be available for download from the heats and final every day at www.flickr.com/photos/paralympic/.
For high resolution versions, please email eva.werthmann@paralympic.org.
Contacts on site
Lucy Dominy, IPC Public Relations and Campaigns Manager, +49 151 29806543
Eva Werthmann, IPC Media Operations Senior Manager, +49 171 7433327
Sascha Beck, IPC Broadcast Manager, +49 151 5198174