Regional records for Russia and Uzbekistan highlight swimming Euros
Kokarev shaves more than two seconds off European record and Uzbekistan S13 swimmers break Asian records.
01 May 2016
Imagen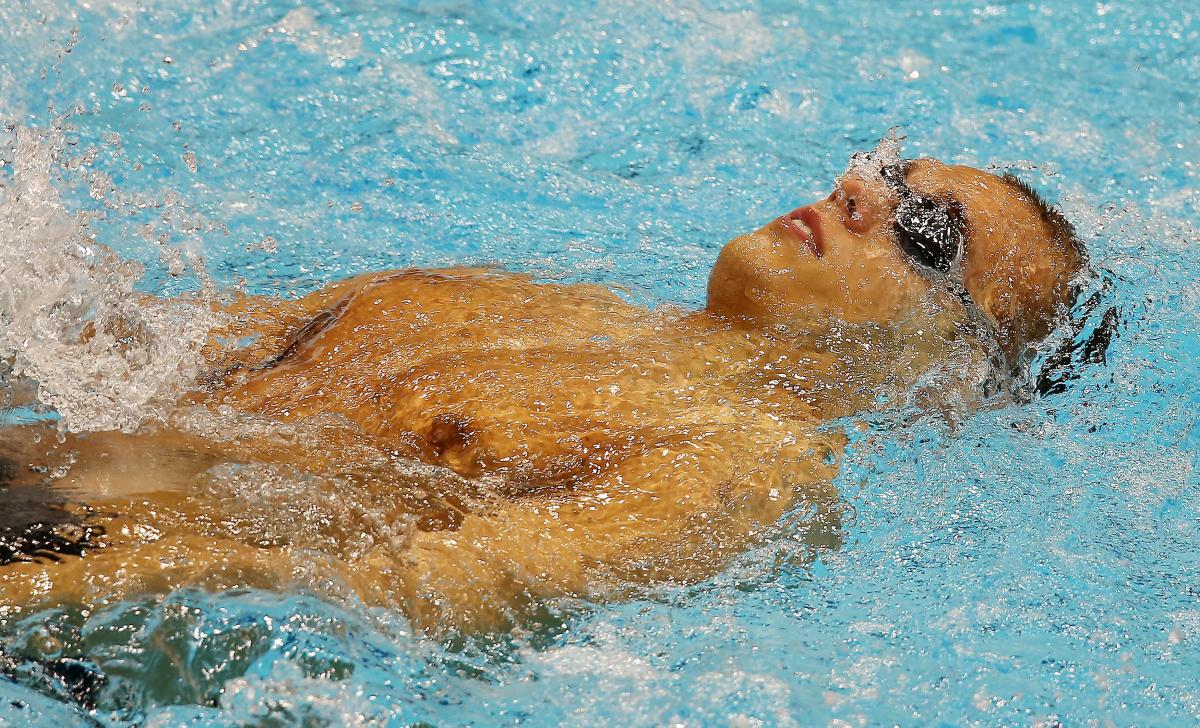 ⒸGetty Images
Russia's defending European champion Dmitrii Kokarev got the 2016 IPC Swimming European Open Championships underway with bang on Sunday (1 May), breaking the men's 200m freestyle S2 European record in the first heats in Funchal, Portugal.
Kokarev (4:19.83) shaved more than two seconds off his own previous best of 4:21.94, set in Glasgow, Great Britain at the 2015 World Championships.
He heads into the final ahead of Ukraine's Serhii Palamarchuk (4:21.63) and Greece's Aristeidis Makrodimitris (4:56.26).
Uzbekistan's Shokhsanamkhon Toshpulatova and Muslima Odilova highlighted the two heats of the women's 100m butterfly S13 with a new Asian record each.
Toshpulatova (1:05.81) brought down the mark in heat one, with Odilova (1:05.38) then lowering it just a few minutes later in the second. Russian world champion Darya Stukalova (1:07.03) was third quickest.
Russian swimmers were impressive across the pool this morning, securing a series of quickest times.
Mikhail Kuliabin (2:00.24) beat Iceland's European and Paralympic champion Jon Margeir Sverrisson (2:03.49) to the wall in the men's 200m freestyle S14.
In the women's event, Valeriia Shabalina (2:08.29) also claimed the top qualifying position ahead of British Paralympic champion Jessica-Jane Applegate (2:10.72).
Worlds silver medallist Roman Zhdanov (1:27.77) will lead Slovenia's Darko Duric (1:28.86) into the final ahead of Ukrainian European champion Andrii Derevinskyi (1:29.22) in the men's 100m freestyle S4.
Norway's Paralympic, world and European champion Sarah Louise Rung (45.78) was dominant in the women's 50m butterfly S5, leading Spain's five-time Paralympian Teresa Perales (47.18) into the finals.
"I'm happy with being in the final and I definitely have to improve to be able to win it," Rung said.
Hungary's Reka Kezdi (47.32), also a podium finisher from major Championships, was third.
Spanish world and European champion Sarai Gascon (29.46) will be satisfied with her opening performance in the women's 50m freestyle S9. The Spaniard went through fastest alongside Russia's Natalia Mamlina (30.15) and Spain's Nuria Marques Soto (30.39) in second and third respectively.
Canadian world champion Aurelie Rivard (4:39.73) got her campaign underway well, qualifying ahead of France's Paralympic and European gold medallist Elodie Lorandi (4:43.31). Lorandi's teammate Anaelle Roulet (4:50.01) was third fastest.
Belarusian five-time Paralympic and world gold medallist Ihar Boki (55.15) stayed true to form, leading the men's 100m butterfly S13 heat. Azerbaijan's Ramen Salei (58.05) and Dzmitry Salei (58.44) completed the top three in second and third respectively. There was an Asian record for Uzbekistan's Kirill Pankov (58.51) fourth.
Great Britain's Matthew Wylie (26.21) recorded his best ever qualification performance at a European Championships, storming to pole position in the men's 50m freestyle S9. The 19-year-old beat Spanish European gold medallist Jose Mari Alcaraz (26.40) in second and Finland's Leo Lahteenmaki (26.44) in third.
Paralympic champion Jonathan Fox continued the line of fastest British qualifiers in the men's 100m backstroke S7. Fox (1:11.04) led Brazil's Italo Pereira (1:14.08) into second. The most decorated athlete from the 2014 Euros, Ukrainian Yevheniy Bohodayko (1:15.54), was third.
Also representing Great Britain well was European champion Andrew Mullen (38:38) in the men's 50m butterfly S5. The silver medallist from 2014, Turkey's Eroglu Beytullah (38.77), was just behind, setting up a thrilling final. Russia's Dmitrii Cherniaev (39.03) completed the top three.
A series of Ukrainian swimmers put on a strong display to head through as the fastest qualifiers.
Denis Dubrov (4:18.06) qualified quickest in the men's 400m freestyle S10, ahead of Poland's Partyk Karlinski (4:18.94) and Belgium's Sven Decaesstecker (4:25.92) in second and third respectively. Russian world champion Dmitri Bartasinski (4:27.99) went through in sixth.
World Championships bronze medallist Iaroslav Semenenko (1:17.54) was first in the men's 100m backstroke S6. Germany's defending champion Sebastian Ivanow also made it through in sixth.
Bohdan Hrynenko (1:01.02) qualified ahead of Russian world and European champion Denis Tarasov (1:01.18) in the men's 100m freestyle S8. Great Britain's Oliver Hynd (1:01.46) was third.
Rounding off the Ukrainian performance was Oksana Khrul (1:28.47) leading teammate Yelyzaveta Mereshko (1:29.67) and Russian European champion Anastasia Diodorova (1:31.39) into this evening's women's 100m backstroke S6 finals.
Germany's Denise Grahl (1:29.84) leads the field into the women's 100m backstroke final, whilst Italy Vincenzo Boni (47.16) was quickest in the men's 50m backstroke S3. Denmark's Amalia Vintner (1:11.64) goes into the finals as the fastest qualifier from the women's 100m freestyle S8.
Live coverage and results will be available between 1-7 May at www.Funchal2016.com. Morning sessions begin at 9:00am (WET) and evening sessions at 5:00pm (WET) each day.
Live updates and behind the scenes coverage will be posted at @IPCSwimming and Facebook.com/IPCSwimming or search #Funchal2016.
Broadcast
For non-rights holders, the following material will be available:
Daily newsfeed x 1 (following News Access Rules)
Race clips (at cost)
For more information and for access to broadcast footage, please email sascha.beck@paralympic.org.
Photographs
A selection of rights-free images will be available for download from the heats and final every day at www.flickr.com/photos/paralympic/.
For high resolution versions, please email eva.werthmann@paralympic.org.
Contacts on site
Lucy Dominy, IPC Public Relations and Campaigns Manager, +49 151 29806543
Eva Werthmann, IPC Media Operations Senior Manager, +49 171 7433327
Sascha Beck, IPC Broadcast Manager, +49 151 5198174