Du Toit bows out with silver
South African legend narrowly beaten by Australian Ellie Cole in final swim
07 Sep 2012
Imagen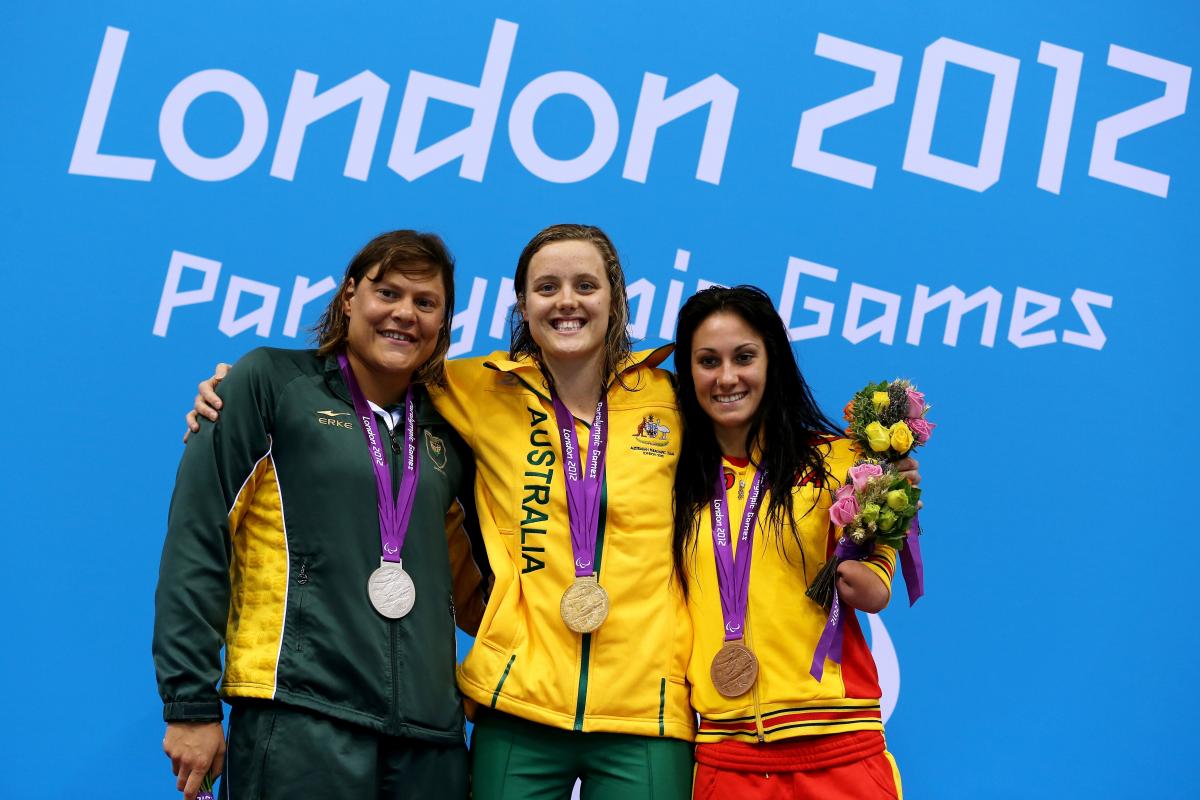 ⒸGetty
"I'm a bit nervous because I don't really have anything else to do. I don't know what I'm good at, or what I want to do one day."
At 17.45 on Friday 7 September, Natalie du Toit touched home for the final time in a competitive swim. The South African retires after the London 2012 Paralympic Games having left a substantial mark in the history books.
It wasn't the swansong the 28-year-old had dreamt of however, she won only her second ever Paralympic silver medal, finishing sixty-eight hundredths of a second behind Australia's Ellie Cole in the S9 100m freestyle.
"It's all over, I went out there and tried my best," she said. "I now walk away from the sport. To get second is a little disappointing.
"Two months ago I wasn't going to come. I look back and realise I gave everything in the pool and gave everything as a person, it's time to move on.
"I'm a bit nervous because I don't really have anything else to do. I don't know what I'm good at, or what I want to do one day. Hopefully I can show to the rest of the world that it is possible to make a success twice in a row."
Du Toit leaves competitive swimming with 13 Paralympic golds and 12 World Championship golds and a legacy of South African swimmers to come in future Paralympic Games.
She was also the trailblazer for compatriot Oscar Pistorius' entry into the Olympic Games as du Toit became the first amputee to qualify for the Olympic Games in 2008.
"I'm really going to miss her," said gold medal-winning Cole. "She's been such a great support over the last few years, a really great mentor. She's taught me so much about Paralympic swimming.
"She's Paralympian of the year, she's got nearly every medal under the sun, so she's like the Michael Phelps of swimming for me. She's still definitely my biggest hero."
Du Toit isn't the only swimmer to dominate the S9 classification across three Paralympic Games - Australian Matthew Cowdrey reigns supreme in the men's competition. Cowdrey won the 100m freestyle to claim his 13th gold medal, fifth of these games, and his 21st medal in total.
Meanwhile Ihar Boki collected his fifth gold medal of his debut Paralympic Gamesin the 200m individual medley SM13. In what is only his second major international tournament, Boki is sure to become one of the all-time greats if he can maintain his ludicrously high standards.
One of the more remarkable stories of the London 2012 Paralympic Games is that of American Bradley Snyder. One year ago to the day, Synder lost his eyesight in an IED attack in Afghanistan while serving for the US Navy. Tonight, he won his second gold of the games in the 400m freestyle S11 in fine style.
Daniel Dias kept up his quest to win gold in each individual race he competes in with a fifth gold medal in the 50m butterfly S5. Dias, who finished fourth with Brazil in the 4x100m freestyle relay - 34pts, has the 100m freestyle still to come to make it six from six.
At the top of the medal table, China extended their lead with another three gold medals. Qing Xu, Yang Yang and Jangbo Xia all won their latest races meaning China now have 21gold medals in the pool alone.
Elsewhere, Daniela Schulte won the 400m freestyle S11, Oksana Khrul set a new world record to win the women's 50m butterfly S6 and Sarah Louise Rung won the 50m butterfly S5 to claim her fourth medal of the games.
In the penultimate day of action in the pool, Oxana Savchenko broke another world record - her fourth of the games - and her fifth gold medal. Maksym Verasko won the 50m freestyle S12 and Valerie Grand-Maison smashed the world record in the women's 200m individual medley SM13.
The final race of the session saw an Australian team of Cole, Katherine Downie, Annabelle Williams and Jacqueline Freney win gold in the women's 4x100m medley - 34pts. The Russians held a lengthy lead at one stage but the team from down under reeled them back in.
A dramatic final two lengths from Great Britain's Louise Watkin brought the home nation back from sixth to miss out on gold by three hundredths of a second with the United States in bronze.