Echoes of 2008 to be heard at Beijing 2022
Beijing 2008 proved to have a transformative effect and now China will welcome over 560 athletes for the Winter Paralympics
Azerbaijan, Puerto Rico and Israel will make their Paralympic Winter Games debut
China and Great Britain among those to send their biggest ever teams
04 Mar 2022
Imagen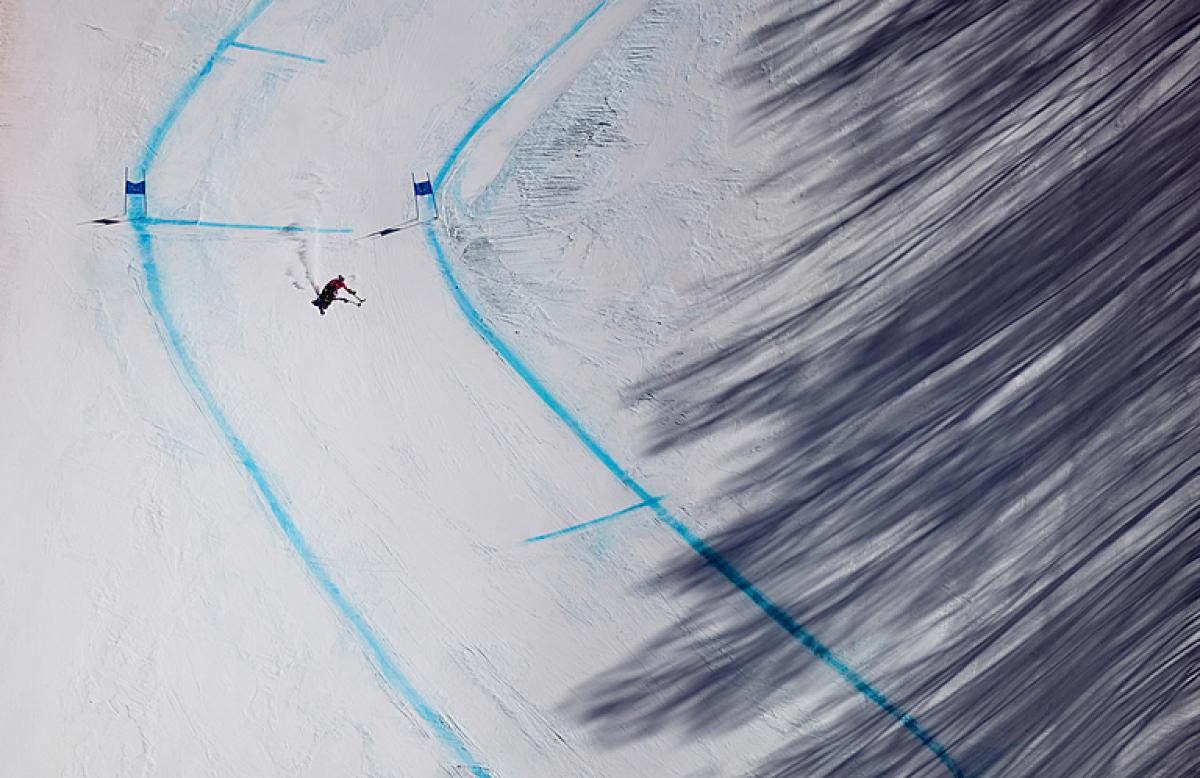 ⒸOIS Photos/Joel Marklund
By Lucy Dominy I For The IPC
Fans had to wait an extra year for their Paralympic Games fix ahead of Tokyo 2020, but now two will come along in the space of six months when the Beijing 2022 Paralympic Winter Games open on Friday (4 March).
Over 560 athletes from 46 countries will take to the ice and snow in and around the Chinese capital over nine days. They will compete for 78 medals in two team sports – Wheelchair Curling and Para Ice Hockey – and four individual in Para Alpine Skiing, Para Cross-Country, Para Biathlon and Para Snowboard.
In hosting the Paralympic Winter Games, Beijing becomes the first city to host both a summer and winter edition following on from the 2008 Summer Games. Venues such as the National Aquatics Centre and National Indoor Stadium will host events in 2022 as they did 14 years ago.
The transformative legacy of 2008 can still be felt in China for the estimated 83 million citizens with a disability. Huge investments were made in accessibility as well as the introduction of new laws which brought equality to the forefront of legislation. This led to greater inclusion in workplaces, education and society in general.
A tangible outcome of these changing attitudes can be seen in the Chinese team for their home Paralympics, and are sure to be felt again afterwards. China will send a record 96 athletes to Beijing 2022 – more than three times their previous largest delegation of 26 at PyeongChang 2018.
The host's athletes are not just making-up the numbers. After winning their first Paralympic Winter Games gold four years ago in Wheelchair Curling – upsetting defending champions Canada – they have medal hopes in other sports.
Over three World Cups in 2019-2020 alpine skiers such as Liu Sitong, Zhang Wenjing and Zhang Mengqiu took 18 medals in only their second season on the circuit. Their podiums saw them push world and Paralympic champions and Crystal Globe winners out of contention.
Liu Sitong (far left) and Zhang Wenjing (far right) have enjoyed podium success at Para Alpine Skiing World Cups. Ⓒ Luc Percival
China also have a maiden Para Snowboard medal hope in the men' SB-UL, courtesy of Ji Lija.
Lija was winning at World Cups in 2019 before the pandemic struck and his rivals will be waiting to see where he is at now with his riding in snowboard-cross and banked slalom.
"We hope the athletes will overcome all challenges and be united as a team. With great fighting spirit, I also hope they will enjoy the Paralympic Winter Games and have good results," said Zhang Haidi, Chef de Mission and chair of the China Disabled Persons' Federation.
The reach of the Paralympic Winter Games continues to grow elsewhere in the globe.  Azerbaijan's Mehman Ramazanzade will become his country's first Winter Paralympian in Para Cross-Country Skiing, while Para Alpine skiers Sheina Vaspi and Orlando Perez will debut for Israel and Puerto Rico, respectively.
"I believe that after my participation in the Winter Games there will be more athletes from Israel," Vaspi said. "I want to give more people the motivation to stand up and dare to do what they want and give children the strength to believe in themselves."
Brazil are sending their biggest delegation of six athletes that includes Cristian Ribera, competing at his second Winter Paralympics. The cross-country sit-skier trains on skates at home and recently won silver at the World Championships in Lillehammer, Norway, in the men's sprint. That was Brazil's first Worlds medal and all eyes will be on Ribera when he tries to claim their maiden Paralympic Winter Games medal in Beijing.
"At home we usually train with temperatures around 30, 35 degrees celsius," Ribera said. "It's a little difficult to adapt but with time you get used to it. I do 300 hours a year on rollerski training.
"I have acquired a lot of experience in this [Paralympic] cycle. I'm more patient now. I trained a lot and it will be very cool because despite our young age, Aline [dos Santos Rocha] and I will be the veterans of the team and it is very good to be in the Paralympics Games again."
Cristian Ribera carries the hopes of a nation at Beijing 2022.  Ⓒ Bob Martin for OIS/IOC
Great Britain will send their biggest ever team to Beijing 2022, jam-packed with medal hopes.
Menna Fitzpatrick, their most decorated Winter Paralympian, will compete in the Para Alpine Skiing women's vision impaired with new guide Katie Guest. Fitzpatrick will try to defend medals in the super-combined, giant slalom and super-G as well as her slalom title whilst reaching speeds in excess of 100km per hour.
Other stand-out Para Alpine skiers expected to impress at Beijing 2022 include Marie Bochet. The Frenchwoman's major international medal haul hit 30 at January's World Championships in Lillehammer, Norway, and this Paralympics could be her last. Eight-time gold medallist Bochet will be looking to hit double figures as she tries to retain titles in four events.
The USA topped the medals table at PyeongChang 2018 and return with a 67-strong delegation.
These are headlined by the Para Ice Hockey team who are going for their fourth consecutive title and fifth overall. The side, who have not finished off the podium since 2002, are fielding the likes of Declan Farmer. 
Farmer was the hero in the final at PyeongChang 2018, levelling the scores with 37 seconds left against Canada before netting the winning goal in overtime.
In Para Snowboard, no less than four Paralympic champions return for the USA. Mike Minor, Noah Elliott, Mike Schultz and Brenna Huckaby reached the top of the podium in the banked slalom and snowboard-cross last time out.
Looking ahead to Milano-Cortina 2026 are the Italian team consisting of 29 athletes. Giacomo Bertagnolli returns as the giant slalom and slalom title-holder with guide Andrea Ravelli.
Giacomo Bertagnolli will be one of the Italian faces to watch at Beijing 2022 and further to Milano-Cortina 2026. Ⓒ Luc Percival
Over at the Zhangjiakou National Biathlon Centre, Canada's Brian McKeever will ski the Paralympic tracks for the last time in the men's cross-country vision impaired.
McKeever has won an incredible 16 medals – including 13 golds – at five Winter Paralympics. Even if he does not land on the podium – which is unlikely as the sprint, middle and long distance defending champion – he will still bow out as the most successful male Para cross-country skier of all time.
Asked about his legacy and how he hopes his accomplishments will be remembered, the Canadian said:
"I never did this sport for the recognition. I did it to see what I could get out of my body."
The mixed team in Wheelchair Curling will take place at the re-purposed National Aquatic Centre in Beijing, which represents another legacy from 2008 as the swimming venue for the Olympics and Paralympics.
Taking on defending champions China, Canada will look for a return to the top of the podium. Until PyeongChang 2018, the Canadians had won every single edition since the sport's debut at Torino 2006.
Heading up China's efforts is Haito Wang. The skip has been present for all of his team's major successes over the years. This includes their first world title in 2019 which they successfully reclaimed in 2021.
Canada still left PyeongChang 2018 with bronze. Mark Ideson played a major role in their success and has been on the squad for two of their best World Championships showings in the last decade – gold in 2013 and silver in 2020.
In 2021, Canada finished outside of the medals when the Worlds were staged in Beijing. But Ideson says his rink are ready:
"We're really just excited to get playing again. I feel the pressure in the preparation. And we certainly feel more prepared than we did coming into the [World] Championship here in October. We dot the i's and cross the t's." 
Mark Ideson will play at his third Winter Paralympics in Beijing. Ⓒ OIS Photos
Watch out also for Latvia who are making their Wheelchair Curling debut.
The Beijing 2022 Paralympic Winter Games open on 4 March and continue until 13 March.