Sheina Vaspi all set to make history for Israel
'I want to give more people the motivation to stand up and dare to do what they want and give children the strength to believe in themselves'
27 Feb 2022
Imagen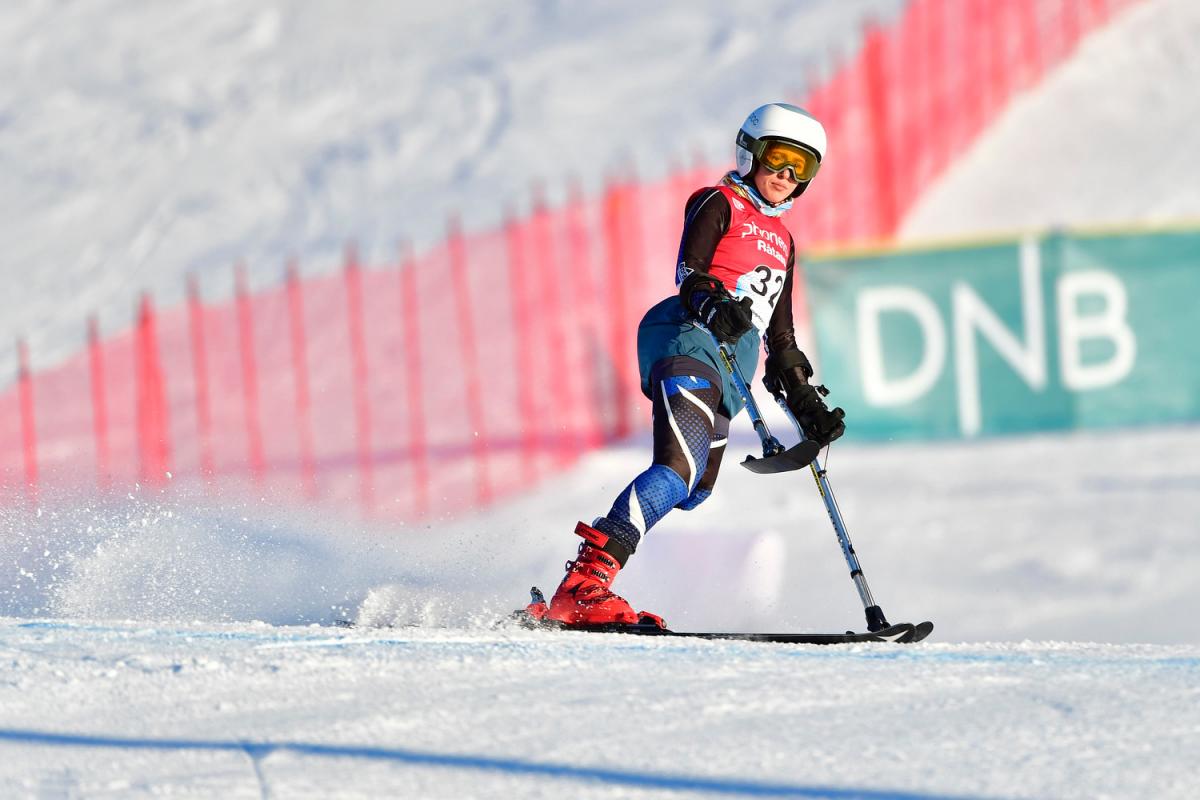 ⒸLuc Percival for World Para Snow Sports
By ND Prashant I For the IPC
Twenty-year-old Para alpine skier Sheina Vaspi's excitement is palpable, and she cannot wait to be there at Beijing.
Understandably though, as she will be creating history for Israel as the first Para athlete to ever compete at the Winter Paralympics. 
"I'm very excited and feel very proud and fortunate to represent Israel for first time at Paralympic Winter Games. It is a great honor for me, and I can't wait to be there," said Vaspi ahead of Beijing 2022 starting on 4 March. 
Vaspi, who hails from the Hula Valley in northern Israel, was three when she met with a car accident and had to get her left leg amputated.
An orthodox Jew raised in Lubavitch Hasidic family, she is very rooted to her traditions. The family however was keen to back Vaspi's aspirations once she got hooked to the sport four years back.
"I knew nothing about skiing until I tried it for the first time when I was 16. I skied for a few hours and like it. In Israel, the ski season is very short and so you are not skiing all through the year," revealed Vaspi, who attributes her growth in the sport to the support she got from her family and friends.
The turning point for Vaspi came when the Erez Association in Israel, an organisation for the disabled Israel defense forces and Sports Association for the Disabled, offered to help her hone her skiing skills by letting her to join their ski activities on Mount Hermon.
"Erez Association and Sports Association for the Disabled supported me to get ready for competitive skiing. I had to move to Colorado, USA for training where I spent at least half the year.
"It wasn't easy as I knew only Hebrew and so new language and then following your religious belief and tradition being far from home was a challenge," recalled Vaspi, who unlike other athletes wears a skirt over her ski pants keeping her religious dress code in mind.
Vaspi also tries to make sure not to ski on Fridays and keep Shabbat (a key ritual observance).
"As per our custom we keep Shabbat and I don't train and avoid competing on that day. And yes, it becomes very difficult when there are important competitions in Shabbat.
"I value my religion a lot and I really appreciate my coaches who understand that and support me. I feel blessed that I can carry on practicing my religion and pursue sports as well. I want to show that it should not stop you, on the contrary, one can hold on to your faith and turn it into an advantage in sports as well," asserted Vaspi.
At Colorado, Vaspi immediately realised how different it was skiing for recreation and competition.
"It was two different worlds skiing for fun and competitive skiing. But I was loving it and wanted to make the most of my time there in Colorado," said Vaspi, who, in order to make the most of her presence in Beijing, is working hard under the tutelage of reputed Scott Olson.
"Scott ensured that I settled in quickly and we bonded well immediately. The good thing is from the first day I took to the mountains, he believed in me and both our goal was to be at Beijing 2022.
"I'm lucky to have Scott by my side in every competition and the fact that he will be with me in Beijing gives me a lot of confidence," said Vaspi, who comes into Beijing after making her World Championships debut in Lillehammer, Norway in January followed by the last World Cup of the season in Are, Sweden.
"The truth is that participating in Lillehammer was a shock to me. It was so different from training and a lot harder. I had never skied on ice and after I finished the track I was so proud of myself that I did it. It was a good preparation for Beijing."
Vaspi is also well aware that it will be like pulling a rabbit out of the hat while competing amongst the big wigs in Beijing. However, for now her aim is to put her best foot forward and creates enough buzz to inspire athletes back home to take up winter sports. 
"I believe that after my participation in the Winter Games there will be more athletes from Israel. I want to give more people the motivation to stand up and dare to do what they want and give children the strength to believe in themselves."