Ole Fredrik Syversen is game for a laugh despite pain of defeat
Norwegian wheelchair curler still thinks about PyeongChang 2018 heartbreak every day, while hoping for another shot at gold in Beijing
25 Feb 2022
Imagen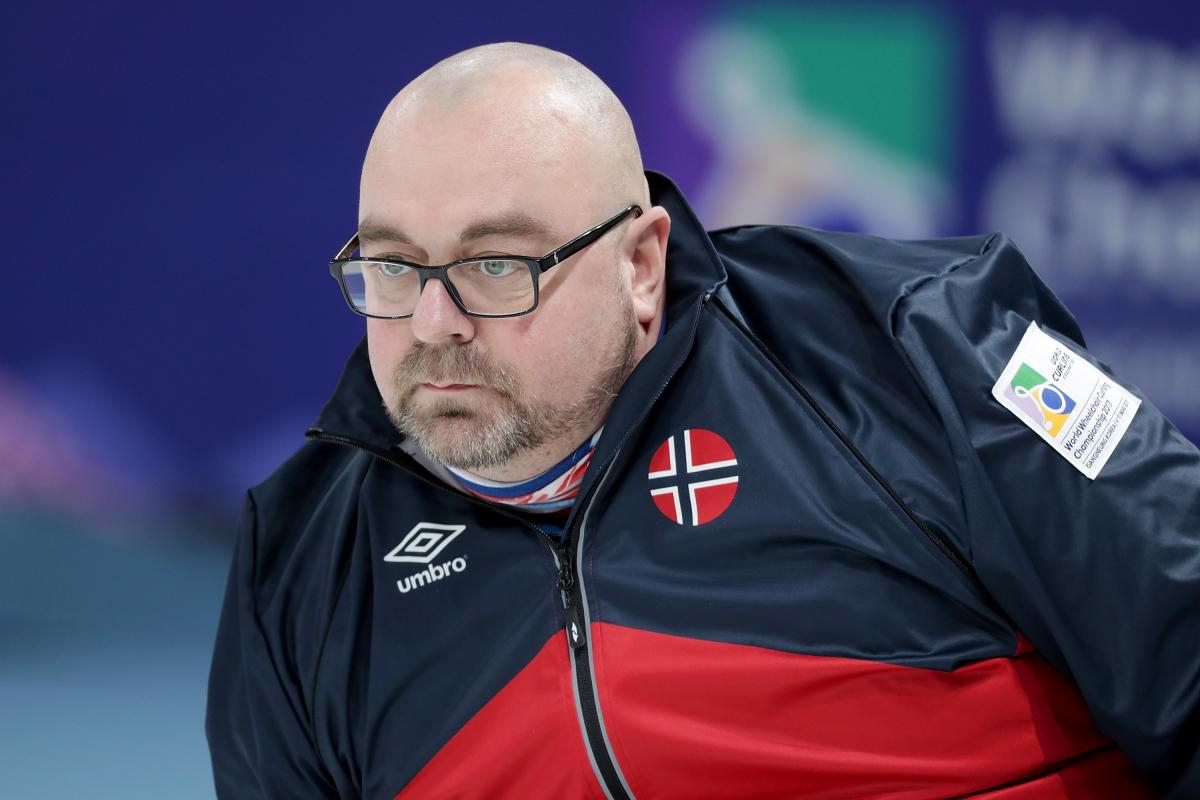 ⒸGetty Images
By AMP Media I For The IPC
Ole Fredrik Syversen is known as Norwegian Wheelchair Curling's joker in the pack – but he remembers all too clearly the day four years ago when the smile was wiped off his face.
It could have been yesterday as far Syversen is concerned. 
World champions Norway were within touching distance of a Paralympic Winter Games gold medal, only to lose a thrilling final 6-5 to dark horses China after an extra-end decider at PyeongChang 2018.
"I think about it a lot," Syversen admits. "Even today I was doing that. I have watched it, I don't remember how many times. I am proud of my silver medal now but it took me some days.
"We had a good game with them. In the medal ceremony I was proud and when I came home I was a little disappointed, but now I am very satisfied.
"I have been thinking what if it happened again. Maybe we would take a time out and take the heart out of the body because the brain was full of adrenaline," he laughs.
Syversen, who is paralysed after suffering a broken back in a workplace accident in 2006, laughs frequently, his position as a number two backed up by his role of team joker.
"I am a very happy boy. Life is easier when you have a laugh. If you are in a good mood it is easier to be around you. I try to joke a little in the games to keep the spirit up.
"I miss some stones, the others miss some stones – we have a rule that you don't get angry. Take a few words to yourself and then you turn around and try to smile."
That sense of humour has been under strain recently as Syversen and the rest of the team prepare to travel to Beijing 2022 where they will face the extra pressure of being medal contenders.
"I'm feeling great, I have had good practice and I feel that everything is correct but it is difficult because of Covid (restrictions). I haven't seen the family for more than three weeks already and that's tough.
"Sometimes I feel lonely but we have FaceTime. I take the restrictions very seriously. I am in lockdown. I only go for practice and then home – that is my life now.
"My parents are getting old at 80 and we all agreed it is the best thing to do. I have been training for four years for this but it is a big sacrifice. The biggest lottery is who is on the plane."
When Syversen is not training or playing, he watches matches and analyses them. He describes himself as a 'curling nerd' although in the summer he plays bowls and enjoyed driving a three-wheel motorbike before the pandemic hit.
The high points of his career so far are winning the World Championship at PyeongChang a year before the Winter Paralympics, the silver in 2018 and receiving the World Curling Federation's Wheelchair Sportsmanship Award.
All participants are invited to nominate a fellow competitor who, in their view, has best exemplified the traditional values of skill, honesty, fair play, sportsmanship and friendship during a world championship. 
"That is very high for me, that means a lot to me. It is not only telling me how I am but how other people are looking at me in the way I would hope they would look. It was a great moment for me."
Naturally, Syversen also has a catalogue of funny moments and he pulls one straight out of the hat from a pre-worlds tournament in Kisakallio, Finland.
"I am a strong man, you know, so I play number two and I hit the stone as strong as I can. I am wearing this beanie (hat), it was a little small. I took this hard stone and used all my muscles and the beanie started to roll up and sit on the top of my head.
"It was in the semifinal so a lot of people saw it and laughed. It was a great moment."