Egypt dominate last day of competition in Eger
Nadia Ali and Randa Mahmoud won the women´s up to 86kg and over 86kg, respectively, at the World Para Powerlifting World Cup on Sunday.
07 May 2017
Imagen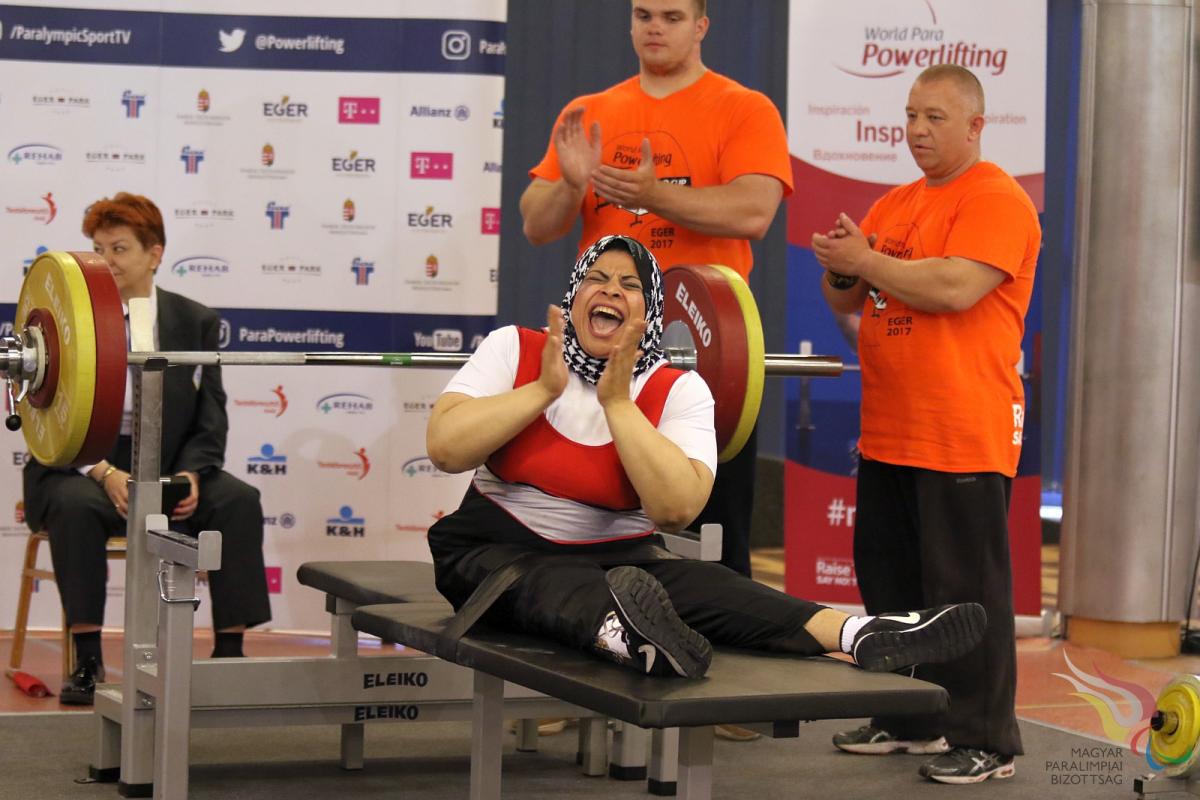 By IPC
Egyptians powerlifters stood out on Sunday (7 May), the last day of competition (7 May) at the 2017 World Para Powerlifting World Cup in Eger, Hungary, claiming two wins out of five events.
Nadia Ali won the women´s up to 86kg in a close contest with compatriot Rania Ali Morshedi. The latter managed three successful lifts, starting with 105kg and then progressing to 110kg and 111kg. But Ali´s second lift of 117kg gave the two-time Paralympic bronze medallist the victory. Brazil´s Marcia Menezes completed the top-three with a 105kg lift.
Another Egyptian who left Eger victorious was Randa Mahmoud in the women´s over 86kg after successfully lifting 130kg in her third attempt. South Korea´s Hyun Jung Lee (111kg) took second place and Brazil´s Tayana Medeiros (102kg) third.
Marion Serrano was the winner of the women´s up to 79kg after lifting 93kg with her third attempt. The Chilean finished far ahead of Hungary´s Barbara Nebehaj, who lifted 35kg.
Iraq´s Faris Al-Ageeli achieved his first win since 2013 in the men´s over 107kg. The 42-year-old, a bronze medallist at the 2014 World Championships, lifted 215kg in his second attempt. With his best of 205kg, Hungary´s four-time Paralympian Sandor Sas finished second. United Arab Emirates´ Walid Abdulrahman Raeialboom (177kg) finished third.
Azerbaijan´s Elshan Huseynov won the men´s up to 107kg with a 225kg lift in the second round, before failing with 231kg in his last attempt. Serbia´s Petar Milenkovic had to settle for second with his 220kg lift, whilst Mexico´s Rio 2016 bronze medallist Jose Castillo finished third on body weight.
The last major event before the Mexico 2017 World Para Powerlifting Championships will be the 2017 ASEAN Para Games in Kuala Lumpur, Malaysia, which is only open to countries from that region, between 17-23 September.
----------------------------------------------------------
The World Para Powerlifting Championships will take place in Mexico City from 30 September-6 October, with more than 360 powerlifters from 65 countries competing in the Juan de la Barrera Olympic Gymnasium.