European stars live up to the hype in Jesolo
Top stars including Rehm, Johannes and Durand stamp dominance as competition gets intense moving closer to Paris 2023 World Championships
16 May 2023
Imagen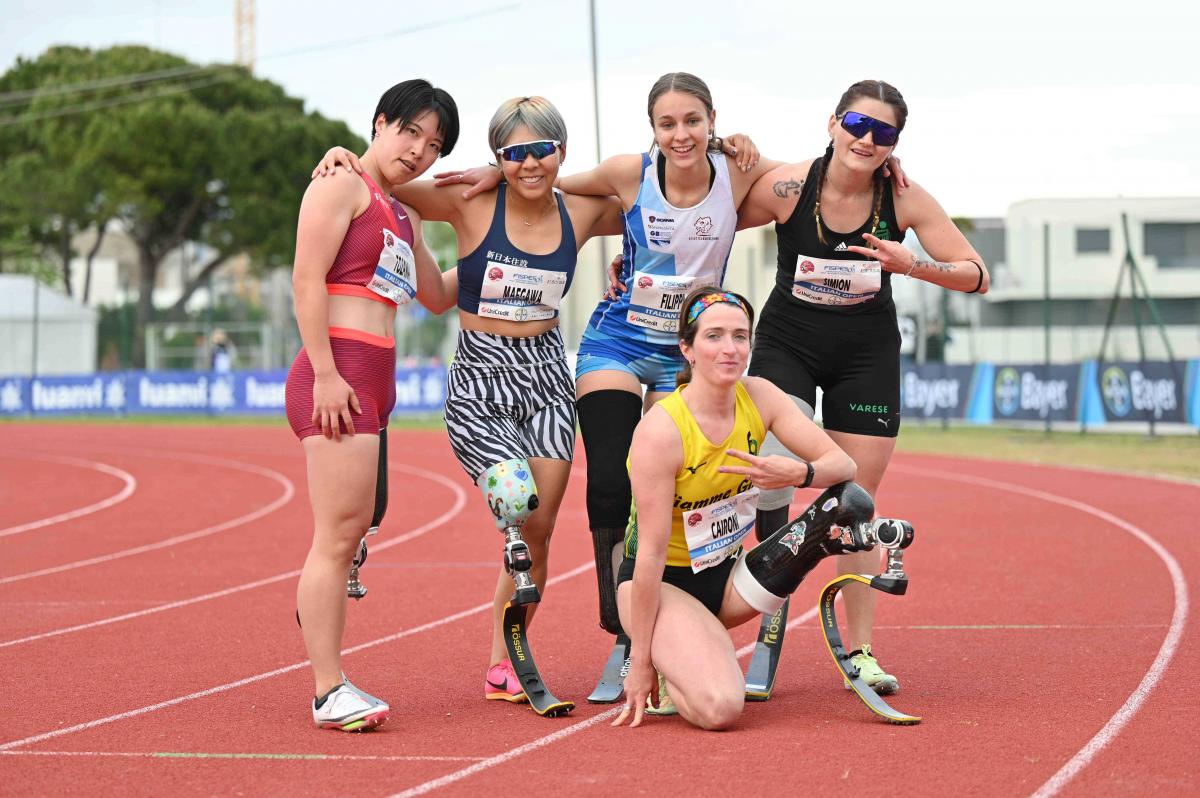 ⒸMarco Mantovani
By Ryan Hills I For World Para Athletics
A wealth of international stars delivered on the Grand Prix stage in Jesolo, including some major European names.
In a packed field that saw the best of multiple countries represent their nations, it was some familiar faces who grabbed the headlines as they put in big performances on the continent where the next World Para Athletics Championships will be held.
Home stars
Oh, hello home stars! Tokyo 2020 medallist Ndiaga Dieng started out on the opening morning, and he set a big statement with an immediate victory in both the 1500m and 800m. Italian success would swiftly follow elsewhere.
Martina Caironi would be back in action too, competing in the 100m as her main focus. She finished within the top three, reflecting afterwards: "It's my first race (of 2023) outdoors, and we start from here. I have been training a lot during the wintertime and I can't wait to show everybody my value."
Paralympic gold medallist Ambra Sabatini was one of those in action on the track, and while Jesolo wasn't an ideal weekend, she knows the future is looking good. "It's the season opener. Unfortunately, on the straight I slipped a couple of times. I was not able to give my best, but I feel I am in good conditions. I hope to do better in my next competition, which is coming very soon, in 10 days in Savona."
Packed international field 
When your field includes Markus Rehm, Johannes Floors, the absolute best of Italy and Omara Durand, you know you're in for a treat. And that's just how it proved to be in Jesolo! 
Rehm leapt to a first-place finish with an 8.14, and the icon of Para Athletics spoke afterwards on how he felt the weekend had gone for him personally. "I did manage to find my rhythm and at the end of the day (it) was a solid distance. But I know there's definitely more possible, so we move onto the next competition."
His teammate, Johannes Floors? Yeah, he was on top form too. He emerged at the top across both T62 100 and 200m, the latter in an impressive best of 21.03. 
There were big numbers from Leon Schaefer in the long jump too, even though his prosthetic saw a break in the knee midway through competition. He would need a replacement – and luckily, he has one at home, so he will be back in action within the next two weeks. Prior to that, he was topping leaderboards in the T63 100m. 
And Robiel Ya Sol Cervantes will certainly remember his experience, as he broke the T46 long jump world record. The Cuban recorded a mammoth distance of 7.69 to stake a huge claim to the chasing pack. And he was well matched by another Cuban colleague, the legendary Omara Durand. She raced to victory once again in the 100 and 200m.
And take a bow, Nebosja Duric. The Serbian launched a 40.37 in the F55 discus, not only good enough for first but enough to break the world record too!
Where to next?
Only one Grand Prix remains, but it's to that familiar Para Athletics heaven of Nottwil that we go in just a couple of weeks' time! Taking place from late May, it's the final stop of the GP tour and acts as the final indication at Grand Prix level of how athletes are performing so far in 2023.
And if you thought the season was then over, well…where have you been? Because there's World Championships to come in Paris this summer! The biggest and best of the Para Athletics world will descend on the French capital in the first of two World Championships in the space of 12 months. 
And they will swiftly be followed by another return under the Eiffel Tower, for the Paris 2024 Paralympic Games. Let the Games begin!