Expectations for Paris 2024 rise as Para canoeists dazzle at 2022 World Championships
Great Britain dominates overall medals tally with five gold, three silver and two bronze medals
08 Aug 2022
Imagen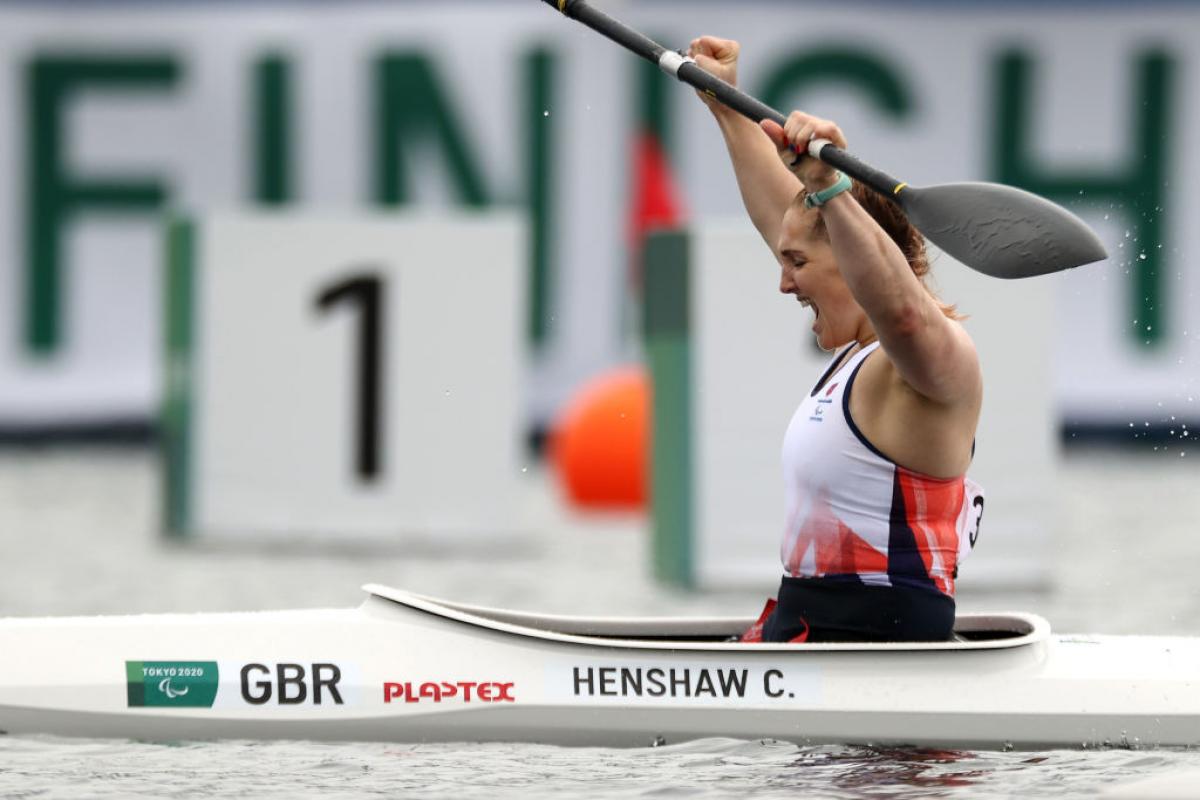 ⒸDean Mouhtaropoulos/Getty Images
By ICF and IPC
Great Britain's dominance in Para canoe was on full display at the 2022 ICF World Championships, held in Halifax, Canada from 3-7 August, with the team winning a total of 10 medals, including five gold.
Charlotte Henshaw led the charge, picking up two gold medals and her fourth KL2 world title, while teammate Emma Wiggs celebrated her fourth consecutive title in the women's VL2.
Victory for Wiggs in the women's VL2 gave her a tenth overall world title in a career which has also brought her two Paralympic gold medals since making the move from sitting volleyball after the London 2012 Paralympics.
"Its not an easy trait for me to be proud of myself, but I am proud of myself today," Wiggs said after the race. "It's been a good tough year, so I am proud. I'm always excited for the challenge."
Destination: Paris 2024
Henshaw became a double world champion for a third consecutive year, winning the titles in the women's KL2 and VL3. The women's VL3 will make its Paralympic debut in Paris in 2024, with Henshaw the early favourite to win the first gold medal.
The athlete said that VL3 racing is becoming harder now that it is a Paralympic event.
"The competition is moving forward, the sport is getting more and more competitive," Henshaw said. "It is going to be tough to keep doing this, but my mindset going into the next few years and beyond is that it is very easy to get complacent when you're at the top of the pack and everyone else is chasing you, and we're really conscious that we don't want to do that."
For Jack Eyers, the men's VL3 race was more than just about defending his world title. Having missed qualification for the Tokyo 2020 Paralympic Games, Eyers said he felt a lot of pressure heading into the 2022 World Championships. Now with another gold medal in the pocket, he is feeling excited about his prospects at Paris 2024.
"Coming into this I probably never experienced so much pressure coming into a race," Eyers said. "Just being at the top, there is so far to fall. Missing Tokyo will always hang over me. The Paralympic Games is the pinnacle, it's what we all work for, it's what people recognise.
"It had a massive impact on me, but it just fuels the fire. Two years to go, let's go."
Bouncing back
Peter Pal Kiss is another champion who experienced a setback on the way to the 2022 World Championships. The Hungarian athlete suffered a shock KL1 loss at this year's World Cup in Poznan, but bounced back in Halifax to secure his third consecutive world title, to add to the Paralympic gold he won in Tokyo last year.
"This is really our first normal World Championships after Covid, so I am really excited," Pal Kiss said.
"It was a little bit of a surprise for me too (losing in Poznan), but I knew I was not in top form at that competition. But I have got my power and my strength back for this championships."
Great Britain's Laura Sugar also had doubts about her form after battling illness for two days leading into the women's KL3 final. But the defending Paralympic and world champion led from the start to add another KL3 title to her collection.
"I've not been very well the last couple of days, but there was going to be no excuses," Sugar said. "I just told myself I can race, I'm a racer, and I like racing.
"There's been a lot of emotion for the past day or two, because I was desperate to race and I knew I had worked my butt off to get back in really good shape. I didn't want it to go to waste, and it hasn't."
Meanwhile, Brazil's Igor Tofalini returned to the top of the men's VL2 podium for the first time since 2018, beating Brazilian teammate and reigning world and Paralympic champion Fernando Rufino in a tight finish.
Golden breakthroughs
Australia's Benjamin Sainsbury won gold in the men's VL1, competing at his first world championships. 
The event is tipped to make its Paralympic debut in Los Angeles in 2028 and 21-year-old Sainsbury said he was confident of a strong showing.
"The nerves were crazy on the start line, I could feel the butterflies in my throat, but I knew we'd put the work in and I can't thank my coaches enough," Sainsbury said. "There's always that little voice in the back of your head that warns you not to expect too much on your first time."
Sainsbury was badly injured in a motocross accident in 2017. He tried out for wheelchair basketball and made the Australian U23 team, but then got poached by Western Australian canoe coaches.
It was a big decision to change sports for a teenager living in the Australian bush, facing an hour-long commute every day just to get to a training venue, but Sainsbury has no regrets.
"I fell in love with it from day one. I ended up leaving basketball to come to this, and I think it's a great result," he said. "Training twice a day, and sometimes three, it's a fair bit of driving and my fuel bill is nice and expensive. But events like this make it all worth it."
Spain's Juan Valle had a longer wait to become a world champion. The 44-year-old athlete, who has been paddling since he was 11 and doing Para canoe since he was 33, was battling an arm injury this year which he worried would cost him a medal chance in the men's KL3 race.
"I still can't believe I finished first," Valle said. "I have had an injury for the past month so I haven't been able to train properly. I thought maybe I could finish third, so I was not imagining I could be first."
Pooja Ojha won India's first Para canoe World Championship medal by finishing second in the women's VL1 behind defending champion Lillemor Koeper of Germany.
Emotional victories for Ukraine
Ukraine's Maryna Mazhula added a fourth consecutive KL1 title to her already impressive resume.
"It's so hard right now, training, competing, because in my mind is always Ukraine and my parents," Mazhula said. "I'm worried about them, and I pray every day that God could stop the war in Ukraine. I'm glad I won today, and Ukraine can win tomorrow."
These sentiments were echoed by her teammate Mykola Syniuk who won his career's second KL2 world title. The Paralympic silver medallist said it had been tough preparing for the World Championships while also worrying about the war in his homeland.
"It's been really hard because we can't train in Ukraine. But thanks to the French federation we have been able to train in France," Syniuk said. "We want to do everything we can to win here, to show the world that Ukraine still exists."
Full results from the 2022 World Championships are available on the ICF website.