Faces of the future: Belgium's Laurens Devos
The 15-year-old won double gold at October's ITTF Para-Table Tennis European Championships and qualified for Rio 2016.
12 Dec 2015
Imagen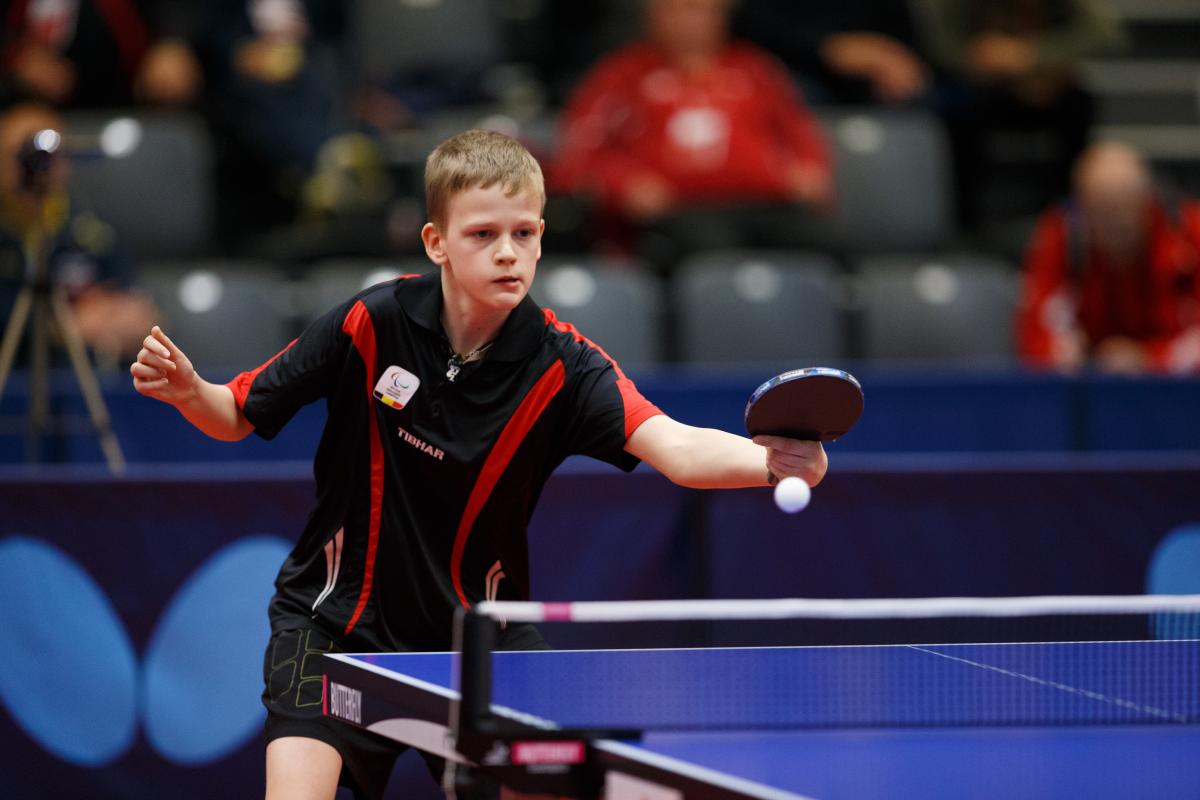 ⒸMorten Olsen
By Stuart Lieberman | For the IPC
"Before I go to sleep at night, I always replay my matches in my mind and think about what I did right or wrong."
Belgian 15-year-old Lauren Devos is still riding high from his debut appearance on the senior level of the international para-table tennis stage.
And he has all the right to.
In his first major event at the senior level, Devos emerged as the youngest champion and arguably the biggest surprise from October's International Table Tennis Federation (ITTF) Para-Table Tennis European Championships in Vejle, Denmark.
Seeded fifth in class 9 singles, he stormed to gold with a four-set victory over No. 2 Iurii Nodrozunov of Russia in the final, directly qualifying himself for the Rio 2016 Paralympic Games.
"My goal was to win a medal, but I knew that was a far goal and would be very hard, so I was quite surprised when I won the gold," Devos said. "I think it was a surprise to the other players, too. Nobody expected me to win."
A couple of days later, Devos' success story got even sweeter when he paired up with compatriot Ben Despineux to claim the class 9 team title.
Double gold was quite the achievement for someone whose previous career highlight was participating in the European Youth Championships, and afterward Devos saw himself vault to No. 5 in the ITTF Para-Table Tennis world rankings. Now, he has moved up to No. 3.
"I'm now thinking about the Rio 2016 Paralympics a lot," Devos said. "Before I go to sleep at night, I always replay my matches in my mind and think about what I did right or wrong.
"Table tennis is my life. I'm in a school for athletes who compete at a high level, so the only things I'm doing right now are going to school and practicing from Monday through Friday. For some, it might be a boring life. But I love it."
Devos, who has cerebral palsy, was originally horseback rider at a young age, but quickly switched to table tennis when he started school, following in the footsteps of his older brothers.
He said his inspiration is his 21-year-old brother, Robin, a member of the Belgian able-bodied table tennis team who was ecstatic about his younger sibling's performance in Denmark. The two try to practice twice a week together – when they are in the same country that is – and they are just as competitive with each other as they are with their opponents.
"My brother's still a level higher, so I just can't win against him at the moment," Devos said, laughing.
In terms of his actual competition, Devos knows it will be much steeper at the Rio 2016 Games, where he will have to contend with a strong class 9 Chinese contingent that includes defending Paralympic champion and world No. 1 Lin Ma.
But with what Devos has accomplished in such a short time on the senior para-table tennis circuit, there is no reason not to believe he has a shot at winning Belgium's first Paralympic title in table tennis since 2004.
In a perfect world, 10 months from now Devos will be resting his head on a pillow in Rio's Paralympic Village, thinking back to everything he did right in his medal-winning match.