Faces of the Future: Great Britain's Alfie Hewett
The 17-year-old is the top-ranked junior and a rising star in the wheelchair tennis scene.
11 Jul 2015
Imagen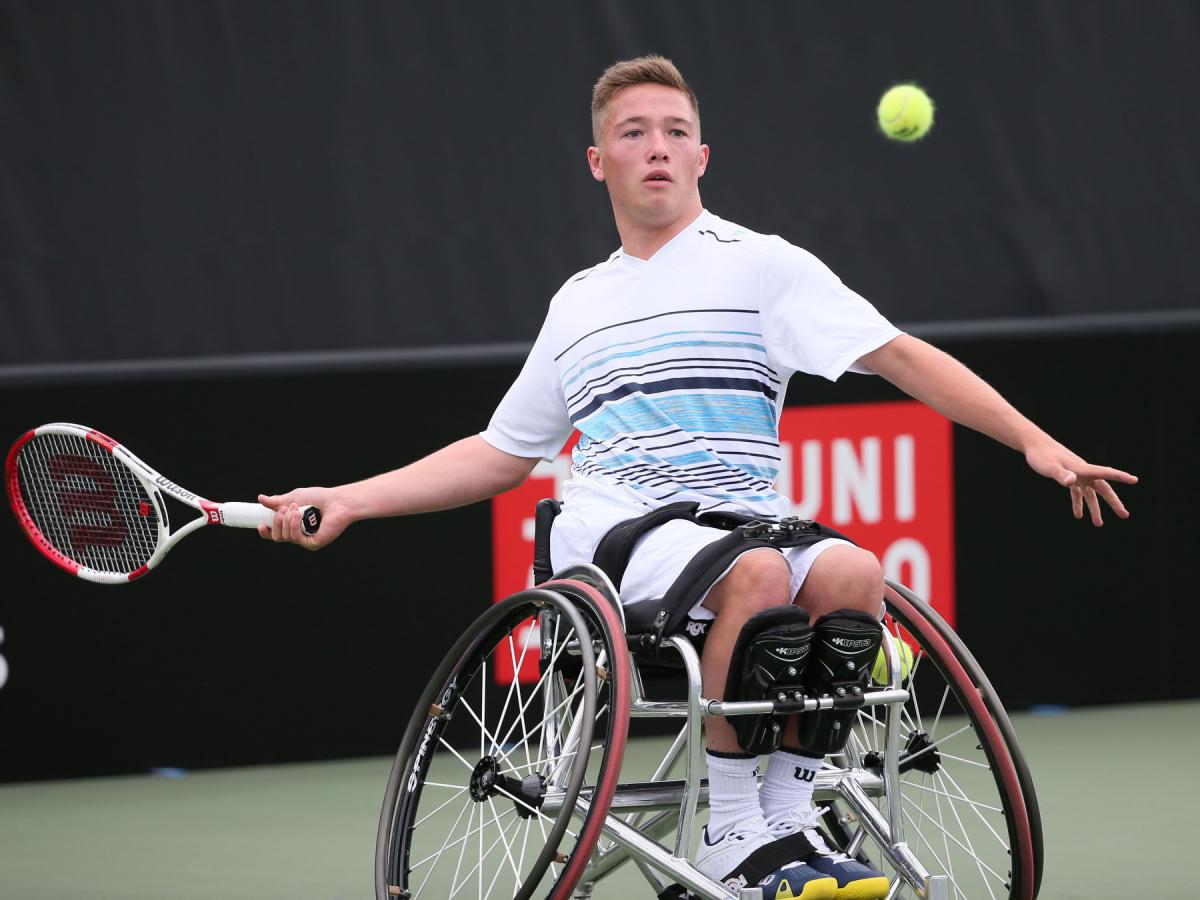 ⒸThe Tennis Foundation
By IPC
I remember watching one of the Great British players on the court (in London 2012), and it was just unbelievable, the atmosphere.
Editor's note: "Faces of the Future" is a series published once a month on Paralympic.org that introduces you to some of the young, rising talent in para-sport. The second part of this series brings you British wheelchair tennis player Alfie Hewett.
Alfie Hewett had to decide carefully how to start his 2015 season. He could compete in the world junior masters, a tournament that features the top-ranked boys and girls. Or, the British wheelchair tennis player could go somewhere unfamiliar – Australia.
Hewett chose the latter, competing in his first Super Series.
"It was a real tough decision because I had won (the junior masters) three years in a row, and I think the record was four, so I did have the opportunity to match that record," Hewett said. "We (my parents and individual coach) had a group meeting about it, and we came to the conclusion. It came down to me at the end of the day and what I wanted to do. I thought it was better for me to go to Australia. … It was kind of seeing how I cope with the weather and that long trip."
His decision seems to have paid dividends.
On Friday (10 July), Hewett made his Grand Slam debut at just 17 years old in Wimbledon.
But Wimbledon was one accomplishment.
Currently the No. 1 junior in the world, Hewett is No. 17 in the men's division. If he can stay within the top 34 in the men's by next May, he can qualify for Rio 2016.
His Paralympics dream became surreal when the Games came to his home country in 2012.
Hewett participated in a programme that took young athletes inside the London 2012 athletes village, food halls and competitions.
"I remember watching one of the Great British players on the court, and it was just unbelievable, the atmosphere," Hewett said. "I know it might not be the same in Rio because it is not (my) home Games, but just seeing what it is like and how everyone dealt with all that — if it was me, I would be so excited, I would not know how to control myself."
"I think the main thing is that I am best prepared as possible going into (Rio 2016); that is what I took out of it, is being best prepared I can be for any situation," he added. "It definitely inspired me, definitely gave me that little boost to keep working harder and keep doing what I am doing."
At seven years old, Hewett was diagnosed with a chronic hip condition that left him in a wheelchair. He first picked up archery, decided that was not for him, and moved into wheelchair basketball, which he gave up earlier this year to focus on wheelchair tennis.
He realised his potential in wheelchair tennis when he won his first junior masters in 2012. Then last year, Hewett became the first Brit to win the boys title three times after current British men's No. 1 Gordon Reid claimed back-to-back wins in 2008 and 2009.
"I was not meant to win it because it was the top-eight juniors in the world, and I was No. 6 at the time," Hewett said. "So that was kind of my breakthrough and it definitely boosted my confidence."