Faces of the future: Great Britain's Maria Lyle
She may only be 15-years-old but Maria Lyle is a world record holder and double European champion.
28 Apr 2015
Imagen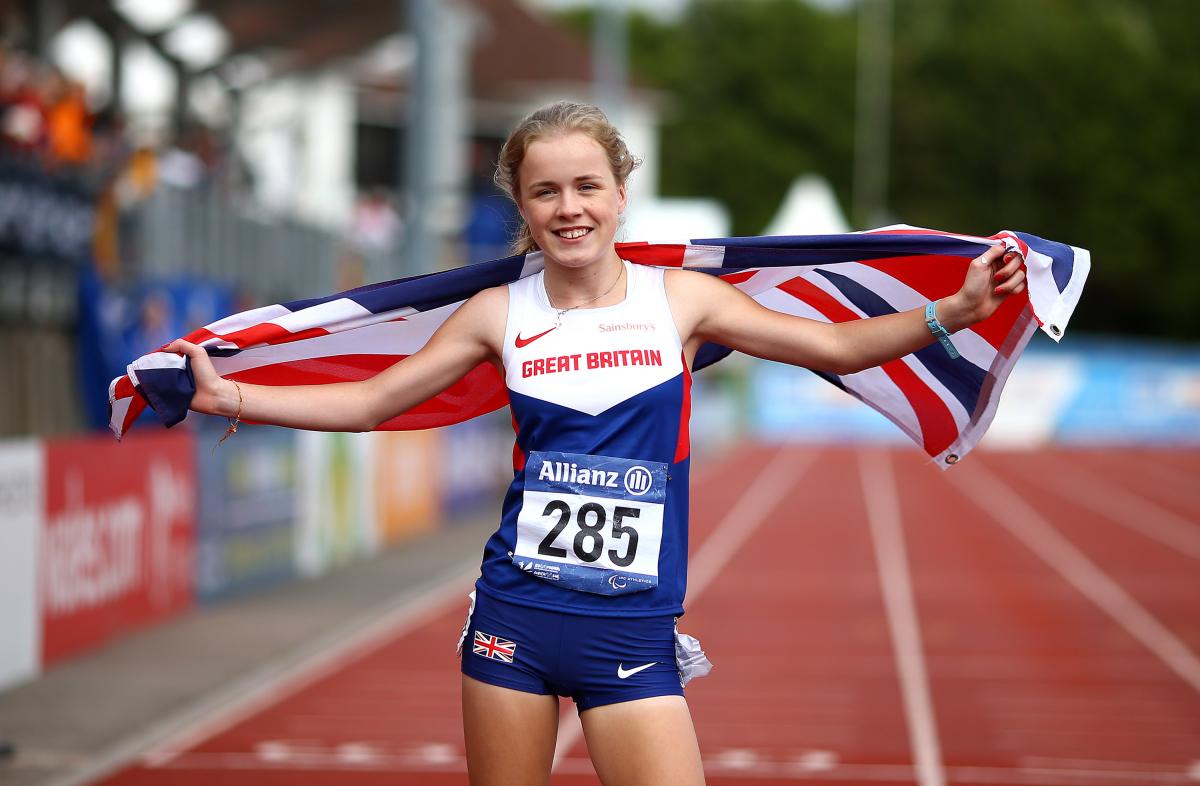 ⒸGetty Images
By IPC
"You have to compromise quite a lot – I miss school to go to athletic competitions, but I do try and see my friends."
Talented teenagers around the world are already achieving great things in para-athletics - and showing great promise for the future. In the first of our 'Face of the future' features, we talked to Great Britain's 15-year-old double European champion and world record holder, Maria Lyle.
Like many 12-year-olds, Maria Lyle watched the London 2012 Paralympic Games on television and dreamt of one day pulling on the British vest; racing in front of the crowds and standing on the podium to collect her medal.
But Lyle was not like many other 12-year-olds. In fact she was – and is - pretty unique.
Less than three years ago, the young Scot sat at home and watched on as the likes of Great Britain's Hannah Cockroft, Aled Davies and Jonnie Peacock dominated their events.
She watched as the 80,000-strong crowd cheered and the national anthem resounded around London's Olympic Park – and she knew then that the Rio 2016 Games was where she wanted to be.
But what makes Lyle's story incredible is the rate at which she has progressed, the milestones she has already achieved, and the fact that – unlike so many other teenagers who had that similar dream back in 2012 – for Lyle, Rio 2016 looks like becoming a reality. She could also find herself with a medal.
"I watched the Games in 2012 and it made me quite inspired - I wanted to be like all the athletes there. We had tried to get tickets to go but they were all sold out so I watched it on television. I'd love to go to Rio, but I hadn't really expected to be doing all the things I'm doing now," she said.
Lyle had to wait until she was 14 before she could take part in an IPC Athletics event so in February last year, just 10 days after her birthday, she lined up at the start of the 200m at the IPC Athletics Grand Prix in Dubai, UAE.
Just 31.01 seconds later Lyle had rewritten the record books, smashing the 200m T35 world record and knocking more than a second off the previous best set in August 2005 by China's Ping Liu.
More world records followed – in the 100m and 200m T35 – in May as she clocked 14.63 and 30.71 in Bedford, Great Britain, before going on to clinch two gold medals at August's IPC Athletics European Championships – her senior GB team debut.
"It was a bit weird at the European Championships, seeing all these people you'd watched on telly, and your name on the same team as them. But it's good – it makes you feel like you've achieved something," she said.
Still, the international para-athletics circuit can be daunting no matter how old, or how experienced the athlete. Lyle admits that she found it hard staying away from home – but, with the help of a sports psychologist, she has found ways to make life as normal as possible.
As well as keeping in regular contact with friends and family, Lyle travels with her own pillow – both for physical and emotional comfort.
Of course there are other reminders of home for Lyle when she is out on the road. As a third year pupil at secondary school in Dunbar, Scotland, there are studies to keep up with and homework to do. Fortunately Lyle's teachers – and fellow pupils – are very supportive of her para-athletics career.
"School is very good, they let me go to training camps and competitions," she explained. "I try to bring a bit of work with me – I've got to do that because I don't want to miss out on important pieces of work and not understand it when I get back.
"You have to compromise quite a lot – I miss school to go to athletic competitions, but I do try and see my friends. I can always talk to them on my phone so it's not too bad. I know at the end I want to go to Rio. If I make these compromises that will benefit me in the long run."
In fact when Lyle returned to school after her double European gold last summer, the school had put up a banner to congratulate her: "School thought it was amazing; people watched it on the telly which I thought was quite nice," she added.
Now, with new coach Tabo Huntley on board, 2015 has already seen yet more success. Returning to Dubai for this year's Grand Prix meeting in February, the 15-year-old broke the 200m T35 world record once again, this time running 30.53.
"With my new coach the training's been really different - but it's clearly benefited me as I went and broke the world record, and I've done fairly good times for this point in the season," she explained.
"I didn't really think a world record was coming. I find it really hard to predict times - I knew winter training had gone well and I was hoping for some good times, but to do that at the start of the season was a bit of a surprise."
There are signs that Lyle still is a young teenager – arriving in Dubai, she realised tennis star – and fellow Scot – Andy Murray was due off the next flight, so she waited to say hello and get his autograph.
"It was great to meet someone who is very successful and he's Scottish too - someone who I'd only watched on television," she laughed.
But the way things are going for Lyle it might not be too long before she's the one being asked for her autograph and posing for pictures with fans.
Lyle is set to be one of 1,300 athletes lining up at October's IPC Athletics World Championships in Doha, Qatar.